Argentine GDP Warrants Drop After Payment Ruled Out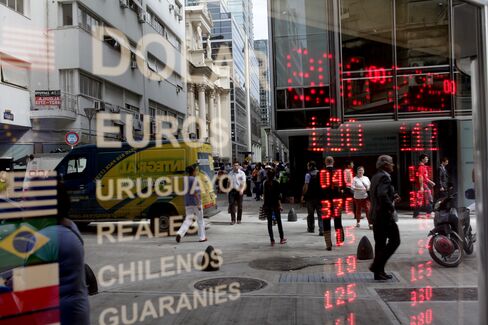 Argentine securities tied to economic growth tumbled after Cabinet Chief Jorge Capitanich said the government won't make a $3.6 billion payment on the notes following a revision of gross domestic product data.
The dollar-denominated warrants fell 2.7 percent, or 0.19 cent, to 6.75 cents on the dollar after earlier plunging as much as 10 percent, according to data compiled by Bloomberg. The warrants have dropped 24 percent since March 26, a day before the government reported 2013 growth of 3 percent, below the 3.22 percent threshold that triggers a payment on the securities.
The warrants, which were issued in 2005 and 2010 as part of debt restructurings following Argentina's record $95 billion default in 2001, climbed earlier this week on speculation the revision of GDP data would also mean a change in the level that results in payments. Guillermo Nielsen, a former finance secretary who devised the inclusion of warrants in the restructuring, wrote in La Nacion on March 31 that the government should still make a payment this year.
"Nielsen makes an interpretation that isn't in line with the government's," Capitanich told lawmakers during a 10-hour debate in Congress yesterday, according to newspaper Clarin. "The correct calculation is that the GDP coupon shouldn't be paid in 2014."
Economy Minister Axel Kicillof announced March 27 that GDP expanded 3 percent in 2013 after the government changed the base year to 2004 from 1993. Growth was almost half the pace previously forecast by the government.
Bonds Rally
Government dollar bonds rallied on speculation growth below the threshold will preserve international reserves used to service government debt. The reserves have tumbled 33 percent in the past year to $27 billion.
Dollar-denominated bonds due 2033 rose 1.66 cents to 80.50 cents on the dollar, pushing yields down 28 basis points to 10.98 percent, the lowest since October 2012.
The extra yield investors demand to hold Argentine debt over U.S. Treasuries narrowed 22 basis points, or 0.22 percentage point, to 760 basis points today, according to JPMorgan Chase & Co.'s EMBI Global Diversified index.
President Cristina Fernandez de Kirchner's government became the first in the world last year to be censured by the International Monetary Fund for misreporting statistics. It has sought since October to mend relations with global creditors and investors to obtain new financing as reserves dwindle. The government, which unveiled a new inflation index in February to meet the IMF's concern, introduced a new GDP data series, bringing growth figures in line with private estimates.
Private economists had questioned the government's economic data since 2007, when then President Nestor Kirchner changed senior personnel at the statistics agency.