Platinum Producers Should Control Metal Prices, PIC Says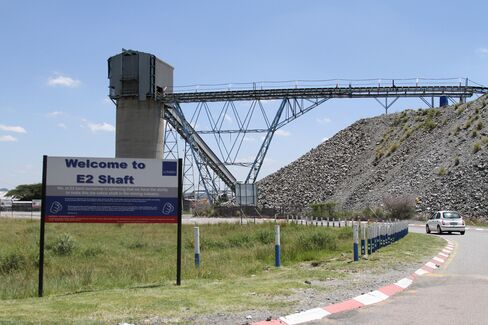 South African platinum producers, which account for almost three quarters of world supply, should consider controlling output to improve prices, said the head of Africa's biggest fund manager.
Anglo American Platinum Ltd., known as Amplats, Impala Platinum Holdings Ltd. and Lonmin Plc, the world's largest producers of the metal, need prices to climb to offset rising costs in an industry already beset by a "concerning" 11-week wage strike, said Elias Masilela, 49, the chief executive officer of the Pretoria-based Public Investment Corp., which manages 1.6 trillion rand ($152 billion), almost all of which is South African government workers' pensions.
"They may, as an industry, want to think about supply-demand conditions globally to influence the price," Masilela, 49, said in an April 1 interview in Johannesburg. "South Africa is a major supplier of platinum, but remains a price-taker. There must be a way of balancing that out given it's size."
Masilela's comments echo those by the governments of South Africa and Russia, which together hold about 80 percent of platinum group metal reserves. The countries plan to set up a production bloc resembling the Organization of Petroleum Exporting Countries, a cartel of the biggest oil-producing countries, they said in March last year.
Strike Series
"There are ways of doing these things without flouting rules and laws and that's a function of how transparently you do it and how independently you do it," Masilela said. OPEC, which limits oil output from some major producers, is criticized, "but its running," he said.
The PIC has an 11.5 percent stake in Johannesburg-based Impala, the world's second-biggest platinum producer, and a 3.8 percent holding in Amplats, the largest, according to data compiled by Bloomberg. The PIC also controls 18 percent of Northam Platinum Ltd., which suffered an 11-week strike that ended in January, and 3 percent of Royal Bafokeng Platinum Ltd.
The price of platinum, used in jewelry and for auto-catalysts that cut pollution from vehicles, has fallen by about 30 percent since the end of May 2008 as demand slumped because of a global economic crisis, even as a series of strikes over the last two years has limited supply. Platinum rose 0.5 percent to $1,449.38 an ounce at 4:59 p.m. in London today.
Strike Cost
The six-member FTSE/JSE Africa Platinum Mining Index has slipped more than 60 percent in that time, with Amplats declining 1.7 percent to 490.06 rand as of the close in Johannesburg and Impala falling 1.7 percent to 119.50 rand.
"The current economics won't allow for it to remain viable. Therefore responses from the supply side at this stage in the cycle are rational," Tyler Broda, a mining analyst at Nomura International Plc, said in a phone interview from London today. "The supply is very concentrated geographically."
A strike by 70,000 workers at Amplats, Impala and Lonmin's biggest operations has cost the companies 11.1 billion rand of revenue since it started on Jan. 23, while employees have forfeited 5 billion rand of pay, according to the producers.
The underlying reasons for the strike are both a lack of awareness by workers of the companies' ability to pay as well as companies' ignorance of the social issues the population in the area faces even though they are in other respects well-run companies, Masilela said.
Many mineworkers live in makeshift shacks cobbled together with sheets of corrugated iron. They share toilets and have intermittent power and water supply. The laborers often spend much of their income on servicing debt.
"I don't think they have fully understood their social responsibilities, nor the environment in which they operate," he said. "If you can sort that our it would resolve a lot of the problems they are faced with."
Lonmin spokeswoman Sue Vey said she disagreed. "We've more than exceeded the right thing to do," she said in a phone interview today. "Part of that is to ensure that the people who work for us and who live around our mines live in a healthy environment."
Impala spokesman Johan Theron declined to comment. Amplats spokeswoman Mpumi Sithole didn't immediately respond to an e-mailed request for comment and didn't answer a call to her mobile phone.
The companies' problems won't prompt the fund manager to sell its investments, Masilela said.
No Answer
"For us it's not worrying simply because we're investors, it's worrying because we have a social mandate as well," Masilela said of the strike. "We're beginning to hear miners saying at the going rate we're going to be forced to retrench."
The state-owned PIC manages investments for South African public pension, provident, social security and guardian funds, according to its website. The Government Employees Pension Fund accounts for 89 percent of its assets under management.
The strike may lead to more pressure on South Africa's finances, as unemployed workers become dependent on social grants, and increasing poverty may fuel political instability, Masilela said.
"For us we also worry about these social imbalances," Masilela said. "You're effectively building a picture of inherent instability. How you stop it, I don't have an answer to that, at all. It's almost like having an econometric model for human beings, which I don't have."