Singapore Stock-Trade Probe Seen as Test of Credibility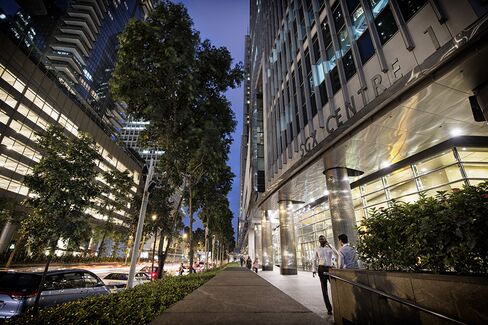 Singapore's investigations into suspected stock-trading irregularities at three commodity companies whose shares plunged in October are seen as a test of credibility for Southeast Asia's biggest equities market.
Authorities widened the probe this week to include executives from at least four more companies six months after the rout that triggered a plunge of least 87 percent in the shares of Blumont Group Ltd., Asiasons Capital Ltd. and LionGold Corp. over three days last October. Magnus Energy Group Ltd., Innopac Holdings Ltd., ISR Capital Ltd. and ITE Electric Co. Ltd. said they or their units are being asked to assist. IPCO International Ltd. said late yesterday it's also probed.
The Monetary Authority of Singapore and the police's white-collar crime unit are investigating trading in shares of Blumont, Asiasons and LionGold for possible breaches of the Securities and Futures Act, or SFA, according to an April 2 statement. The probe's scale is unprecedented and reflective of what global regulators are doing, said Lan Luh Luh, an associate dean at the National University of Singapore's business school.
"The Singapore Exchange and MAS have been promoting Singapore as a venue of listings where corporate governance is very high," said Gabriel Yap, a former broker who now manages his own investment advisory firm, GCP Global Pte. "If nothing is done on these three stocks, it will make a mockery of the Singapore stock exchange as a listing venue of good stocks."
The rout in October, which erased $6.9 billion in market value, spurred brokers to clamp down on margin lending and hurt sentiment among investors. All three commodity companies have said that they don't know what caused the declines.
Stock Trading
Singapore Exchange Ltd., which runs the bourse, said in an e-mailed response to Bloomberg queries that it's working with the Monetary Authority and the Commercial Affairs Department on the investigations. Stock trading in the city-state dropped 20 percent to a daily average of S$990 million ($784 million) in the three months ended Dec. 31 from a year earlier, data compiled by Bloomberg show.
"We spare no efforts in investigating possible market misconduct that breaches the Securities and Futures Act," the exchange said, declining further comment because of the probe.
LionGold slid 2.5 percent to close at 11.9 Singapore cents, extending yesterday's 18 percent slump. Blumont lost 2.1 percent, while IPCO was unchanged. Asiasons rebounded 1.8 percent after a 15 percent slide over the past three days. Innopac and Magnus Energy dropped for a second day. ITE Electric and ISR Capital also fell.
'Deeper Investigation'
"It's good to proceed with a deeper investigation," said Jimmy Ho, president of the Society of Remisiers in Singapore. "They haven't done enough earlier," Ho said by phone, referring to the city-state regulators.
The April 2 statement from the MAS and the Commercial Affairs Department said that the two agencies are working together on the probe, without citing the stock-price declines in October. Innopac's board understands the investigation may be protracted and is unaware that any offence has been committed, according to a statement yesterday. Operations at the company will continue as normal, it said.
The police asked Blumont unit G1 Investments Pte to assist in its investigation, Blumont said in an April 2 statement. Investigators requested access to all corporate electronic data from Jan. 1, 2011 to date, information-technology equipment and data-storage devices belonging to Executive Director James Hong and Executive Chairman Neo Kim Hock, Blumont said.
Assisting Probe
Blumont has been informed that Hong has been asked to assist the CAD's probe into a possible infringement of the SFA, and Hong has indicated that he will cooperate fully, the Blumont statement said. Blumont's G1 Investments owns a 5.2 percent stake in Innopac, data compiled by Bloomberg show.
Hong didn't return calls from Bloomberg to his mobile phone and office, and didn't immediately respond to an e-mail seeking comment. Neo didn't immediately reply to an e-mail.
Police made the same request for data belonging to Innopac Chief Executive Officer Wong Chin-Yong, according to a company filing. He couldn't be reached in his office today. They're also seeking the same information from units of Magnus Energy relating to Executive Director Koh Teng Kiat and Chief Financial Officer Luke Ho Khee Yong, Magnus Energy said. Both Magnus Energy executives didn't immediately reply to separate e-mails seeking comment.
No Notices
Ho worked at Asiasons WFG Financial Ltd. from October 2011 until June 2012, according to a Magnus Energy filing announcing his appointment. Asiasons WFG is a unit of Asiasons Capital.
Asiasons Capital hasn't received any notices or orders from authorities to assist in the investigation and its business operations remain unaffected, the company said yesterday.
The Commercial Affairs Department asked IPCO and its subsidiaries to provide corporate electronic data, information technology equipment and relevant documents from the start of 2011, the company said yesterday.
"CAD hasn't given any further details of its investigations," IPCO said in a statement to the Singapore bourse. "The board is not aware if any offence has been committed."
IPCO Chief Executive Officer Quah Su-Ling had sued a unit of Goldman Sachs Group Inc. in London, accusing the bank of breach of contract for selling her shares in Asiasons, Blumont and LionGold and depressing their prices. Goldman Sachs has countersued, claiming Quah still owes the bank $12.3 million. Bank of East Asia Ltd. also filed a lawsuit against Quah in Singapore seeking unpaid margin loans.
Four Lawsuits
Quah invested as much as S$120 million in Blumont, LionGold and Asiasons Capital, according to a March 28 Singapore court ruling. She faces at least four lawsuits for failing to pay for shortfalls related to the shares and has said in court papers she "was in no frame of mind" to defend the Bank of East Asia complaint.
The police are also seeking data belonging to Lynne Ng Su Ling, a non-executive independent director of LionGold, and Peter Chen Hing Woon, an employee, LionGold said in a filing.
The CAD is seeking information belonging to Quah Su-Yin as well as five ISR units and two funds, ISR said yesterday. Quah is the company's chief executive. Asiasons Capital owns 27 percent of ISR, according to information compiled by Bloomberg.
ITE Electric said the CAD is seeking information belonging to unit ITE Assets Holdings Pte as well as Chief Executive Officer Ho Cheng Leong, Chief Operating Officer Ang Cheng Gian and Non-Executive Director Goh Hin Calm, according to a statement.
Trading Data
The information sought from ITE Assets included data relating to securities trading and accounts at financial institutions, it said. Ho didn't immediately return a phone call to his office or reply to an e-mail seeking comment.
ITE Electric's sponsor is Asiasons WFG, according to the company's results statement, dated Feb. 21. Ng, the non-executive independent director of LionGold, is company secretary at ITE Electric, according to a statement yesterday giving notice of ITE Electric's planned annual general meeting.
"Singapore has had a long reputation for not compromising the rule of law," said David Gerald, president of the Securities Investors Association of Singapore. "I am not surprised at the widening of the investigation into suspected trading irregularities of penny stocks. It gives investors the comfort to know that the regulator has a strong grip."
Before it's here, it's on the Bloomberg Terminal.
LEARN MORE