J.Crew Grads Strike Out on Their Own
The purveyor of preppy chic has become a fashion incubator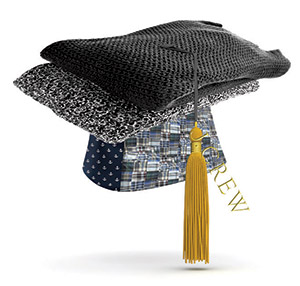 It wasn't until Emily Sugihara quit her job as an assistant designer at J.Crew that she started winning accolades from Mickey Drexler, the company's chief executive officer. After she left the rebounding American retailer in 2006, Sugihara and her mother parlayed a sewing hobby into a business selling affordable nylon and canvas bags. She mailed some free samples to former colleagues; eventually, the clothier decided to stock Baggu's $9 shoppers in a rainbow of colors as part of its In Good Company program, which is devoted to third-party collaborations. When at one sales meeting Drexler heard the bags were doing well at J.Crew stores and online, he called Sugihara to congratulate her. "I got this one very crazy voice mail that I saved for a few years," she recalls. "And we've connected on the phone since then."
Under Drexler's watch, J.Crew has evolved into a chic brand that attracts top design-school graduates who want to create clothes Michelle Obama might wear. It's also become an incubator for fashion entrepreneurs: More than a dozen former employees have used their years—or year, in some cases—there as a launchpad to start their own lines, from Chris Benz, whose luxury togs retail for upward of $2,000, to Tracey Van Voorhis, a former personal assistant of Drexler's whose turban-inspired headbands sell for $29.
What skills did they pick up at J.Crew Academy? Todd Snyder, who was senior vice president for men's design prior to his departure in 2008, says he learned about pricing when the retailer began targeting wealthier, more fashion-conscious customers in the mid-aughts. "We began selling designer quality at a reasonable price, and that changed my thought process as far as wanting to become a designer," he says. Five years ago, after turning 40, Snyder started his own menswear line. Rather than go head-to-head with his former employer, he positioned himself at a higher price point, where there was less competition. "There's some white space between a $450 Thom Browne shirt and a J.Crew one," he says. The line includes $175 oxfords and a $1,295 cotton tuxedo jacket and has been picked up by 60 stores. GQ named Snyder to its list of the Best New Menswear Designers in America in 2012. More recently, Snyder has mimicked J.Crew's strategy of teaming up with heritage American brands by working with Champion on a line of high-end sweatpants. The artful clutter of Snyder's boutiques in New York and Tokyo echoes that of J.Crew's men's stores, which the designer had a hand in creating.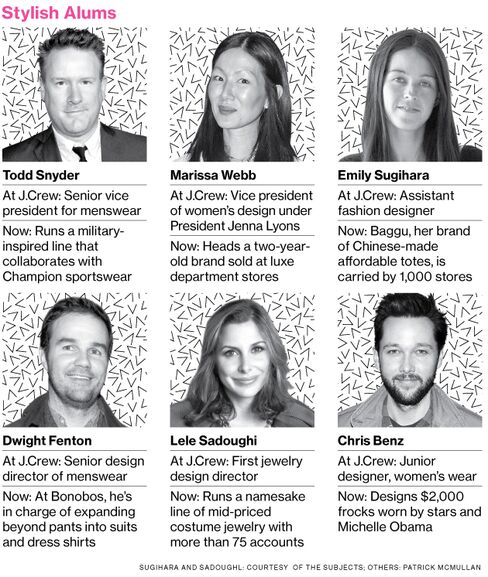 Designers at J.Crew aren't cloistered in a studio environment as at some bigger competitors. In the open-plan office, Sugihara says she worked closely with "the production people," learning how to craft plans and sketches that would demonstrate proper execution to factories. She also notes that many of her colleagues, including Benz, displayed entrepreneurial skills that hinted at a future beyond J.Crew.
Sugihara's short stint at the New York-based company gave her the confidence and contacts to scout for suppliers in China, which many small business owners find intimidating. (Producing overseas was crucial to Sugihara's goal of creating a low-cost yet durable alternative to throwaway plastic bags.) "J.Crew isn't always shopping around for new factories," she says. "If you can develop a long-term partnership, you can negotiate pricing and pass that value to customers." Baggu has stuck with the same Chinese company for the last three years. Over that time, Sugihara has doubled her workforce to 20, while her network of vendors has grown to more than 1,000. During a March trip to China, Sugihara saw that she shares a manufacturer with her former employer when by chance she spotted a telltale scrap of fabric on a factory floor.
Lele Sadoughi, a former designer of J.Crew's jewelry line, says the experience of having creative- and business-side colleagues working closely together helped her when she started her namesake jewelry company two years ago. After her first interview with J.Crew in 2005 she discovered she would be a team of one, developing a category of costume baubles from scratch. "You just learn very quickly to think about costing and quantities and merchandising," she says. "It's all about the big picture there: Do you have your big necklace? Do you have your little pendant?" This approach to a collection influences her two-year-old line, which is carried by 75 retailers, including national chains such as Anthropologie and Bloomingdale's. "You always had to make sure the merchandisers were getting what they want," says Sadoughi. "It taught me to be realistic."
J.Crew alums readily admit that their affiliation with the purveyor of quirky chic opened doors for them. "It's like how, in the '90s, everyone wanted to hire a designer from Abercrombie & Fitch," says Dwight Fenton, who left J.Crew in 2013 to expand men's apparel at Bonobos, a startup that made its name selling pants. "While I wasn't looking for investors," adds Snyder, "I did need store accounts. No one knew who I was, so it was helpful to say I used to be the head of men's at J.Crew." In prior decades, alumni from Ralph Lauren and Gap benefited from a similar halo effect. J.Crew declined to comment for this story.
Some prefer not to trade on their association with J.Crew as they seek to establish unique identities for their fledgling brands. Marissa Webb, former head of women's design at J.Crew, now sells her own line of women's separates at high-end boutiques and department stores. She declined to discuss her experience there because, as her representative wrote in an e-mail, "we have made a point not to … continue to tie Marissa to her J.Crew roots."
Before it's here, it's on the Bloomberg Terminal.
LEARN MORE