Draghi Says Officials Debate QE to Fight Deflation Risk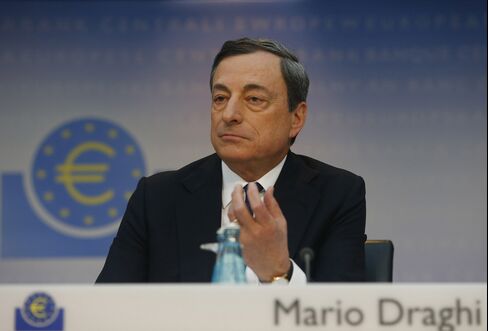 Mario Draghi said the European Central Bank is ready to move deeper into uncharted territory in the fight against deflation, with policy makers debating what form of quantitative easing they might need to use.
"There was a discussion about QE, it wasn't neglected," the ECB president said at a press conference in Frankfurt today after keeping the benchmark interest rate unchanged at a record-low 0.25 percent. "There are obviously different preferences about which QE would be more effective. We will continue working on that in the coming weeks."
QE, or large-scale purchases of assets intended to bolster prices and economic growth, would be the ECB's most ambitious measure yet as it grapples with inflation at just a quarter of the central bank's goal. At the same time, the Governing Council faces substantial hurdles to develop a policy suitable for the 18-nation currency bloc.
"It was significant that the council discussed QE at length," said Sarah Hewin, head of research at Standard Chartered Plc in London. "There's been an evolution regarding QE, from a situation where there was clear, strong ideological opposition to it, to a situation now where there is support in the right circumstances. I take them at face value."
Tacit Backing
Policy makers kept the benchmark rate unchanged for a fifth month today and the deposit rate was left at zero. Italian and Spanish debt advanced as Draghi spoke. The euro fell to $1.3711 at 6:18 p.m. Frankfurt time from around $1.376 at the start of the press conference as the ECB president signaled concern about the currency's strength.
While QE is already used by the Federal Reserve and the Bank of England, it has proved a controversial policy topic in the euro area, where the ECB is banned by European Union law from financing governments.
Bundesbank President Jens Weidmann, who has led the resistance to bond purchases in the past, gave tacit backing to asset purchases last week and Draghi said the Governing Council was able to have a "very rich" discussion today. He said policy makers were unanimous in their commitment to use unconventional policy.
Even so, Draghi signaled that policy makers don't have a clear idea of what a quantitative easing program for the euro area might look like. He noted that the predominantly bank-financed economy wouldn't react to purchases of government debt in the same way as in the U.S., where companies raise more funding in the financial markets.
'Not There Yet'
"It's not easy to design a program of QE on private debt that is large in size and doesn't have risks for financial stability," he said. Policy makers are "thinking hard,"about how to make QE work, he said.
That suggests officials' willingness to introduce an asset-purchase program probably doesn't translate into imminent action.
"The ECB is clearly not there yet when it comes to QE," said Ken Wattret, chief euro-area economist at BNP Paribas SA in London. "Still, the signals from today's press conference are very clear: the issue has become much more prominent in ECB thinking and the sensitivity to downside risks to price stability has palpably increased."
Inflation in the euro area slid to 0.5 percent in March, the slowest pace since November 2009. Draghi said that while the number was a "genuine surprise," it was distorted by the timing of the Easter holiday. The ECB projects that the economy will continue to revive and inflation will eventually return to its price-stability goal of just under 2 percent.
'Biggest Fear'
Economic confidence in the region is the strongest since July 2011, and lending to companies and households rose month-on-month in February for the first time since July 2012.
"The Governing Council sees both upside and downside risks to the outlook for price developments as limited and broadly balanced over the medium term," Draghi said.
The comments on QE were the ECB's signal that it's ready to act if that scenario doesn't play out. Draghi today underscored the scale of the threat facing the euro region's economy and said that the outlook could still deteriorate.
One of the biggest dangers facing Europe is "very high" unemployment, he said. The euro-area jobless rate was 11.9 percent in February, showing only a gradual improvement from the record 12.1 percent reached last year.
"My biggest fear is actually to some extent a reality and that is the protracted stagnation, longer than we have in our baseline scenario," Draghi said.