Brookstone Succumbs to the Sharper Image Flu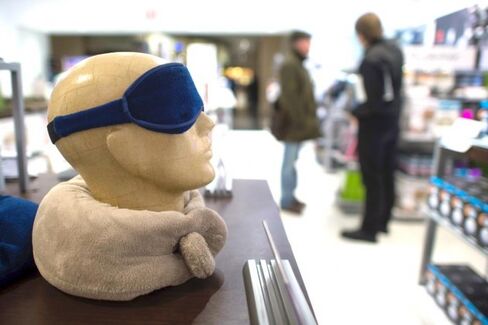 Brookstone, that gadget retailer you see at the airport but never shop, has filed for bankruptcy protection as it negotiated a deal to sell itself. The retailer, which offers $4,600 massage chairs and a $300 "mobile pocket projector," appears to have succumbed to the same retail woes that toppled Sharper Image in 2008. That company closed after more than three decades of selling expensive massage chairs and air purifiers, felled by the deep recession that made consumers much more conscious about their spending—spelling doom for merchants of purely discretionary stuff.
It seems that a $3,000 Pac-Man arcade game figures into fewer purchasing decisions these days. Beyond the hefty prices at a brick-and-mortar store, another problem bedevils purveyors of such niche products: the Internet. That's the natural home for the most specialized, weirdest, goofiest, and even spookiest kinds of stuff a shopper could want, and likely at a cheaper price than a Sharper Image or Brookstone could offer. (Sharper Image lives on as a licensing operation run by Iconix Brand Group, with the brand stamped on numerous products, such as binoculars and bedroom slippers sold by such retailers as Macy's and Bed Bath & Beyond. )
Brookstone agreed today to a $147 million sale to Spencer Spirit Holdings, including $120 million cash. "While we have implemented various successful cost-cutting initiatives, the search for a strong strategic partner who shares our vision and passion was a natural progression," Jim Speltz, Brookstone's chief executive, said in a statement (pdf). "We think we have found that in Spencer Spirit and are excited about the opportunity to begin leveraging the resources of the two companies and popularity of the Spencer, Spirit, and Brookstone brands."
Spencer Spirit, which is in Egg Harbor Township, N.J., operates as a specialty retailer, with more than 1,000 Spirit shops that operate seasonally to sell Halloween-related goods. The Spencer part of the business has 644 stores in 49 states and Canada. Brookstone has 240 stores at malls and airports. Its sale and Chapter 11 filing today in Delaware was a prenegotiated petition with creditors that came one week after Brookstone said it was in sale talks and contemplating bankruptcy.
Blucora, the parent of online retailer Monoprice and tax-return software TaxACT, was also prepared to make a $120 million cash offer for Brookstone, the Wall Street Journal reported on March 30.
Before it's here, it's on the Bloomberg Terminal.
LEARN MORE