U.K. House Prices Rise a 15th Month as London Extends Lead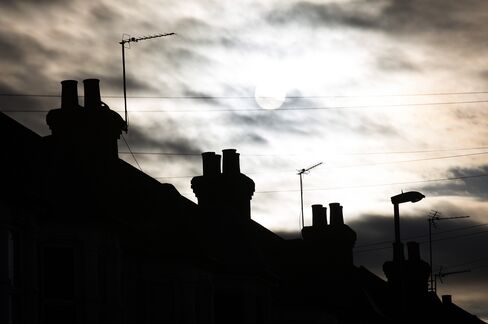 U.K. house prices rose for a 15th month in March as values in London climbed to more than double the national average, according to Nationwide Building Society.
The average price of a home gained 0.4 percent from February to 180,264 pounds ($300,000), about 3 percent below its 2007 peak, the Swindon, England-based lender said in an e-mailed report today. Values in the capital in the first quarter were 20 percent above their previous record at an average of 362,699 pounds compared with 178,124 pounds for the U.K. as a whole.
A property-market revival fueled by strengthening economic growth, record-low borrowing costs and official incentive programs prompted financial-stability chiefs to warn last month that they're ready to take action should signs of overheating emerge. London home prices have also been boosted by cash-rich buyers and foreign investors seeking safe assets.
"The gap between house prices in London and the rest of the U.K. is the widest it's ever been, both in cash and percentage terms," Robert Gardner, Nationwide's chief economist, said in the report. "Record-low mortgage rates, improved availability of credit and the brighter economic outlook are all leading to increased demand for housing."
The pound stayed higher against the dollar after construction data published by Markit Economics at 9:30 a.m. showed growth momentum continued in March. Sterling traded at $1.6654 as of 9:55 a.m. London time, up 0.1 percent from yesterday.
London Boom
London house prices increased 18 percent in the first quarter from a year earlier, the fastest pace since 2003, Nationwide said. National values were up an annual 9.5 percent in March.
Home prices in the capital rose 5.3 percent in the first quarter from the previous three months, double the U.K. average of 2.6 percent, the lender said.
The London borough of Brent saw the strongest annual growth in the city in the first quarter, with prices up 31 percent. Nearby Harrow was the weakest-performing, up 8 percent.
While house-price growth is showing "tentative signs of moderation," demand is outpacing supply and there is evidence that the property upturn is gaining momentum across the country, Nationwide said.
Chancellor of the Exchequer George Osborne said last month the government will extend its Help-to-Buy program for new homes by four years to the end of 2020 to encourage building.