GM to Chrysler Sales Accelerate Ahead of 2013 Pace: Cars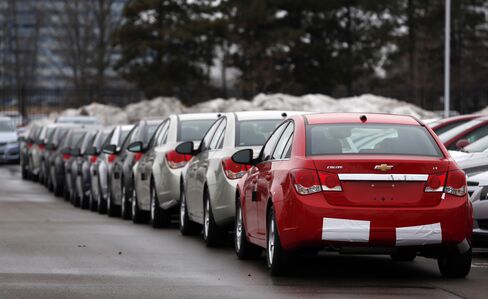 The freezing temperatures that kept car buyers off dealer lots in January and February gave way to warmer weather last month, setting up the auto industry for a strong spring selling season.
Less snow and ice, combined with generous incentives helped propel U.S. auto sales to the best March tally in seven years. Sales rose 5.7 percent to 1.54 million cars and light trucks, beating analysts' projections of 1.48 million sales. Blizzard conditions and frigid temperatures kept tire-kickers homebound in January and February, which caused auto sales to fall 1.4 percent, according to researcher Autodata Corp.
Now sales are up 1.4 percent for the year as the snow thaws in many regions of the country. Dealers are moving the backlog of inventory off lots with discounts and that brought out buyers last month. Ford Motor Co., Toyota Motor Corp., Nissan Motor Co. and Chrysler Group LLC all topped analysts' estimates for sales. So did General Motors Co., even after initiating almost 7 million recalls including 2.6 million linked to 13 deaths.
"Things are recovering to where we were last summer," Matthew Stover, an analyst at Guggenheim Securities in Boston, said in a telephone interview. "The weakness we saw in January and February had more to do with weather than with the overall economy."
The better-than-estimated results come as welcome relief to automakers, which are now gearing up for a spring bounce-back.
Spring Blooming
"It was encouraging to all of us -- after a softer January, February -- the spring market kind of bloomed in March," John Felice, Ford's U.S. sales chief, said yesterday on a conference call with analysts and reporters. There were "encouraging signs coming out of March," that "bode well" for this quarter.
Shoppers were rewarded with bigger discounts. Automakers spent an average of $2,725 per vehicle on incentives in March, up 5.9 percent from a year earlier, according to Woodcliff Lake, New Jersey-based Autodata. Ford boosted incentives 14 percent to $3,342, Toyota increased offers 11 percent to $1,779 and Honda hiked deals 35 percent to $2,112, Autodata said.
GM averaged the largest per vehicle incentive among major automakers at $3,401, though that was down 8 percent from last year, according to Autodata.
"I didn't expect to see the level of pricing aggressiveness that we're seeing, but I also didn't expect to see the level of coldness we've experienced," Mark Wakefield, a partner at consultant AlixPartners in Southfield, Michigan. "Those two things are balancing out."
Auto sales should accelerate in April because in addition to inventory and incentives, buyers have access to good credit and high used-car prices are driving them to buy new models, Wakefield said.
'Perfect Calm'
"This is the opposite of a perfect storm -- it's a perfect calm," said Wakefield, whose firm advised GM through its 2009 bankruptcy. "Most Aprils don't have blizzards and sub-zero temperatures. So with these positive conditions and meaningfully increased incentives, the sales market looks good."
Dealers began noticing more traffic on their lots in the second half of March, as the weather finally broke, executives said. The annualized sales rate, adjusted for seasonal trends, rose to 16.4 million from 15.3 million a year ago. That beat analysts' projections for a 15.8 million pace.
GM, the largest U.S. automaker, showed no adverse effects from the recall of 2.6 million small cars tied to 13 deaths. GM sales rose 4.1 percent, after analysts predicted a 0.8 percent rise.
Small Cars
GM no longer makes Chevrolet Cobalt, Saturn Ion and other small cars that are the subject of the recall. The Detroit-based company's current small-car models, the Chevy Sonic, Spark and Cruze, reported sales increases of 14 percent to 46 percent.
"This has certainly been a trying month for GM, but you wouldn't know it by looking at its sales," said Jessica Caldwell, a senior analyst for auto researcher Edmunds.com "Nothing in our data shows that shoppers are shying away from new GM vehicles -- at least for now."
Ford's total light-vehicle deliveries rose 3.3 percent to 243,417. F-Series pickups gained 5.1 percent to 70,940, while Escape SUV sales slipped 0.8 percent to 28,701, the Dearborn, Michigan-based automaker said in a statement. The second-largest U.S. automaker topped the average of nine analysts who projected a gain of 1.1 percent.
Late-Month Momentum
Toyota deliveries rose 4.9 percent to 215,348 cars and light trucks, the company said in a statement. Nissan sales jumped 8.3 percent to 149,136 vehicles, a monthly record, according to a company statement. That beat projections of a 1.3 percent gain for Toyota and unchanged sales for Nissan, the averages of seven analyst estimates.
"Solid March sales pushed first-quarter industry results ahead of last year's pace despite one of the harshest winters on record," Bill Fay, group vice president of the Toyota division, said in a statement. "Toyota dealers had their two best sales weekends of the year late in the month, and we're optimistic that momentum will spring us into April."
Chrysler deliveries rose 13 percent to 193,915 for a 48th straight monthly gain, the Auburn Hills, Michigan-based company said yesterday in a statement. The third-largest U.S. automaker beat the average of eight analysts, who projected an expansion of 10 percent. Fiat sales gained 24 percent to 4,738 and Chrysler's Jeep brand increased 47 percent. Ram pickup sales rose 26 percent to 42,532, topping Chevrolet's Silverado for the month.
'High Note'
The U.S. automaker owned by Turin, Italy-based Fiat SpA finished the month with 71 days supply of inventory, down from 85 days at the end of February.
"We are entering the spring selling season on a high note as our Jeep and Fiat brands recorded their best sales months ever," Reid Bigland, the company's U.S. sales chief, said in the statement.
Nissan reported record sales of crossover utility vehicles, such as the Rogue small SUV, which posted record monthly deliveries of 19,420.
"Crossovers are booming, with sales of Nissan crossovers up more than 25 percent so far in 2014," Fred Diaz, Nissan's U.S. marketing chief, said in a statement.
Hyundai Motor Co. and affiliate Kia Motors Corp., South Korea's two biggest automakers, sold a combined 121,782 vehicles last month, a 3.7 percent increase. The average of seven analysts' estimates was for a drop of 2.6 percent. Hyundai, based in Seoul, reported a 1.9 percent decline in sales to 67,005, while Kia said its deliveries grew 12 percent to 54,777.
Honda Slides
Among large automakers, only Honda Motor Co. did worse than analysts had predicted. Honda sales fell 2 percent last month, compared with the 1.8 percent decline that was the average of seven analysts' estimates.
Honda Accord sales fell 7 percent to 33,962, dropping to third place for the month in the mid-size sedan market behind the Toyota Camry, which had 41,953 deliveries, and the Nissan Altima, with 35,921 sales. Ford sold a record 32,963 Fusion sedans, up 8.8 percent.
Combined sales of Volkswagen AG's VW and Audi brands were little changed at 50,963. VW brand sales fell 2.6 percent while Audi sales rose 7.5 percent, the company said. While its Jetta sedan deliveries rose 6.3 percent to 13,687, sales of its Tiguan small SUV plunged 30 percent to 2,315.
While prospects are good for additional sales gains, automakers should temper their optimism in this slow growth economy, Stover said. Employment and income growth remains "sluggish," which can weigh on auto sales, he said.
"The good news about these sales is that it says the weakness that we saw in the first two months was really more cosmetic than economic," Stover said. "But we still are trying to answer the question of whether or not things are actually getting better."
Before it's here, it's on the Bloomberg Terminal.
LEARN MORE