DeSean Jackson Joins Washington Redskins to Remain in NFC East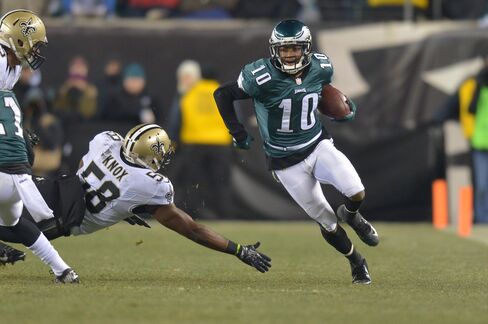 DeSean Jackson is joining the Washington Redskins five days after being cut by division rival Philadelphia.
Jackson, who had 82 receptions for 1,332 yards with the Eagles last season, both career bests, was released March 28.
Jackson, 27, signed a three-year deal worth $24 million, including $16 million guaranteed, ESPN reported, citing people it didn't identify. The team didn't disclose terms of the deal on its website.
The receiver tied a career-high with nine touchdowns last season for the Eagles, who won the National Football Conference's East Division with a 10-6 record. The Redskins, who made the playoffs during the 2012 National Football League season, went 3-13 to finish last in the NFC East in 2013.
The Eagles have yet to speak publicly about the reasons for shedding one of their most effective offensive players. He was let go the same day NJ.com reported that his off-the-field behavior, including ties to the Los Angeles gang known as the Crips, played a role in the Eagles' decision. Jackson denied any connection to gangs and said any speculation on that is "reckless and irresponsible."
The Redskins' 234.4 yards per game last season ranked 16th among the NFL's 32 teams.
Jackson, a second-round draft pick by the Eagles in 2008 from the University of California, Berkeley, caught 356 passes for 6,117 yards and 32 touchdowns during six seasons in Philadelphia.