Coolpad Targets Online Phone Sales to Pass Lenovo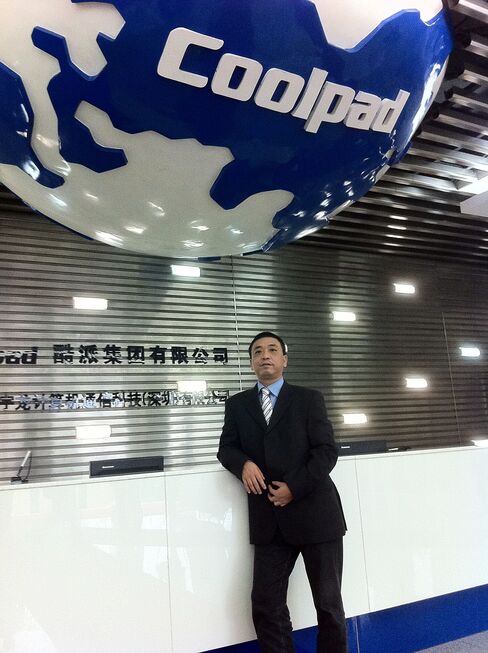 Coolpad Group Ltd. is counting on its new online store to help sell 20 million smartphones this year and push the Chinese company past Lenovo Group Ltd. as the No. 2 seller in the biggest wireless market.
Total shipments will increase about 50 percent this year to 60 million units, with a third of those coming from online orders, Chief Financial Officer Jiang Chao said in an interview at the company's Shenzhen headquarters. Internet sales are key to this year's growth since Coolpad sold just 50,000 units online last year. The shares rose.
The Internet push is an about-face for Coolpad, which rode a close relationship with state-owned carriers including China Mobile Ltd. to a more than seven-fold surge in revenue the past five years. Coolpad opened an online shop at the end of last year and reached a distribution agreement with e-commerce website JD.com Inc. that led to a 10 billion-yuan ($1.6 billion) purchasing contract.
"We have seen that online shopping is growing very fast," Jiang said in the April 1 interview. "Previously, we didn't think online sales were important. Our management is now focused on online sales."
Shares of Coolpad rose 4.7 percent to close at HK$4.05 in Hong Kong compared with a 0.2 percent gain in the Hang Seng index. The stock has gained 59 percent this year, while the benchmark has dropped 3.2 percent, and is headed for its eighth annual gain in the past 10 years. Lenovo rose 1.8 percent to HK$9.00.
Lenovo, Samsung
Coolpad focused on working with carriers because they account for about 70 percent of the mobile phones sold in China. Yet the rapid growth of Xiaomi Corp., a four-year-old Beijing smartphone company that lowers costs by mainly selling online, helped Coolpad see the value of that alternative channel, Jiang said.
Coolpad is gaining sales by offering devices for China's new fourth-generation networks, such as the 1,299-yuan ($209) Coolpad 8720L that has a 5-inch screen and runs on Google Inc.'s Android operating system.
The online push is the right move that should help Coolpad narrow the gap with Lenovo, said Yuji Fung, a Hong Kong-based analyst at Oriental Patron Securities.
"The best strategy for Coolpad is to strengthen its cooperation relationship with local telecom operators to ride on the 4G handset boom this year, and to penetrate into open market via the e-commerce channel," Fung said.
Motorola Deal
The 330.8 million smartphones sold in China last year accounted for 34 percent of the global market, according to researcher Gartner Inc.
Coolpad doesn't have far to go to overtake Lenovo. Coolpad had 11 percent of China's smartphone shipments last year, compared with Lenovo's 12 percent, according to researcher International Data Corp. South Korea's Samsung Electronics Co. led the market with 19 percent.
"This year we will improve to be the second-largest player in China," said Jiang, forecasting a boost in Coolpad's market share to between 13 percent and 15 percent. "We will increase sales volume more than Lenovo in China."
Angela Lee, a Hong Kong-based spokeswoman for Lenovo, said the company wouldn't comment on Jiang's remarks.
Lenovo, the world's largest maker of personal computers, in January agreed to pay $2.9 billion for Google's Motorola Mobility unit. That will create the world's No. 3 smartphone vendor behind Samsung and Apple Inc., according to Strategy Analytics.
First Mover
Lenovo expects its deal to boost sales to 100 million units annually, although Motorola doesn't rank among the top 10 vendors in China.
Oriental Patron's Fung is the only analyst with a sell rating on the stock among the 16 tracked by Bloomberg. There are 11 who recommend buying the shares, while four have holds.
Coolpad was among the first Chinese smartphone makers to offer devices for the new 4G network offering faster speeds for downloading applications, watching videos and playing online games.
The company released three devices when 4G service started in December and has expanded that lineup to 10 phones, the most of any manufacturer, Jiang said. That has allowed it to claim 40 percent of 4G device shipments so far, and it aims to maintain market share of at least 35 percent for the full year, he said.
Price War
"We expect Coolpad to become the largest 4G smartphone brand in China," said Alex Ng, a Hong Kong-based analyst at China Merchants Securities.
Coolpad introduced the first 4G smartphone in 2010 for a China Mobile trial network in Shanghai, Jiang said. China Mobile is the world's largest carrier with 776 million users.
Jiang said he was willing to engage in a price war that may see 4G handsets offered for less than 1,000 yuan if that was necessary to help Coolpad keep its market lead.
"The 4G low-end smartphones will help Coolpad to climb to No. 1 in 4G and No. 2 in the China smartphone market," said Ray Kwok, an analyst with CIMB Securities in Hong Kong.
While Coolpad expects 90 percent of this year's shipments to stay in China, it's also expanding overseas. The company entered the U.S. in 2011 and plans to sell about 2 million devices there this year. It expects to sell the same amount in Europe, a market it only joined last year.
India and Russia are the next targets for international expansion, Jiang said.