China Leverage Seen Rising Through 2016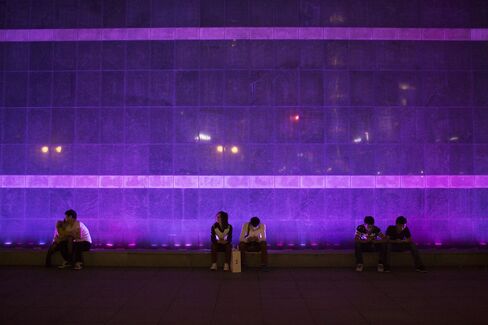 China's debt is poised to keep expanding faster than the economy through at least 2016, testing the limits of a credit-driven growth model that's already exceeded the imbalances in Japan before its lost decade.
The combined ratio of government, corporate and household debt to gross domestic product is set to climb to 236.5 percent in 2016 from 225 percent last year, based on median estimates in a Bloomberg News survey of economists and analysts. Asked when the ratio will peak over the next decade, the largest proportion of respondents said 2018 or 2019.
The responses reflect skepticism that the Communist Party is prepared to allow the long-term deleveraging flagged by the central bank, as leaders focus on preventing an economic slowdown and sustaining employment. China's debt-to-GDP ratio is already higher than India's, Brazil's and Russia's and JPMorgan Chase & Co. says it's surpassed the level in Japan that preceded that nation's financial crisis.
"China needs to watch out -- it has pushed the envelope," said Louis Kuijs, chief China economist at Royal Bank of Scotland Group Plc in Hong Kong, who formerly worked at the World Bank and International Monetary Fund. "It needs to work on mitigating the risks, mitigating the excesses."
The State Council, or cabinet, last night outlined a package of measures including bond-fueled railway spending and tax relief to support the economy and create jobs after a slowdown endangered Premier Li Keqiang's target of 7.5 percent growth this year. An official services index declined in March from February, while a private gauge from HSBC Holdings Plc and Markit Economics rose, with both indicating expansion, reports showed today.
Corporate Debt
Eight of 11 respondents in the survey said corporate debt as a percentage of GDP is likely to grow at the fastest pace through 2016, surpassing the categories of household, central government and local government borrowing.
The survey, conducted from March 19 to March 31, asked for estimates of debt-GDP ratios through 2016, with seven of 10 respondents seeing three years of continuous increases.
Asked when the ratio would peak in the coming decade, four of 11 picked 2018-19; three each chose 2014-15 and 2016-17; and one opted for 2020-24.
President Xi Jinping and Premier Li need to contain dangers from a rapid buildup of debt and $6 trillion shadow-banking industry after events this year including a property developer's collapse, the nation's first onshore bond default and the last-minute bailout of a trust product.
Closely held Xuzhou Zhongsen Tonghao New Board Co., a Chinese building-materials producer, will avert what would have been the second bond default after its guarantor said it would step in to help, two people familiar with the matter said, Bloomberg News reported yesterday.
Long Period
"After a relatively big increase in leverage in recent years, the economy may go through a deleveraging and capacity-reduction process over a relatively long period of time," the People's Bank of China said in a quarterly monetary-policy report in November.
Credit Agricole SA estimates borrowing will head to 265 percent of GDP in 2016 from 226 percent last year. China's annual growth potential is 6 percent, indicating that reaching the nation's 7.5 percent target will require fiscal or monetary stimulus, said Dariusz Kowalczyk, Hong Kong-based senior economist at Credit Agricole.
"Attempts at deleveraging bring the economy down to a slower growth path," he said.
The debt ratio will reach 251 percent of GDP next year and will probably increase if policy makers want to generate 7.5 percent economic growth, said Adam Wolfe, Asia economist at Roubini Global Economics in London.
"This is inherently unsustainable," Wolfe said. "China is headed for a period of painful deleveraging and much slower growth in the not-too-distant future."
Japan Increase
China's credit-to-GDP ratio rose to 187 percent in 2012 from 105 percent in 2000, compared with Japan's increase to 176 percent in 1990 from 127 percent in 1980, JPMorgan economists wrote in a report last year.
After expanding 82 percent from 1980 to 1990, Japan's economy in 2010 was little changed from its size in 1991, after the stock bubble burst. Most forecasts aren't so dire for China, with analysts in a separate March survey seeing growth of 7.4 percent this year, 7.2 percent in 2015 and 7.3 percent in 2016.
Goldman Sachs Group Inc. said in a July report that China's debt-to-GDP ratio was higher than that of most emerging-market peers including India, Brazil and Russia.
Not everyone sees the debt level or deleveraging as a growth danger. Stephen Roach, former chairman of Morgan Stanley Asia, told reporters in Beijing last week that China has an arsenal of domestic savings and monetary power that most economies fueled by debt-intensive growth lack.
Shen Jianguang, chief Asia economist at Mizuho Securities Asia Ltd. in Hong Kong, said there's no way to prevent the debt ratio from rising in the near term and doing so would be a risk. Companies must be able to roll over debt while the government implements policy changes, such as expanding share sales, that can help reduce the reliance on credit, Shen said.
The effects on the economy from higher debt will depend on the quality of credit and the effectiveness of government supervision, RBS's Kuijs said.
"If the bulk of that increase will stem from business as usual," with credit going to heavy industry or state-owned enterprises, "then a further buildup will increase the risks," he said.
— With assistance by Kevin Hamlin
Before it's here, it's on the Bloomberg Terminal.
LEARN MORE