Yellen's Real-Life Examples of Unemployed Omit Criminal Records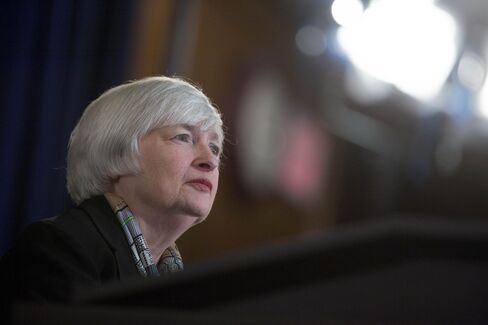 In her first speech as Federal Reserve chair, Janet Yellen told the stories of three people who had trouble finding work to illustrate her concern about the unemployed -- omitting the fact that two had criminal records that might have influenced employers' decisions on whether to hire them.
One was Dorine Poole, who lost her job processing medical insurance claims when the recession hit.
"When employers started hiring again, two years of unemployment became a disqualification," Yellen said in her speech yesterday to a community development conference in Chicago. "Even those needing her skills and employment preferred less-qualified workers without a long spell of unemployment."
Poole was convicted of felony theft 20 years ago after she fell in with a "bad circle," she said in a telephone interview. She was 18 at the time and served two years of probation.
Jermaine Brownlee, a skilled construction worker and apprentice plumber, "saw his wages drop sharply as he scrambled for odd jobs and temporary work," Yellen said.
Brownlee said in a telephone interview that he was convicted of possession of heroin last year and currently is on parole.
Yellen met personally with both people and knew about their records before the speech, according to a Fed spokeswoman who requested anonymity and declined to comment further.
Politicians commonly tell real-life stories to connect with voters and illustrate policy proposals. While the images can be powerful, there are risks.
Staff Work
The fact that Yellen omitted critical details about Poole and Brownlee shows "poor staff work or poor judgment," said Republican strategist Stuart Roy, founder of Strategic Action Public Affairs in Alexandria, Virginia.
"Real-people examples are very powerful and they're very dangerous at the same time," Roy said. "When you're talking about the Fed, people have no idea what the Fed does. If you can relate it to Main Street and real people it can be very powerful."
Poole and Brownlee participated in a training program called U-Turn Permitted, which specifically aids people with felony records, said Brenda Palms Barber, executive director of the North Lawndale Employment Network, a Chicago-based non-profit.
Poole said Yellen called her Thursday to talk about the speech. "She just wanted to know how it really was for people for real, how it was going through the recession, to be losing a job," Poole said. 'She said, 'I really want to know and see through your eyes what happened.'''
Office Manager
After several years of unemployment, Poole got a 30-hour-a-week office manager job in December 2010 at UrbanPonics, a Chicago-based company that grows hydroponic produce. She's looking for a second job and thinks her criminal record unfairly has held her back.
"I worked all these years even with my criminal record," Poole said. "I have over 15 years of office work in my background."
Brownlee, 39, said he moved to Chicago in 2008 when work dried up in Texas. He did odd jobs for friends and family and for nearly a year drove a forklift and cherry picker at a warehouse.
Last year he was arrested when police found heroin in his car, he said. The drugs belonged to a friend, he said. Nevertheless he spent time in jail before being placed on house arrest. He is now on parole.
Sweet Beginnings
Like Poole, Brownlee believes his conviction has hampered his ability to find work. He currently tends to a subsidized honey business, Sweet Beginnings, operated by North Lawndale. "I do have a criminal background," Brownlee said. "That made it a little bit harder, I guess."
Still, he thinks his gap in full-time employment is what's hurting his job prospects most. For that reason, he doesn't think Yellen's speech was misleading.
"She took the parts of that that show that regardless of what type of skill I have, to the employer that didn't matter," Brownlee said. "We need to get more people like Ms. Yellen in office."
Before it's here, it's on the Bloomberg Terminal.
LEARN MORE