Why Hertz Is So Hot for Off-Airport Rentals
Think of rental cars, and you immediately think of airports. Hertz is working furiously to change that bias by moving large numbers of its cars to places where people are apt to need a rental: hotels, auto body repair shops, supermarkets, and retailers such as Costco and Ikea.
Here's a slide Hertz showed to investors today, illustrating the opportunity for companies in the business of auto rentals (or, for those in Europe, car hires):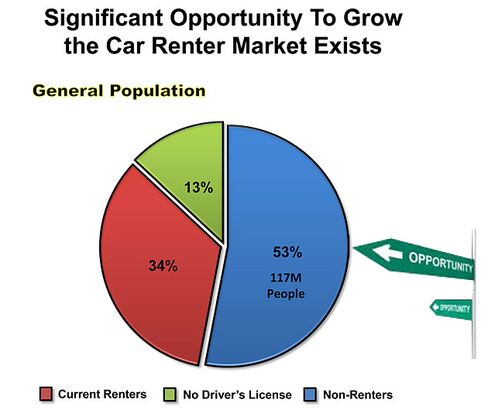 More than half the U.S. population didn't rent a car last year. What's more, Hertz says nonairport rentals offer higher profit margins and lower labor and administrative costs. Hertz's cars at off-airport locations are also rented slightly more often than at airports, which is another attractive feature in an industry where "utilization" correlates closely with profitability.
In 2012, Hertz says it had a 12 percent share of the $11 billion U.S. off-airport rental market, with revenue in that category up 46 percent since 2006. About half those rentals were for leisure trips, while a third served as a replacement for an owner whose car was under repair or otherwise unavailable.
Before it's here, it's on the Bloomberg Terminal.
LEARN MORE