NATO Military Chief Weighs Options as Russian Forces Stay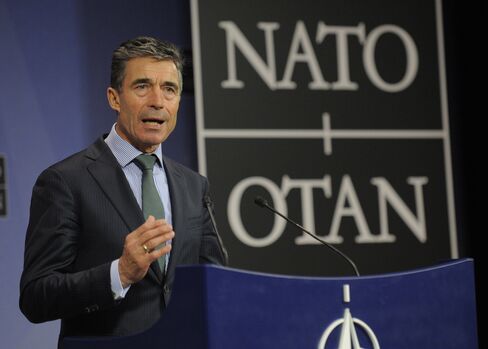 NATO's top military commander is exploring ways to strengthen collective security in Europe, as the alliance vowed to boost support for eastern nations unnerved by Russia's annexation of Crimea.
Options being considered by U.S. Air Force General Philip Breedlove include putting a U.S. warship in the Black Sea, beefing up previously scheduled NATO exercises and improving the readiness of the alliance's 13,000-member rapid-response force, according to an American defense official who spoke on condition of anonymity to discuss military planning.
"We directed our military commanders to develop additional measures to enhance our collective defense and deterrence against any threat of aggression," Anders Fogh Rasmussen, secretary general of the North Atlantic Treaty Organization, said yesterday after NATO foreign ministers met in Brussels.
Rasmussen said allied intelligence had seen no sign that Russia was scaling back its "massive military buildup" along Ukraine's eastern borders. As many as the 40,000 Russian troops have taken positions along the frontier, stirring concerns that they're poised to invade on the pretext of protecting ethnic Russian inhabitants of eastern and southern Ukraine.
Yesterday's meeting of the North Atlantic Treaty Organization's foreign ministers was the first since Russia rocked the post-Cold War order by wresting Crimea, a region with a majority of Russian speakers with historic ties to Moscow, away from Ukraine. Shrugging off U.S. and European sanctions, Putin has justified the move as righting a historical wrong that split off Crimea from Russia when the Soviet Union collapsed.
Russian Markets
Russian stocks rose to the highest in a month on the prospect that the crisis in Ukraine won't escalate. The Micex Index added 0.5 percent to 1,375.73 by the close yesterday in Moscow after falling as much as 0.7 percent earlier. The nation's 10-year bond rose for a third day before the government holds its first debt sale in five weeks today.
Rasmussen said "unfortunately" there are no signs of a pullback. A day earlier, German Chancellor Angela Merkel spoke to Russian President Vladimir Putin and said that he had ordered a partial withdrawal, and the Interfax news service had cited Russia's Defense Ministry as announcing that a motorized battalion was being pulled out.
Although the U.S. and its European allies are "still pursuing the path of de-escalation of this crisis," NATO remains "flexible and as the Secretary General noted, we're looking at stronger measures," U.S. Defense Secretary Chuck Hagel told reporters on a U.S. military aircraft as he headed to Hawaii for two-days of meetings with Asian counterparts.
'Visible Assurance'
As part of its measures, NATO has decided to halt "all practical cooperation" with Russia, Rasmussen told reporters.
In a statement, the foreign ministers pledged to provide "appropriate reinforcement and visible assurance of NATO's cohesion and commitment to deterrence and collective defense against any threat of aggression to the alliance."
The statement left open whether NATO will set up permanent bases near Russia's border. The alliance limited its troop presence in eastern Europe when it started expanding there, partly to avoid antagonizing Russia.
Asked if the options NATO is considering include moving alliance ground forces permanently to eastern Europe, Hagel said, "We've to be prepared to deal with any contingency and all options."
At least eight countries -- the U.S., the U.K., Germany, France, Poland, Turkey, Denmark and Portugal -- pledged to provide equipment to bolster the alliance's eastern flank, an official told reporters on condition of anonymity to discuss internal deliberations. Defense ministers will review the force posture in early June.
Air-Policing Mission
In the meantime, NATO has stepped up an air-policing mission over the Baltic states and dispatched AWACS surveillance planes over Poland and Romania. The U.S. sent more F-16 fighter jets to Poland and joined Romania and Bulgaria in naval exercises in the Black Sea.
Polish Prime Minister Donald Tusk said his government will act to increase the presence of NATO forces "step by step" and that the speed of NATO's force buildup in Poland "could have been greater."
"Poland's eastern border is a key part of NATO's borders and it requires special attention," Tusk told reporters in Warsaw yesterday.
The annexation of Crimea refocused the U.S.-led alliance on its Cold War-era mission of protecting its home territory, which since 1999 includes eastern European countries such as Poland. Four NATO members -- Poland, Slovakia, Hungary and Romania -- border Ukraine. Four also border Russia -- Estonia, Latvia, Lithuania and Poland.
International Exercise
Ukraine plans to host U.S., Polish, Romanian and Moldovan troops in an international exercise running from May to November, according to a law passed by parliament in Kiev yesterday. Ukraine has asked NATO allies for military equipment, though it doesn't want weapons and isn't planning to relaunch a bid for NATO membership, Foreign Minister Andriy Deshchytsya said yesterday in Brussels.
NATO offered help in modernizing Ukraine's military, starting with a visit next week by experts from allied capitals to assess the state of its armed forces. The alliance already has coached Kiev's military over 17 years of formal ties, including Ukrainian deployments in Afghanistan.
The strategy for regaining sovereignty over Crimea involves filing legal cases at the International Court of Justice, Deshchytsya said. "We believe that with the international support, we will be able to return Crimea to Ukraine," he said, adding that the court cases will take time.
NATO foreign ministers also gave a political blessing to an earlier decision to halt day-to-day civilian and military contacts with Russia.
Rasmussen said that suspension of "business as usual" won't include stopping joint projects in Afghanistan. The alliance works with Russia on counter-narcotics and helicopter maintenance in Afghanistan, and uses Russian supply routes.
Before it's here, it's on the Bloomberg Terminal.
LEARN MORE