Red Sox Lose Opener to Orioles as Cardinals Shut Out Reds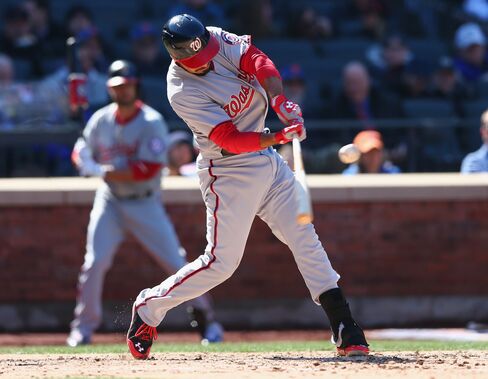 The World Series-champion Boston Red Sox lost their season opener, falling 2-1 at the Baltimore Orioles, and the New York Mets blew two leads in dropping their opener 9-7 to the Washington Nationals.
Also on the first full day of Major League Baseball action this season, the defending National League-champion St. Louis Cardinals won 1-0 at the Cincinnati Reds as Yadier Molina hit a seventh-inning home run and Adam Wainwright pitched seven scoreless innings for the victory.
In other games, it was Pittsburgh 1, the Chicago Cubs 0 in 10 innings; Detroit 4, Kansas City 3; Philadelphia 14, Texas 10; Milwaukee 2, Atlanta 0; the Chicago White Sox 5, Minnesota 3; Tampa Bay 9, Toronto 2; Miami 10, Colorado 1; San Francisco 9, Arizona 8; Cleveland 2, Oakland 0; Seattle 10, the Los Angeles Angels 3.
Nelson Cruz hit a decisive home run in the seventh inning in his first game for the Orioles. Cruz signed with Baltimore as a free agent after serving a 50-game drug suspension with the Texas Rangers last season.
Nationals' Comeback
In a game at Citi Field in New York that included five home runs, Bobby Parnell blew a save opportunity for New York in the ninth inning and the Nationals scored four times in the 10th inning -- including a three-run homer by Anthony Rendon -- to earn the win.
Mets left fielder Andrew Brown opened his year with a three-run homer off Washington's Stephen Strasburg to give the Mets the early lead. After Washington tied the game in the seventh inning, Juan Lagares hit a solo shot for New York to provide another lead that didn't last.
The first overturned play under MLB's new review system took place in Milwaukee, as the Atlanta Braves successfully argued that a throw beat the Brewers' Ryan Braun to first base in the sixth inning after Braun initially had been called safe.
The New York Yankees open their season tonight at the Houston Astros, who were an MLB-worst 51-111 last season.
Before it's here, it's on the Bloomberg Terminal.
LEARN MORE