Kerry in Mideast Talks as Pollard Release Is Broached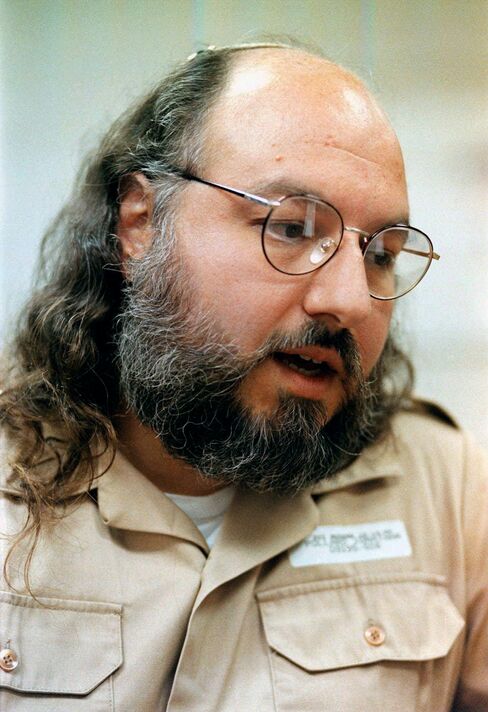 April 1 (Bloomberg) -- Palestinian President Mahmoud Abbas vowed to resume a bid for statehood at the United Nations, saying peace talks with Israel are going nowhere, as the U.S. sought to revive them with a plan including the release of convicted spy Jonathan Pollard.
Abbas said in Ramallah today that he'll seek to join 15 UN bodies, a step he has put on hold to improve the prospects for the talks brokered by Secretary of State John Kerry. Abbas accused Israel of breaking a pledge to release prisoners and said the negotiations have met "delay and more delays." He praised Kerry's "tremendous" effort and said Palestinians remain committed to a peaceful solution.
Kerry said the talks haven't broken down, though his scheduled meeting with Abbas tomorrow may be off. "My team is on the ground and will continue to meet with the parties even tonight," he said in Brussels, where he attended a NATO meeting after leaving Israel today. The U.S. is "willing to be a facilitator in this process, but the leaders on both sides have to make the decisions, not us."
Kerry is seeking a formula for extending the negotiations beyond the end of April, the deadline he had set. They have foundered on issues including the prisoner delays and Israel's refusal to freeze settlement construction in the West Bank.
Pollard Talks
That's the backdrop for the talks over Pollard, the American naval intelligence analyst found guilty in 1987 of passing secrets to Israel. His fate has been discussed by Kerry and Israeli Prime Minister Benjamin Netanyahu, according to a U.S. official. The two met in Jerusalem yesterday and today. Another official familiar with the talks said the proposed deal would see Pollard freed before the Passover holiday on April 14.
In return, Israel would meet some Palestinian demands. It would expand a previously agreed release of prisoners to include an additional 400 people, and refrain from issuing tenders for new housing construction in West Bank settlements, according to the officials, who asked not to be identified.
Previously approved construction and tenders for non-residential projects would continue, while there'll be no freeze in east Jerusalem.
White House spokesman Jay Carney said President Barack Obama hasn't made a decision to release Pollard.
The plan described by the officials falls short of Palestinian demands including a total freeze on new building in east Jerusalem and the West Bank. Palestinian Minister of Prisoner Affairs Issa Qaraqi also said today that Israel must free an additional 1,000 prisoners to keep the talks going beyond April.
Deadline Missed
Israel agreed last year to free 104 Palestinian security prisoners in four installments, and missed last week's deadline for the final one.
Pollard's imprisonment has long been a source of tension in U.S.-Israeli relations, with Netanyahu trying to secure the spy's release since his first term as prime minister.
Pollard, 59, was arrested after supplying Israel with top-secret documents including assessments of the weapons capabilities of several Middle Eastern countries. He's serving a life sentence in a medium-security prison in Butner, North Carolina, and is due for release in November 2015.
Israel acknowledged Pollard's espionage activities in 1998, and he has been granted Israeli citizenship since his imprisonment. His early release may cause uproar among current and former U.S. intelligence officials who consider him a traitor.
"We would express our real outrage that an unrepentant spy is being released for an abstract political point that really won't make a difference," said Oliver "Buck" Revell, who served as associate deputy director of the Federal Bureau of Investigation when Pollard was convicted.
Some of Netanyahu's ministers have opposed linking Pollard's release with the freeing of Palestinian prisoners or settlement construction. Agricultural Minister Yair Shamir said today on Army Radio that it amounted to "bribery."
To contact the reporters on this story: Terry Atlas in Jerusalem at tatlas@bloomberg.net; Calev Ben-David in Jerusalem at cbendavid@bloomberg.net
To contact the editors responsible for this story: John Walcott at jwalcott9@bloomberg.net; Andrew J. Barden at barden@bloomberg.net Ben Holland, Larry Liebert