Hollande Set to Shake Up Cabinet After Election Defeat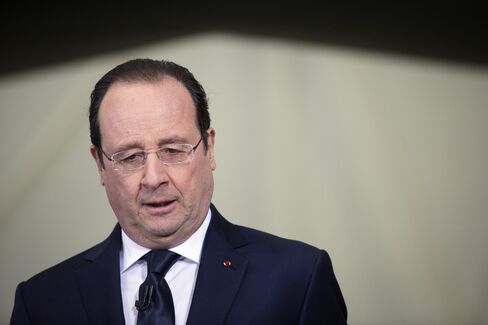 French President Francois Hollande is set to reshuffle his cabinet after his Socialist Party was trounced in local elections and his government missed its 2013 deficit target.
Hollande will make a televised address tonight at 8pm Paris time, his office said. The president will name Interior Minister Manuel Valls as prime minister, Le Monde reported.
Voters punished the government for France's record joblessness as Socialist mayors in cities such as Toulouse, Limoges, Belfort, Reims and Albertville were ousted yesterday by former President Nicolas Sarkozy's UMP Party. The anti-euro National Front of Marine Le Pen also gained ground. The Socialists kept Paris, which accounts for about 10 percent of the national gross domestic product, with Anne Hidalgo becoming the capital's first female mayor.
"Let's not beat around the bush; last night was a night of defeat," Claude Bartolone, the Socialist head of the French national assembly, wrote on his blog today.
In what was seen as a referendum on Hollande's almost two years in power, the vote shows growing discontent as jobless claims climbed to a record of more than 3 million and the economy barely grew in two years. The electoral losses were compounded by a data release today showing that France's public deficit amounted to 4.3 percent of GDP last year instead of the 4.1 percent.
"A cabinet reshuffle looks increasingly inevitable," Antonio Barroso, an analyst at Teneo Intelligence in London, wrote in a note.
'Shock Treatment'
A Harris poll released last week said 78 percent of the French want Hollande to replace Prime Minister Jean-Marc Ayrault. Among the possible candidates, 19 percent favor Valls, 13 percent want Lille Mayor Martine Aubry, and 10 percent opt for Foreign Minister Laurent Fabius, according to the poll.
"Jean-Marc Ayrault may not be the only one responsible but the time has come for shock treatment," Socialist lawmaker Julien Dray said on Europe 1 radio. "The time has come to give the government a new profile."
Hollande's government has struggled to rekindle France's sluggish economy. In January, he unveiled a "Responsibility Pact," with cuts of 30 billion euros ($40 billion) from business charges and promised to squeeze government spending to cap unemployment that's at a 16-year high.
Ayrault said yesterday that the government "has not explained well enough its actions to get the country back on its feet." He said he was still "convinced that these difficult reforms will bear their fruit."
Local Governments
Finance Minister Pierre Moscovici today failed to confirm that France aims to reduce the deficit to 3.6 percent of GDP this year. The government will provide fresh fiscal projections to the European Commission by mid-April, he said.
"The 2014 budget deficit target is becoming more of a challenge, especially given the political context," said Dominique Barbet, an economist at BNP Paribas in Paris. "More measures will be required."
Incoming mayors may be among the first to feel the pinch. The national target was missed in large part because the shortfall by French local governments jumped to 9.2 billion euros from 3.7 billion euros a year earlier.
About 6,000 municipalities held run-off elections for city councils yesterday after a first round of voting a week ago in all of France's 36,000 towns.
Record Abstentions
Valls said yesterday that preliminary numbers showed the Socialists and their allies got 40.6 percent of the vote nationwide, while the UMP and their allies got 45.9 percent and Le Pen's National Front got 6.8 percent. He said 10 towns with populations of more than 100,000 swung from the left to the right.
A record 38.5 percent of registered voters abstained, according to estimates by TF1 television.
"The high abstention Sunday shows the failure of the left to mobilize its supporters," Frederic Dabi, deputy director general of polling company Ifop, said on i-Tele television.
Local elections generally go against the party in power, Dabi said, citing an election 10 years ago when the party of then President Jacques Chirac lost control of 24 of France's 26 regions.
'Strong Disappointment'
The UMP yesterday held on to the mayor's job in Marseille, France's third-largest city. The victories gave the party a breather from months of scandals and a leadership battle that have left it in disarray since Sarkozy lost the presidency in May 2012.
The Socialists had some victories, holding on to Metz, Rennes, Strasbourg, and Lille, and wresting control of Avignon.
The National Front won in Frejus and a candidate linked to the front won in Beziers. The party failed in Perpignan and Avignon, where it scored strongly in the first round.
The anti-immigrant party may not match its success in 1995, when Front candidates won mayoral elections in Toulon, Orange, and Marignane. None were re-elected.
The mayor-elect of Paris also urged Hollande to take note of the election results.
"There should be a very deep change in the government," Hidalgo said. The president "must take stock of the seriousness of the situation. There is a strong disappointment."
Before it's here, it's on the Bloomberg Terminal.
LEARN MORE