Aston Martin Said to Hold Daimler Talks on Luxury SUV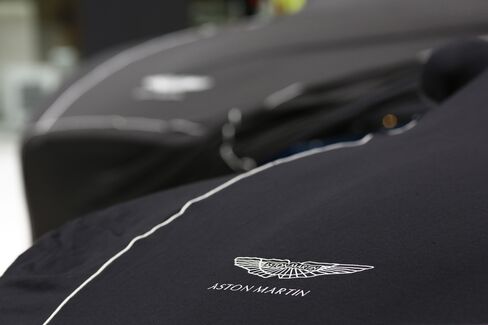 Aston Martin Lagonda Ltd. and Daimler AG are holding talks to extend their cooperation to sport-utility vehicles as the British maker of cars featured in James Bond movies seeks to broaden its lineup, people familiar with the matter said.
Daimler, the producer of Mercedes-Benz luxury cars, may share the underpinnings of a new full-size SUV with Aston Martin, said the people, who asked not to be identified because the discussions are private.
Daimler agreed last year to acquire a stake of as much as 5 percent in Aston Martin as part of a plan to share technology with the Gaydon, England-based sports-car maker. Mercedes's AMG high-performance division will develop V8 engines with the U.K. company for Aston Martin's next models.
"Aston really needs a technology partner" to update engine systems as well as build SUVs, "the fastest-growing segment in the premium car game," Erich Hauser, a London-based automotive analyst at International Strategy & Investment Group, said in an e-mail. "I'm just not sure what Daimler gets" from the partnership.
Mercedes is the third-largest maker of luxury cars, behind Bayerische Motoren Werke AG and Volkswagen's Audi brand. Daimler Chief Executive Officer Dieter Zetsche has a target for Mercedes to retake the lead in the segment that it lost to BMW in 2005. The strategy includes the rollout of 30 new models through 2020, a dozen of which will have no predecessor.
Daimler Gains
Daimler rose as much as 0.9 percent and was trading up less than 0.1 percent at 68.85 euros as of 12:13 p.m. in Frankfurt. The stock has been at about a six-year high since the start of 2014, valuing the Stuttgart, Germany-based carmaker at 73.7 billion euros ($102 billion).
Aston Martin is the only global luxury-auto producer that doesn't belong to a larger manufacturing group. Following investment firm Investindustrial's purchase of a 37.5 percent stake, the carmaker laid out plans in 2013 to spend 500 million pounds ($832 million) in the next four years to challenge Volkswagen AG's Bentley and Fiat SpA's Ferrari and Maserati.
Talks are at an early stage as the SUV won't come to market for another three years and the British carmaker is still weighing whether to use its own technology to develop a crossover, one of the people said. Representatives for Investindustrial, Aston Martin and Daimler declined to comment on whether they're considering building an SUV together.
Aston Partnerships
Investindustrial Chairman Andrea Bonomi said last year he wants to expand Aston's lineup while establishing partnerships to limit development costs.
Aston Martin is searching for new chief executive officer after Ulrich Bez stepped down at the end of 2013 following his 70th birthday. The automaker won't make any final decision on its model strategy before naming a new CEO, one person said.
Aston Martin has a target of boosting annual sales to 7,000 vehicles in 2016 from about 4,000 cars in 2013, with gains propelled by catering to demand in Asia, North America and South America, people familiar with the matter said last year. The carmaker may then develop an SUV designed to attract wealthy drivers, the people said.
High-End SUVs
Maserati and Bentley are among supercar makers planning to produce SUVs to expand in the U.S and emerging markets such as China and Russia, where there's a growing class of wealthy consumers. Longer driving distances and large areas of undeveloped land also make SUVs popular in all three countries.
Investindustrial, which sold Italian motorcycle maker Ducati to VW's Audi division in mid-2012, completed the 190 million-euro purchase of the Aston Martin stake in 2013 and gained management control of the carmaker. Bonomi pledged to remain an Aston Martin shareholder for at least 10 years.
Aston Martin's other owners are Kuwaiti companies Investment Dar and Adeem Investment Co., which bought the U.K. carmaker in 2007 from Ford Motor Co., the manufacturer's owner for 20 years.
Before it's here, it's on the Bloomberg Terminal.
LEARN MORE