Samson Leaving Port Authority After Report Blasts Agency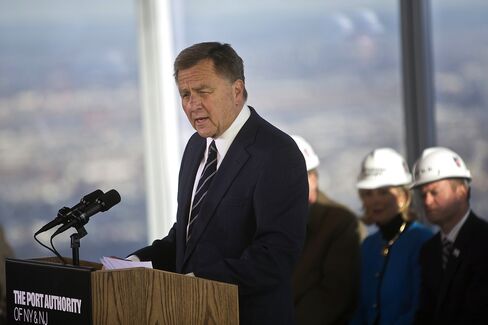 Port Authority Chairman David Samson resigned after a report commissioned by New Jersey Governor Chris Christie to probe lane closings at the George Washington Bridge recommended changes at the agency.
Samson, appointed by Christie to the Port Authority of New York and New Jersey, which runs the span, was linked by e-mails to September traffic jams at the foot of the bridge in Fort Lee, whose mayor didn't endorse the governor's re-election. Samson has been wanting to step down for a year, Christie told reporters on March 28 in Trenton, saying he asked him to stay on through the election.
"He's 74 years old and he's tired," Christie said at his first news conference in 11 weeks. Samson's resignation, effective immediately, was "no shock," Christie said. Samson said the move was needed to alter the direction of the agency, which needs "fundamental structural change," the Republican governor said.
Samson's departure came after an internal report commissioned by Christie's administration blamed former aides and allies for the traffic jam and cleared the governor of wrongdoing. The taxpayer-funded effort cost about $1 million at $650 an hour, according to Democratic lawmakers. It delved into the private lives of aides blamed for the jams, while presenting the governor as an active chief executive dedicated to the truth and wounded by betrayal.
Christie's Account
Gibson Dunn & Crutcher LLP, the New York law firm that conducted the review, didn't interview Samson.
Under the agency's structure, Christie appoints the chairman. He said he expects selection and confirmation of a replacement by the Democrat-dominated state Senate to take time.
Senate President Stephen Sweeney of West Deptford, the state's highest-ranking Democrat, didn't return a telephone call seeking comment yesterday.
The Gibson Dunn report suggested splitting the agency into two separate bodies, one for New York and one for New Jersey. That idea may have merit, Christie said at his news conference.
Cuomo said yesterday the agency offered "an exciting possibility" of bistate cooperation when first formed, though he added it has become a regional organization with infighting between the states.
"I don't think there's any question that structural changes are a possibility," he said. "It's also very complex because the entire legal and financing mechanism that exists has an asset base that is now a bistate asset base. It's much easier said than done."
Speaking Again
Christie's news conference and report were part of a coordinated publicity offense that also included national television interviews.
The 51-year-old potential presidential candidate had avoided reporters' questions since the scandal erupted in January, imperiling a possible 2016 campaign. The last time Christie appeared before the press was on Jan. 9, when he presided over an almost two-hour session, apologizing and denying any knowledge of a plot to close lanes as an act of retaliation.
He said at the news conference that he wanted to gather facts before holding another one. The governor sparred with reporters during the session, calling questions that displeased him ridiculous and "infirm."
'Got It'
Christie's popularity across the U.S. fell to 32 percent in a Bloomberg National Poll conducted March 7-10. It was 50 percent in June, about two months before Bridget Anne Kelly, a deputy chief of staff, sent an Aug. 13 e-mail to David Wildstein, a Christie ally at the Port Authority, that said: "Time for some traffic problems in Fort Lee." Wildstein, who ordered the closings, replied: "Got it."
Christie said then that he had fired Kelly and severed ties with Bill Stepien, his former campaign manager. Wildstein resigned.
Kelly and Wildstein ordered the closings for "unclear ulterior motives," the internal report concluded. Both declined to be interviewed by lawyers for Christie's administration. Separate investigations are also being conducted by U.S. Attorney Paul Fishman and state lawmakers.
In one message obtained under lawmakers' subpoena, Wildstein told Kelly that Samson was "helping us to retaliate" for New York officials' easing the jam on what would have been its fifth day.
More Questions
Pat Foye, the authority's executive director appointed by New York Governor Andrew Cuomo, told the New York Daily News in February that Samson lacked moral authority to run the agency.
Samson, formerly New Jersey's attorney general, has been the subject of reports in the New York Times, the Star-Ledger of Newark and other newspapers about Port Authority votes on projects with ties to his law firm, Wolff & Samson.
Samson "has been incredibly powerful as the chairman of the Port Authority but he's also had a conflict of interest," said Patrick Murray, a pollster with Monmouth University. "We have to get answers about why Kelly and Wildstein did this and who knew about it. When those questions are answered, this could go away for Christie, as long as those answers don't just raise more questions."
Before it's here, it's on the Bloomberg Terminal.
LEARN MORE