Adelson Wooed by Republican Presidential Prospects at Vegas Meet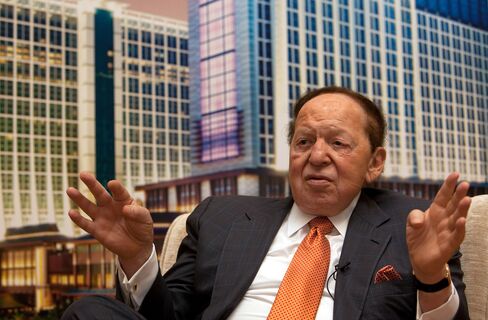 Three Republican governors eyeing the White House, including embattled New Jersey Governor Chris Christie, were in Las Vegas yesterday to court Sheldon Adelson, a billionaire casino owner who could give any of their eventual campaigns a major financial boost.
The governors met one-on-one with Adelson, 80, and addressed a conference of the Republican Jewish Coalition, an advocacy group that counts him as a board member and benefactor. More than 400 of the coalition's top donors and those seeking support from them gathered this weekend at Adelson's convention center-hotel-casino complex, part of his international Las Vegas Sands Corp.
Christie, who twice won the governorship in a Democratic-leaning state, pitched himself to the group as an example Republicans can follow in efforts to broaden the party's appeal. He said that in his re-election victory last November, exit polls showed he received 51 percent of New Jersey's Hispanic vote and boosted his share of African-American support to 21 percent from 7 percent four years earlier.
"We need to go out to places where we're uncomfortable and to listen," he said. "Where you spend your time is the greatest indicator of respect."
Like Christie, Governors John Kasich of Ohio and Scott Walker of Wisconsin offered themselves as exemplary Republican candidates.
Asked about a 2016 presidential run by an audience member, Walker, seeking re-election to his post in November, said that "any Republican who is talking about anything other than" the 2014 midterm elections "is doing a disservice not only to the party but the country."
Outsider Needed
He added, referring to the White House race: "We need to send people from outside of Washington."
Former Florida Governor Jeb Bush addressed a coalition dinner March 27 and also met privately with Adelson.
Kasich gave a lunchtime talk yesterday, repeatedly directing his eye contact and comments to "Sheldon," who was in the crowd.
Kasich concluded his remarks by thanking "Sheldon" for the invitation and said, "I don't travel to these things much, but this one was really important."
The chance to curry favor with Adelson has helped draw some of the Republican Party's major figures to RJC gatherings.
Adelson is the 10th richest person in the world, according to the Bloomberg Billionaires Index, amassing his $36.9 billion as owner of the world's largest casino company.
2012 Spending
He also was the biggest spender in the 2012 presidential election, investing about $93 million along with his wife, Miriam Adelson.
The couple first helped former U.S. House Speaker Newt Gingrich's bid for the Republican nomination by pumping $19 million into a super-political action committee that backed him. When he lost to Mitt Romney, the Adelsons shifted their giving to the former Massachusetts governor while also donating to groups that backed Republican House and Senate candidates.
"Sheldon's a generous guy and he can attract a lot of players who want to come and hang out with him, and then they collectively attract a number of potential candidates," Gingrich said March 28 in an interview with the National Journal.
Gingrich also criticized an "election process that radically favors billionaires and is discriminating against the middle class," and said campaign-finance laws should be reformed to give candidates, not super-PACs, access to bigger donations. Donors may give candidates up to $2,600 per election, while super-PACs can raise and spend unlimited sums.
Court Decision
The 2010 U.S. Supreme Court decision in the Citizens United case and subsequent court rulings and regulatory actions have empowered outside groups such as super-PACs to play a larger role in campaigns.
So far for the 2014 elections, Adelson and his wife have given about $181,000 to Republican candidates and party committees, according to the Center for Responsive Politics, a campaign finance tracker in Washington.
Adelson recently began lobbying for a federal ban on online gaming, saying it's a moral issue to keep children from gambling. The topic didn't come up in yesterday's speeches. The casino mogul's most pressing issue, he has said in previous interviews, is U.S. support for Israel.
Bolton Comments
John Bolton, former ambassador to the United Nations and another possible 2016 presidential contender, also spoke to the conference yesterday and lambasted President Barack Obama's foreign policy as one of "drift, decline and defeatism."
"The perception is that American influence has declined," he said. Peace negotiations between Palestine and Israel are "fraudulent" and "worse than a waste of time," he said.
Adelson missed the remarks by Walker and Bolton. He was escorted to his front-and-center seat as Christie was speaking from the podium.
Christie told his listeners that the U.S. must return to its "active, vigorous role in the world."
The audience reacted more to Christie than to the other speakers -- standing to applaud as he entered and then again when he left the room.
"All of them got a very warm and I think enthusiastic response from the attendees," Matt Brooks, RJC's executive director, said.
Lesson Learned
In a brief question-and-answer session with Christie, Brooks asked what lessons he had learned from the scandal in which aides and allies disrupted traffic on a bridge leading to New York in retribution for a Democratic mayor's refusal to endorse his re-election.
"It is always confidence-shaking and disappointing when people that you trust let you down," Christie said. "As a leader of an organization, you're ultimately responsible for that."
U.S. House Speaker John Boehner, an Ohio Republican, attended the coalition's board meeting on March 28 and "spoke strategically" about the party's push to maintain its majority in Congress's lower chamber and win the six seats needed to control the Senate, said RJC National Chairman David Flaum.
Last year's speakers included Florida Senator Marco Rubio and New Mexico Governor Susana Martinez, as well as Majority Leader Eric Cantor of Virginia. Cantor didn't attend this year - - his first absence in a decade, Flaum said.
Attending for the first time this year was Tim Phillips, president of Arlington, Virginia-based Americans for Prosperity, a nonprofit small-government advocacy group founded by billionaire energy executives David and Charles Koch.
Before it's here, it's on the Bloomberg Terminal.
LEARN MORE