N.J. Pension Fix Shows Weakness in Finances, Moody's Says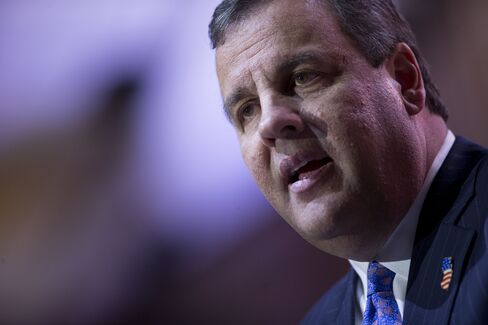 A reduction of New Jersey's pension payment shows that Governor Chris Christie has "exhausted" other spending cuts and the state's finances are weaker than forecast, according to Moody's Investors Service.
Christie, a second-term Republican, is cutting $694 million of spending to balance this fiscal year's budget. That includes $94 million from a recalculation of the required pension contribution as a result of revised actuarial assumptions, Baye Larsen, a Moody's vice president and senior analyst based in New York, said in a report yesterday.
The change will use employee contribution requirements that were enacted in a 2011 benefits overhaul, a move that results in a reduction of the state's recommended payment for this fiscal year, which ends June 30, and next. Christie's need to "retroactively recalculate the amounts indicates that the state's financial position is weaker than expected and that more typical budget-balancing solutions have already been exhausted," Larsen wrote.
Chris Santarelli, a spokesman for state Treasurer Andrew Sidamon-Eristoff, said the revision follows "standard actuarial practice in using employee contributions to offset employer contributions to the pension system." The change was analyzed by actuarial consultants and accepted by members of the public pension boards, he said in an e-mail this week.
"The change in methodology has a minor effect on the funded ratio over decades and we feel that the savings in payment for the state and locals is justified," Santarelli said.
Future Obligation
While the fix will help balance budgets through fiscal 2018, pension costs will be higher in later years as a result, according to Moody's. The company reduced its outlook on New Jersey's debt to negative from stable in December, citing a "sluggish economic recovery" and a growing pension burden.
"The state continues to use one-time fixes that indicate above-average financial weakness," Larsen wrote yesterday.
The state has a grade of Aa3 from Moody's, three steps below the top. Only Illinois and California have lower ratings among U.S. states. All three major credit-rating companies have downgraded New Jersey by one level since Christie took office in January 2010.
Christie's proposed $34.4 billion budget for fiscal 2015 includes a record $2.25 billion pension payment. His administration has made contributions totaling $5.3 billion, more than double the $2.4 billion put into the system in the prior 10 years, Santarelli said.
Funding Gap
New Jersey's pension deficit reached $53.9 billion in 2010 after the state expanded benefits and skipped payments over a decade. The gap fell to $36.3 billion after Christie signed bills to boost employee pension and health-care contributions, raise the minimum retirement age for new workers and freeze cost-of-living adjustments. It rebounded to $47.2 billion as of July 1, 2012, as Christie made only partial contributions.
Christie, a 51-year-old potential 2016 presidential candidate, said in February that the pension deficit had since climbed to $52 billion. He said his benefits overhaul didn't go far enough, and he is seeking another round of cost cutting.
Kevin Roberts, a spokesman for Christie, said by e-mail that the governor was confronting years of poor management.
"It was Governor Christie's leadership that spurred the most far-reaching and important reforms for controlling the cost and stability of the pension system in history," Roberts said.
Before it's here, it's on the Bloomberg Terminal.
LEARN MORE