European Bonds Advance, Led by Portugal, Amid Deflation Concern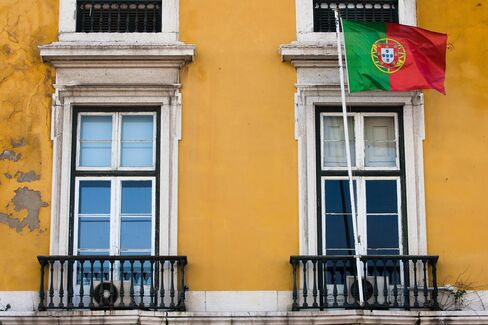 European government bonds rose, with Portuguese 10-year yields dropping below 4 percent for the first time since 2010, as data showing Spanish consumer prices fell this month buoyed the case for monetary stimulus.
Spain's two-year yields dropped below those in the U.K. for the first time since 2009 as the National Statistics Institute INE in Madrid said consumer-price inflation, calculated using a European Union method, fell from a year ago, the first decline since October 2009. Germany's bonds pared a weekly gain even as a report showed the inflation rate slipped to the lowest since 2010. Greek bonds also rallied. The European Central Bank meets next week to set monetary policy.
"The bond market is taking the inflation data positively," said Peter Schaffrik, head of European rates strategy at Royal Bank of Canada in London. "It appears to make the case for ECB action stronger. Imminently, I don't see any need for action. If we see further drops in inflation, there is something to come from the ECB, but that's not our base case."
Portugal's 10-year yield fell two basis points, or 0.02 percentage point, to 4.04 percent at 4:19 p.m. London time after dropping to 3.98 percent, the lowest since January 2010. The 5.65 percent bond due in February 2024 rose 0.145, or 1.45 euros per 1,000-euro ($1,375) face amount, to 112.865.
German Yields
The rate on similar-maturity Spanish bonds slipped one basis point to 3.24 percent, having fallen from 3.36 percent at the end of last week. The yield touched 3.20 percent, the lowest since 2005. Benchmark German 10-year yields rose two basis points to 1.55 percent after dropping to 1.50 percent on March 14, the least since July 19. The rate has declined eight basis points this week.
Euro-area bonds have been boosted by speculation that the ECB will implement further stimulus measures when it meets on April 3. ECB Governing Council member Luis Maria Linde said this week policy makers take the risk of deflation seriously and more monetary easing hadn't been ruled out.
German consumer prices rose 0.9 percent in March from a year ago, the lowest since June 2010. A euro-area report due for release on March 31 will show consumer-price growth slowed to an annual 0.6 percent in March, the least since November 2009, a separate Bloomberg survey showed.
Euro-region bonds are rising after inflation stayed below 1 percent in each of the past five months. That's less than half the central bank's 2 percent goal and risks the region sliding into deflation, a sustained drop in prices that stifles growth. ECB officials next decide on interest rates on April 3.
The euro-area 10-year consumer-price swap rate fell to 1.69 percent today, the lowest on a closing-market basis since 2008.
Investors Return
The prospect of more stimulus from the ECB is extending a rally that's been fueled by investors returning to the markets they shunned during the debt crisis.
Irish 10-year bond yields fell to a record 2.969 percent today, having been as high as 14.219 percent in July 2011. The country sold 1 billion euros of 2024 bonds on March 13, ending a three-year hiatus from bond auctions when it was under the protection of an international bailout.
Greece's 10-year yield fell 22 basis points today to 6.67 percent. The nation is set to receive a commitment from euro-region authorities as soon as next week for a payment of 8.3 billion euros in the next step in the country's aid program, three officials familiar with the negotiations said.
Portuguese bonds earned 12 percent this year through yesterday, according to Bloomberg World Indexes. Italian securities returned 5.2 percent and Spain's earned 5.9 percent.
Before it's here, it's on the Bloomberg Terminal.
LEARN MORE