Detroit Seeks $120 Million for Police Cars, Fire Trucks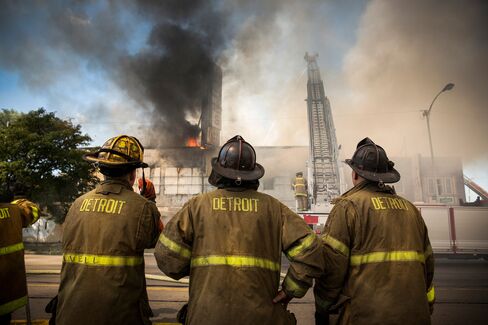 March 29 (Bloomberg) -- Detroit seeks $120 million to buy police and fire department vehicles as it heads toward a July trial over how to reorganize $18 billion in debt to end the biggest municipal bankruptcy in U.S. history.
The city filed its spending plan yesterday in U.S. Bankruptcy Court in Detroit. At an April 2 hearing on the loan, creditors will also ask U.S. Bankruptcy Judge Steven Rhodes to postpone consideration of a separate plan to cancel interest-rate swaps that have cost taxpayers about $200 million.
Rhodes is scheduled to consider approving the swaps accord, between the city and UBS AG and Bank of America Corp., on April 3. Under that deal, the city would pay the banks $85 million to terminate the swaps. Syncora Guarantee Inc., which opposes the pact, wants more time to prepare for the hearing.
"A short one to two week adjournment to prepare for the hearing on the settlement motion would benefit all the parties," Syncora said in a request to the judge, endorsed by at least four other creditors that oppose the proposed deal.
Syncora said the proposal is so different from a previous version that it needs more time to review documents and prepare.
The swaps, tied to pension obligation bonds issued in 2005 and 2006, were designed to protect against rising interest rates by requiring the banks to pay the city if rates rose above a certain level. Instead, rates fell, leaving the city obligated to pay about $4 million a month.
Bankruptcy Obstacle
The swaps agreement, if approved next week, would remove one obstacle in the bankruptcy.
Detroit last month submitted a debt-adjustment plan to the court that offers bondholders about 20 cents on the dollar for their claims and reduces payments on general employees' pensions by about one-third.
Rhodes set a July trial on plan approval.
Under the swaps accord, UBS and Bank of America's Merrill Lynch unit would vote their impaired claims in favor of that debt-adjustment plan.
Bill Nowling, a spokesman for Detroit emergency financial manager Kevyn Orr, said this isn't the first time Syncora has tried to put off a court showdown over the swaps.
"The judge has told Syncora no once before," Nowling said in an e-mail.
Swaps Fight
Rhodes had rejected as too costly a proposal to pay $165 million to end the swaps. That was a reduction from a $230 million deal reached days before the city's July bankruptcy filing.
That settlement would have been funded with a loan. When the judge rejected the $165 million proposal, he also told the city he would only approve a smaller loan the city needed to improve services.
That $120 million loan is being considered April 2.
Under the proposal, known as a post-petition financing plan, the city would issue $120 million in bonds that would mature after it wins approval of its debt-adjustment plan. The financing would close after the city wins approval of the loan.
$120 Million
For emergency vehicles, Detroit said it would spend $36.2 million on the police department and $28.5 million on the fire department if it receives the $120 million loan.
It would also spend $35.6 million on blight removal, according to court papers.
The new loan would have the same interest rate and lower fees than a version that was reduced by Rhodes in January.
The case is In re City of Detroit, 13-bk-53846, U.S. Bankruptcy Court, Eastern District of Michigan (Detroit).
To contact the reporter on this story: Steven Church in Wilmington, Delaware, at schurch3@bloomberg.net
To contact the editors responsible for this story: Andrew Dunn at adunn8@bloomberg.net David E. Rovella