Colombia Set for Respite in JPMorgan Peso Rally: Market Reversal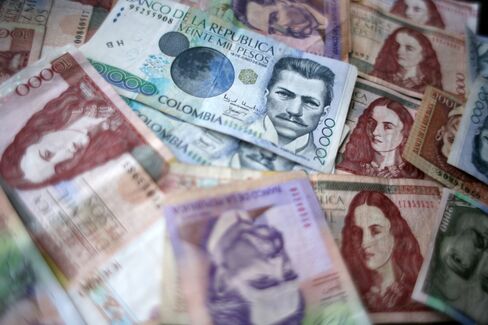 Colombia's peso is poised to snap its best monthly rally in two years, trading patterns suggest, providing relief to a government that's counting on a weaker currency to boost the economy.
The peso's 4.2 percent gain this month, its biggest advance since January 2012, pushed the currency through the lower line of its 20-day Bollinger band, while the 14-day relative-strength index gave an overbought signal for the first time since January 2013. The currency will be due a correction at about 1,950 per dollar, or 0.7 percent stronger than current levels, according to Brown Brothers Harriman & Co. and Banco de Bogota SA.
"The peso has shot up too fast," said Andres Munoz, the head currency trader in Bogota at Corporacion Financiera Colombiana, a unit of the nation's largest banking group. "We're starting to see investors buying dollars at these levels. Technical levels show a reversal is coming soon."
Colombia's currency reached a two-month high of 1,957.07 per dollar earlier today after a surge that made it this month's best performer among 24 emerging-market peers tracked by Bloomberg. The peso was supported after JPMorgan Chase & Co. said March 19 it could more than double the weighting of the nation's local-currency bonds in two of its key debt indexes.
The peso closed at 1,964 per dollar yesterday, when its 14-day RSI fell to 23.4, below the 30 threshold that suggests a turnaround is imminent, data compiled by Bloomberg show. The dollar-peso rate has been close to its lower Bollinger band since March 18. Developed by John Bollinger in the 1980s, this method helps identify the turning point in a currency or other asset's trajectory. The currency closed little changed at 1,964.85 in Bogota trading today.
'Problem' Strength
Finance Minister Mauricio Cardenas, who in 2013 said the strong peso was the "mother of all problems" for Colombia, hailed a slide in the currency at the start of this year as good news for industry and farmers. The peso dropped 4.3 percent in January, before reaching a 4 1/2-year low of 2,065.7 on Feb. 20.
The currency's gains since then are probably worrying the government, according to Camilo Perez, the head analyst at Banco de Bogota, the South American nation's second-biggest bank. He predicted the peso would struggle to advance beyond 1,950 to the dollar as a reduction in the Federal Reserve's stimulus program buoys the U.S. currency.
"There will be significant dollar inflows" after JPMorgan's decision, "but that's in the short term," Perez said in a phone interview from Bogota. "When those flows normalize, we'll go back to the structural trend, which is reduced global liquidity, and that implies a stronger dollar."
Industry Slump
The peso has strengthened in eight of the past 11 years, with an 8.4 percent slide in 2013 failing to wipe out the previous year's 9.7 percent advance. Those gains contributed to a slump in industrial output, even as record foreign investment powered growth in areas such as mining and energy. Manufacturing was the only sector that contracted in 2013, with a 1.2 percent decline, as the economy as a whole expanded 4.3 percent.
JPMorgan's GBI-EM Global Diversified Index is used as a benchmark by fund managers overseeing about $195.7 billion in combined assets, according to the U.S. investment bank. An increase in the weighting of Colombian debt to 8.05 percent from 3.24 percent will equate to about $9.4 billion of inflows into the local peso bond market, JPMorgan said. The firm also plans to raise the weighting of peso debt in its GBI-EM Global Index.
'One-Off'
Colombia's central bank extended last week its two-year-old dollar purchase program, which it will use to build its foreign-exchange reserves.
"The impact of JPMorgan is almost a one-off effect, and a large part of it will already have been discounted by the market," Adolfo Meisel, the central bank's co-director, said in a March 25 interview at his office in Bogota. Fed tapering "is a more permanent effect," he said.
Mike Moran, a senior currency strategist at Standard Chartered Plc in New York, disagreed, saying Colombia's buoyant economy will continue to support the peso. The Andean nation's economy grew 4.9 percent in the fourth quarter from a year earlier, faster than Chile, Mexico and Brazil.
"Colombia has one of the stronger local stories in the region even before the index re-weighting," Moran said in a phone interview. "Emerging-market investors are looking for strong local stories."
Even though the peso will continue gaining as the Fed refrains from raising interest rates until next year, it's due a "temporary" correction at about 1,950 per dollar, said Win Thin, global head of emerging-market strategy at Brown Brothers.
"That's a pretty key level," Thin said in a phone interview from the New York offices of the U.S. brokerage. "Maybe it's time for a little bit of a correction. It's an area where it can take a little bit of a bounce."