SGX Is Said to Consider Plan for Physical Gold Trading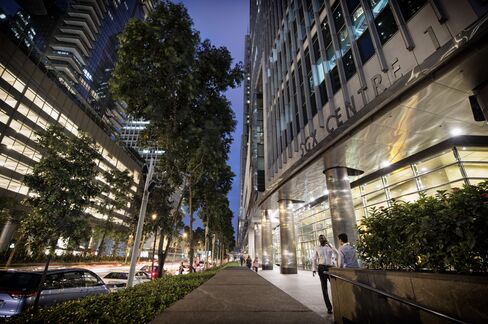 Singapore Exchange Ltd., Southeast Asia's biggest bourse operator, is considering starting physical gold trading, according to three people with direct knowledge of the matter.
The plan would include bullion deliveries into and out of the Southeast Asian country, said the people, who asked not to be identified because the issue is confidential. SGX declined to comment in an e-mailed statement.
SGX may join peers in South Korea and China in offering physical bullion trading as Asian demand increases, drawing supplies out of Europe. The Singapore government is promoting the city-state as a center for precious metals by removing a sales tax on investment-grade metals in 2012, and as JPMorgan Chase & Co. and UBS AG started storing gold for customers.
"SGX is constantly looking into ways to help customers tap growth opportunities and manage risks," the company said in reply to Bloomberg questions. "While we will publicly announce any new initiatives, we do not comment on speculation."
Spot gold, which rose 7.5 percent this year amid tension in Ukraine, was 0.6 percent lower at $1,296.21 an ounce at 4:42 p.m. in Singapore. Prices slumped 28 percent last year, ending a 12-year rally, as rising equities and prospects for a U.S. economic recovery curbed the need for a store of value.
Bullion demand in the three Southeast Asian economies of Thailand, Vietnam and Indonesia expanded 42 percent to 300.3 metric tons last year, according to data from the London-based World Gold Council. That compares to usage of 308.9 tons in Western Europe, where consumption contracted 3.4 percent.
Korea, Shanghai
Korea Exchange Inc., which has had gold futures since 1999, started offering physical metal this month as the government sought to curb as much as $3 billion of black-market transactions. The Shanghai Gold Exchange, started in 2002, handles gold deliveries in the world's largest bullion user.
SGX lists rubber and fuel-oil futures, while its unit AsiaClear handles products including steel, iron ore and freight. Shares in the company traded 0.4 percent lower at S$6.91 today, down 4.8 percent this year.
Gold may fall for a second year and average $1,332 an ounce in 2014 as some investors shift money to stocks and property, according to Jeffrey Christian, managing director of New York-based CPM Group. That compares with the average $1,408.83 in Comex futures last year.
Before it's here, it's on the Bloomberg Terminal.
LEARN MORE