European Stocks Little Changed After Rally; H&M Declines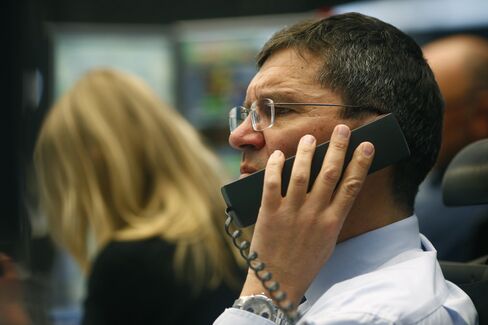 European stocks were little changed, after a two-day rally, as retailers fell, while food and beverage companies climbed.
Hennes & Mauritz AB lost 4.3 percent after reporting quarterly profit that missed analysts' estimates. Babcock International Group Plc posted the biggest drop in four years after agreeing to buy private equity-owned Avincis Group. United Internet AG added 5 percent after saying that earnings jumped 25 percent last year. Marine Harvest ASA rose 2.4 percent after the salmon farmer agreed to sell U.K. farming assets to Cooke Aquaculture Inc.
The Stoxx Europe 600 Index gained 0.1 percent to 331.4 at the close of trading in London, after jumping 2 percent in the past two days. The gauge is down 2 percent this month, its biggest decline since June, amid tension between Russia and the West over Ukraine.
"We're still very positive on the European rebound," said Louis de Fels, a Paris-based fund manager at Raymond James Financial Inc., which oversees about $53 billion. "It's true that if the problem in Russia continues, it could be very bad for the market. It's very tough, so we will closely monitor what's happening and stay focused on stock picking."
The U.S. and the European Union have imposed financial sanctions on Russian and Ukrainian officials as well associates of President Vladimir Putin, leaving open the threat of broader measures targeting Russia's energy and financial sectors.
Ukraine Crisis
U.S. President Barack Obama warned yesterday that the crisis in Ukraine may escalate, saying that indifference to Russia's annexation of Crimea would ignore the lessons of two world wars.
A report showed U.S. gross domestic product grew at a 2.6 percent annualized rate from October through December, more than the previously estimated 2.4 percent gain reported last month. The median forecast of 79 economists surveyed by Bloomberg called for a 2.7 percent increase.
A separate release from the Labor Department showed initial jobless claims unexpectedly fell to 311,000 in the week ended March 22, compared with a median forecast of 323,000.
National benchmark indexes fell in 10 of 18 western-European markets. France's CAC 40 lost 0.1 percent and Germany's DAX rose less than 0.1 percent. The U.K.'s FTSE 100 dropped 0.3 percent. The volume of shares changing hands in Stoxx 600-listed companies was 12 percent lower than the average of the last 30 days, data compiled by Bloomberg show.
H&M slid 4.3 percent to 277.40 kronor, the biggest drop since September 2012. Europe's second-biggest clothing retailer said net income rose 7.8 percent to 2.65 billion kronor ($409 million) in the first quarter, falling short of the 2.89-billion kronor estimated by analysts. The gross margin narrowed to 54.9 percent from 55.2 percent a year earlier, also missing projections.
Babcock Drops
Babcock fell 6.7 percent to 1,275 pence. The engineering-services company agreed to buy Avincis for 920 million pounds ($1.5 billion) to expand into helicopter services. Babcock said in statement that it will take on 705 million pounds of Avincis's debt as part of the deal and carry out a rights offering to help fund the acquisition.
Daily Mail & General Trust Plc slumped 7.4 percent, its biggest drop since May 2011, to 893.5 pence as the publisher reduced the outlook for its risk-management solutions business.
Alstom SA declined 4.9 percent to 19.25 euros. The French maker of trains and power equipment faces a bribery case that may result in one of the largest U.S. anti-corruption enforcement actions, according to two people with knowledge of the probe. The U.S. Justice Department will examine the company's power projects in China and India, according to court documents in a related case.
Stress Test
Royal Bank of Scotland Group Plc dropped 1.4 percent to 301.9 pence after its U.S. unit failed the Federal Reserve's stress test. The U.S. central bank rejected RBS Citizens Financial Group Inc.'s capital plan.
Deutsche Lufthansa AG slid 1 percent to 18.73 euros. Europe's second-largest airline canceled one in three flights scheduled for today. A walkout by a labor union demanding higher pay at German airports grounds part of its fleet.
United Internet advanced 5 percent to 33.79 euros. The German provider of phone and Internet services said earnings before interest, taxes, depreciation and amortization climbed 25 percent to 407 million euros ($560 million) last year. Sales rose 11 percent to 2.66 billion euros.
Marine Harvest gained 2.4 percent to 69.55 kroner. The enterprise value of the farming operations on the Shetland and Orkney Islands is 122.5 million pounds, the Oslo-based company said today in a statement.
Cairn Energy Plc added 3.7 percent to 173.3 pence. Goldman Sachs Group Inc. raised the Scottish oil explorer to buy from neutral, saying the valuation has become attractive because the shares have fallen further than rivals since late January. Cairn slumped 36 percent from Jan. 23, the day before the company revealed that India's tax authorities will audit it, through yesterday. Investec Plc also increased its rating to buy from hold today.