New Zealand Dollar Rally Tests Exporters, English Says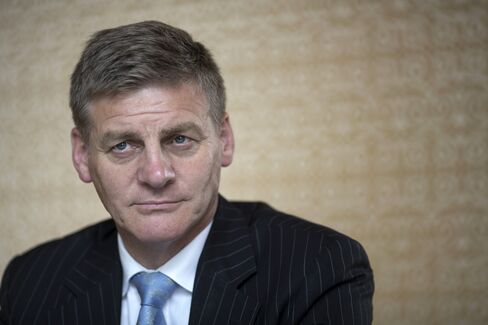 New Zealand's dollar, the best-performing major currency this year, is too strong and poses a challenge for the nation's exporters, according to Finance Minister Bill English.
"It's a bit too high," he said yesterday in an interview in Hong Kong, while attending the Credit Suisse Asian Investment Conference. "It makes it difficult for our economy to rebalance."
New Zealand's dollar climbed today to within 0.2 percent of an 11-month high as traders bet the Reserve Bank of New Zealand will raise interest rates next month. Governor Graeme Wheeler lifted the official cash rate by a quarter point to 2.75 percent on March 13, becoming the first central banker from a developed nation to tighten this year, and signaled further increases as inflation pressures build.
The central bank sets monetary policy independently of the government and focuses on limiting annual inflation to 2 percent, a target English said yesterday he is satisfied with.
A rate rise at Wheeler's April 24 review is a certainty, according to swaps data compiled by Bloomberg. Eleven of 15 economists surveyed by Bloomberg forecast an increase.
New Zealand's dollar gained 5 percent this year to 86.24 U.S. cents as of 11:26 a.m. in Tokyo, the strongest rally among 16 major currencies tracked by Bloomberg. It touched 86.40 on March 18, the highest since April 12, and is trading nearly 40 percent above its average since it was freely-floated in 1985.
Persisting Strength
"A hawkish central bank has driven the New Zealand currency's gains," Nick Bennenbroek, head of currency strategy at Wells Fargo Bank NA in New York, said in a note to clients. "Given the sturdy momentum of the economy, a series of rate hikes looks likely. We anticipate further gains in the currency."
The kiwi's strength has persisted even after the U.S. Federal Reserve pressed on last week with reductions in monthly bond purchases, paring a program of quantitative easing that has tended to debase the greenback. Atlanta Fed President Dennis Lockhart said on March 25 he expects an increase in benchmark U.S. borrowing costs in the second half of next year.
"We suspect that, when the U.S. starts raising interest rates, it might re-rate," English said of his nation's currency. "Whatever happens though, we just focus on what we can control, which is the domestic competitiveness."
Faster Growth
Government data on March 20 showed New Zealand's gross domestic product increased 3.1 percent in the fourth quarter from a year earlier, marking the second-straight period of growth exceeding 3 percent. The median forecast of analysts polled by Bloomberg is for the economy to expand 3 percent in 2014, compared with a 2 percent pace seen for Group of 10 nations.
Shipments of milk powder and butter to China are helping stoke growth. Exports surged 17 percent in February from a year earlier allowing the nation to post its biggest trade surplus since April 2011, according to a Statistics New Zealand report released in Wellington today.
"We are reasonably confident that we will enjoy growth of around 3 percent over two to three years," English said. "The challenge for us is to sustain it beyond the cyclical factors."