Spain's Bonds Advance With Italy's as J.P. Morgan Bets on Rally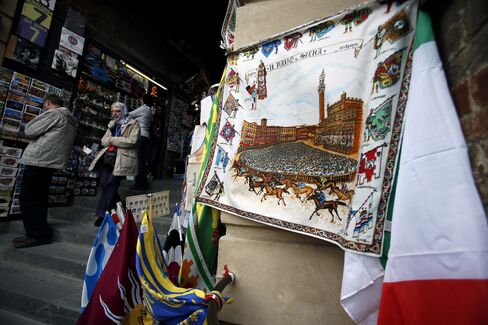 March 26 (Bloomberg) -- Spanish and Italian government bonds rose as J.P. Morgan Asset Management said it increased bets that a rally which pushed yields to the lowest relative to Germany's in about three years is set to extend.
The additional yield investors demand to hold the nations' 10-year bonds instead of benchmark German bunds shrank for a second day. J.P. Morgan has stepped in to buy Italian and Spanish debt again amid an improving economic backdrop after scaling back its overweight positions in the securities earlier this year, according to David Tan, the London-based global head of rates. Italy's five-year yield fell to a record low, while Portuguese 10-year bonds advanced for a ninth day.
"We're actually now more overweight than we were at the start of this year," Tan said in an interview yesterday, referring to holding a bigger percentage of the debt than is contained in the indexes used to measure performance. "I believe this rally can continue due to improving fundamentals. There could be another 25 to 50 basis points of compression in store for the rest of this year."
Spanish 10-year yields fell five basis points, or 0.05 percentage point, to 3.29 percent at 4:03 p.m. London time after sliding to 3.28 percent, the lowest level since January 2006. The 3.8 percent bond due in April 2024 climbed 0.385, or 3.85 euros per 1,000-euro ($1,379) face amount, to 104.36.
The rate on similar-maturity Italian bonds declined five basis points to 3.34 percent after dropping to 3.33 percent, the least since September 2005. Italy's five-year note yield fell as much as nine basis points to a record 1.994 percent.
Economic Growth
Italy's economy, the euro region's third-biggest, expanded in the three months through December, according to data released March 11, marking the first quarterly gain in more than two years. Spain's output increased 0.2 percent in the last three months of 2013, data released Feb. 27 showed.
The yield spread between Italian 10-year debt over benchmark German securities narrowed four basis points to 178 basis points, after contracting to 173 basis points on March 11, the least since June 2011.
The equivalent spread between Spanish and German yields tightened three basis points to 172 basis points after shrinking to 165 basis points on March 10, the least since October 2010.
"Going into 2014 we were overweight Spain and Italy, as we had been since late 2012," said Tan at J.P. Morgan, which had $1.6 trillion in assets under management at the end of 2013. "They started the year on a very strong note and we decided then to book some profits and reduce our position. But since then we've been squeezed back in as the rally continued, and we realized we'd taken profits a little bit too soon and had to rebuild our position."
Yield Falls
Investors are returning to the markets they shunned during the debt crisis that pushed Italian and Spanish borrowing costs to record highs. The average yield to maturity on bonds from Greece, Ireland, Italy, Portugal and Spain fell to 2.429 percent on March 18, the lowest in the euro era, according to Bank of America Merrill Lynch Indexes.
Portugal's 10-year yield dropped eight basis points to 4.12 percent, the lowest since March 2010.
Volatility on Finnish bonds was the highest in euro-area markets today, followed by those of Greece and Ireland, according to measures of 10-year debt, the yield spread between two- and 10-year securities and credit-default swaps.
Greek bonds fell as Skai radio reported Finance Minister Yannis Stournaras said while the nation is almost ready to return to international financial markets, it is unlikely to do so before European parliamentary elections in May.
Greece's 10-year yield climbed nine basis points to 6.83 percent. The rate dropped to 6.62 percent on March 6, the lowest since May 2010.
Germany's benchmark 10-year bund yield fell one basis point to 1.57 percent.
Italy sold 2.5 billion euros of zero-coupon notes due in December 2015 at a record-low yield of 0.707 percent, compared with a rate of 0.822 percent at a previous auction on Feb. 25.
Spanish securities returned 5.4 percent this year through yesterday, according to Bloomberg World Bond Indexes. Italy's earned 4.7 percent and Germany's gained 2.5 percent.
To contact the reporters on this story: Neal Armstrong in London at narmstrong8@bloomberg.net; David Goodman in London at dgoodman28@bloomberg.net
To contact the editors responsible for this story: Paul Dobson at pdobson2@bloomberg.net Keith Jenkins, Nicholas Reynolds