Egypt's Al-Seesi to Seek Presidency After Ousting Elected Leader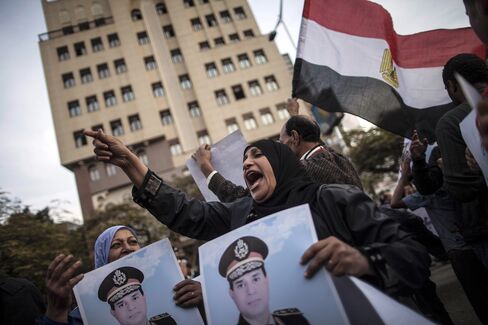 March 26 (Bloomberg) -- Egyptian Defense Minister Abdel-Fattah al-Seesi said he will seek the presidency in an election yet to be called, paving the way for him to succeed the civilian leader he ousted last year.
In a televised address to the nation, Al-Seesi said he will step down from his role as army chief to run for the nation's top job, a move that he described as answering the call of many Egyptians who deserved better lives.
"Today, I stand before you for the last time in military garb after I have decided to end my service as general commander of the armed forces and defense minister," al-Seesi said as he announced his candidacy.
Al-Seesi has won a strong following since leading the removal of Islamist President Mohamed Mursi in July and his candidacy may herald the restoration of Egypt's decades-old tradition of having leaders from the military fill the top job.
Supporters have beseeched al-Seesi to run, hailing him as the only one capable of restoring stability after years of turmoil. Opponents accuse him of trampling democracy by overthrowing the freely elected Mursi and presiding over a crackdown on his supporters.
"There are definitely some doubts over the extent of democratization that would be expected out of his presidency" and "there is a segment of society that is not allowed to exist, namely, the Islamists," said Ziad Akl, senior researcher at Al-Ahram Center for Political and Strategic Studies in Cairo. "On the other hand, I believe he will have a plan of reform," including structural changes and infrastructure projects, Akl said.
Hundreds Dead
Security forces have killed hundreds of Muslim Brotherhood supporters since Mursi's removal after a year in office, and he and dozens of other Islamist leaders have been referred to trial. The military-backed government, which blames the Brotherhood for much of the violence that's gripped the country since July, has also embarked on a campaign to root out militants based in the Sinai Peninsula. The Brotherhood, which the government has branded a terrorist organization, says it is committed to peaceful protests until Mursi is reinstated.
While security forces haven't quelled the militant attacks, expectations that al-Seesi will end Egypt's turmoil are helping to drive gains on the stock market, with the benchmark index rising 70 percent since Mursi's overthrow. The economy remains stuck in its worst slowdown in two decades.
A January referendum on a rewritten constitution was seen in part as a litmus test of al-Seesi's electoral strength. The charter, which replaced a constitution approved during Mursi's tenure, was approved by 98 percent of voters in balloting that the Brotherhood and some other Islamist groups boycotted.
To contact the reporter on this story: Mariam Fam in Cairo at mfam1@bloomberg.net
To contact the editors responsible for this story: Andrew J. Barden at barden@bloomberg.net Mark Williams, Ben Holland