Chinese Pigs Eating Soybeans Cut U.S. Supply to 1965 Low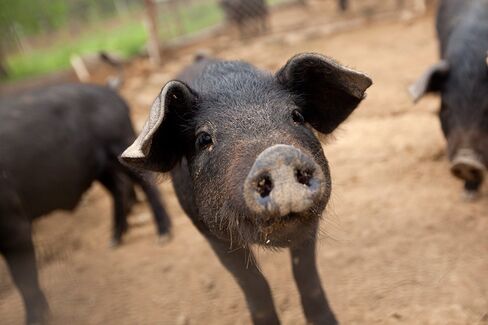 In the 60 years that Ursa Farmers Cooperative has been loading Midwest soybeans onto boats along the Mississippi River, business has never been this good.
Barge convoys are heading south along the world's busiest inland waterway to New Orleans export depots at a record pace as demand surges from pig farmers in China, the largest pork-eating country. Soy stockpiles in the U.S., where farmers harvested the third-largest crop ever just six months ago, are the lowest relative to demand in at least five decades, fueling the second-biggest rally in prices to start the year since 2005.
"Our soybean supplies will be empty by the end of April," said Scott Meyer, grain department manager at the Ursa, Illinois-based terminal owner, which loads about 35 million bushels of crops annually. "Chinese demand for soybeans was a lot stronger than everyone expected this year."
The sales jump is boosting profit margins for processors including Bunge Ltd. and Archer-Daniels-Midland Co. even as costs rise for buyers including Michael Foods Inc. Goldman Sachs Group Inc. raised its six-month price outlook for soybeans on March 11, predicting "near critically low" supplies before the 2014 harvest.
Soybean futures are up 11 percent this year on the Chicago Board of Trade, to close at $14.365 a bushel today, after touching a nine-month high of $14.60 on March 7. Corn and wheat have rallied 17 percent. The Standard & Poor's GSCI Index of 24 commodities advanced 2.7 percent since the end of December, while the MSCI All-Country World Index of equities slid 0.7 percent. A Bloomberg Index of Treasuries gained 1.8 percent.
Shrinking Supply
Stockpiles of soybeans on March 1 probably dropped to 987 million bushels (26.9 million metric tons), the smallest for this time of year in a decade, according to the average of 30 analyst estimates compiled by Bloomberg. Reserves will be equal to 30 percent of estimated annual use and exports of 3.319 billion bushels, the lowest ratio for this time of year since at least 1965, U.S. Department of Agriculture data show. The agency will update its quarterly crop-inventory estimates on March 31.
Since Sept. 1, shipments of U.S. soybeans climbed to 39.7 million tons, up 22 percent from a year earlier and almost reaching the government forecast for 41.64 million tons for the entire 12 months ending Aug. 31, according to the USDA. Two-thirds of those shipments ended up in China, the biggest buyer, with exports reaching 26.494 million tons, topping the previous record of 24.464 million tons three years earlier.
Pork Demand
Pork production has surged 38 percent in China since 2000, now accounting for more than half of global output, as the nation's expanding economy boosted incomes and people were able to afford to eat more protein. To feed the world's largest hog herd, livestock producers import U.S. soybeans that were as much as $7 a bushel cheaper than Chinese supplies in January, based on cash prices in the Gulf of Mexico.
"Chinese demand for U.S. beans was so strong, so early that it simply depleted supply," said Randy Mittelstaedt, the director of research for R.J. O'Brien & Associates in Chicago. Compounding the inventory drain was better-than-expected demand from Europe, hoarding of supply by Argentine farmers and a smaller crop in India, he said.
Soybeans may reach $16 "by July, when we essentially run out of domestic supplies and everyone is fighting to get the last bushel," Mittelstaedt said. Hedge funds and other speculators have increased bets on higher prices by 45 percent this year with a net-long position of 198,672 futures and options contracts, and on March 4 were the most bullish since 2012, when drought sent soybeans to a record $17.89.
Cancel Orders
The rally may not last. China will start canceling orders because it purchased more soybeans than it can use, and U.S. farmers are preparing to sow a record crop in 2014, according to Rabobank International, which predicted on March 20 that prices will slide to $12.40 in the second quarter before ending the year at $11.60. Soybean futures for delivery in November, after this year's U.S. harvest, closed yesterday in Chicago at $11.9325, a discount of $2.4925 to the May contract that has widened by 74 percent since the end of December.
China's stockpiling this year was a preventative move in case there was a repeat of last year's shipping delays from top exporter Brazil, where Southern Hemisphere crops are harvested from March to May, Rabobank analysts including Luke Chandler said in the report.
Import Pile-Up
Processors in China agreed to cut imports after bird-flu outbreaks suppressed poultry demand, the China Chamber of Commerce of Foodstuffs and Native Produce said March 24. Data from Shanghai JC Intelligence Co. show processors are losing the most money in 14 months. Sinograin Oils Corp., a unit of the state-owned China Grain Reserves Corp., said demand will weaken through September as imports "pile up."
After Brazil produces a record 88.5 million tons this season, farmers in the U.S., the biggest exporter until last year, will boost output by 7.9 percent to an all-time high of 3.55 billion bushels (96.7 million tons), the USDA forecast on Feb. 21. Planting in May and June probably will increase 6 percent this year to 81.162 million acres, more than the USDA forecast last month, a Bloomberg survey showed.
Dave Margritz, 48, plans to sow soybeans for the first time in 15 years on his 2,200-acre farm near Lexington, Nebraska, reducing the amount of land devoted to corn by a third. Margritz said he will start a three-year rotation with soybeans because a mono culture of corn, with some fields sown with the grain for 30 straight years, has started to erode yields.
Difficult Forecasts
Stockpiles are getting more difficult to predict, partly because of imprecise measurements of train, barge and truck shipments, and because the USDA has tended to underestimate the prior year's crop size. Over the past six years, analysts' estimates for the March 1 inventory missed the USDA tally by an average of 35 million bushels, or the equivalent of last year's U.S. exports to Africa, data compiled by Bloomberg show. Prices rose or fell on average 4 percent after the report.
The outlook for Brazil's crop has been reduced after hot, dry weather in the east and too much rain in the central growing region in February. After predicting a 90 million-ton harvest in February, Brazil's government forecaster, Conab, said March 12 output will be 85.4 million.
Farmers in Argentina, the biggest shipper of soybean meal and soybean oil, withheld supplies until last month, waiting for a devaluation of the peso against the dollar. Many store soybeans to hedge against inflation as they are paid in pesos at a dollar value by exporters and processors. Chicago soybean-meal futures are up 14 percent this year.
Tight Supply
"The soybean stocks estimate this year may be more important than is normally the case due to the rapid pace of U.S. exports, concerns about the size of the South American harvest, and prospects for generally tight stocks at the end of the marketing year," said Darrel Good, an agricultural economist at the University of Illinois in Champaign-Urbana. "Prices will stay elevated longer until there is evidence that demand is slowing relative to available supplies."
The rally in grain and oilseed prices has been a boon to processors, including White Plains, New York-based Bunge and Decatur, Illinois-based ADM. Demand for animal feed, including soybean meal, from U.S. livestock producers has risen as prices for cattle, hogs, milk and cheese rose to records this month.
"Margins over the past five months are the best, sustained period of profitability ever," said Roger Fray, the executive vice president at farmer-owned grain handler and soybean processor West Central Cooperative in Ralston, Iowa. "We are so far above fixed and variable costs that we will continue to crush until there are no more soybeans left."
Profit Margin
The average profit margin in Iowa, the biggest U.S. grower, reached $2.26 a bushel at the end of December and were at $1.68 on March 24, double the 82-cent margin of a year earlier, according to Bloomberg calculations using USDA data. ADM locked in these "extremely favorable" margins with futures hedges, Ray Young, ADM's chief financial officer, said Feb. 27 at a conference.
"We've had a very favorable environment in North America, really since October last year, and it's carrying on into the first quarter of this year and maybe even into April," Bunge Chief Executive Officer Soren Schroder said on a March 12 conference call. "In the case of the U.S., it will probably come to some stop as we run out of soybeans some point in time in April or May. But it's been a good start to the year."
Rising Cost
Michael Foods, the maker of egg products for supermarkets and food-service companies, expects first-quarter earnings to be "unfavorably impacted by high soybean-meal costs and record-high dairy commodity costs," Mark W. Westphal, the chief financial officer, said on a conference call March 21. The Minnetonka, Minnesota-based company, owned by Thomas H. Lee Partners, will be raising prices at the end of the quarter to cover increased costs, he said.
Back on the Mississippi River, some terminals are almost tapped out of soybean supply. Elburn Cooperative, founded in 1921, has seen a surge in loadings this year at its terminal in Morris, Illinois, that can handle about 165,000 bushels a day, or enough for more than three barges.
"We have loaded our last barge with soybeans," said Phil Farrell, 49, vice president of the grain department at the Elburn, Illinois, co-op, which has tripled its capacity in the past eight years to handle as much as 40 million bushels of crops by barge, train and truck. "We don't have any more soybeans left to ship by barge and just enough to finish loading 25 rail cars in the next month. There are very few soybeans left in commercial hands."
Before it's here, it's on the Bloomberg Terminal.
LEARN MORE