Charlotte, N.C., Mayor Charged With Taking Bribes, Quits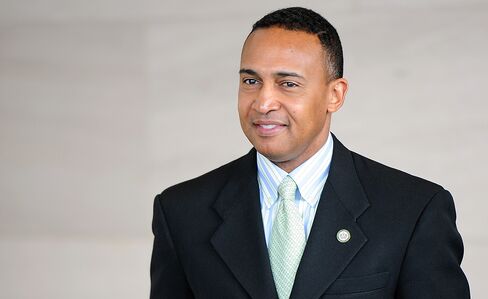 Patrick Cannon, the mayor of Charlotte, the largest city in North Carolina, was charged with taking bribes in an FBI sting in which agents posed as investors and real estate developers.
Cannon, 47, a Democrat, resigned yesterday as mayor of the city of 775,000 that's home to Bank of America Corp. He is accused of soliciting and accepting more than $48,000 in cash, airline tickets and other items of value in meetings with at least seven undercover agents pretending to explore projects in Charlotte, federal prosecutors said in a statement.
The five payments Cannon allegedly took included $20,000 in cash delivered last month to the mayor's office.
Undercover Federal Bureau of Investigation agents targeted Cannon in 2011 after they were tipped by local law enforcement that the mayor "was potentially involved in illegal activity," according to the government.
Cannon is a veteran local political figure who only five months ago was elected to the office he'd coveted after more than a decade on the City Council.
He couched what the government said was his first solicitation of a bribe as a $12,500 investment in development of a feminine-hygiene product called HERS, according to a criminal complaint filed yesterday in federal court in Charlotte.
No Confirmation
Investigators said they found no bank or corporate filings to corroborate existence of a business linked to HERS.
The government said Cannon used his official position to assure people he thought were investors that they "would not have issues or concerns with city and county officials" over zoning, construction permitting and alcohol regulation.
Cannon stated or implied "that he would use the access provided by the office of mayor to U.S. officials, including officials at the White House and congressional representative, to obtain grants" for streetcar lines that would increase the value of the bogus investors land, according to the complaint.
Cannon, who also is charged with extortion and honest-services fraud, made an initial court appearance yesterday and was released on $25,000 bond. If convicted, he faces as long as 20 years in prison on the most serious counts, prosecutors said.
James Ferguson, his attorney, didn't respond to phone and e-mail messages yesterday seeking comment on the charges.
Mayor Pro Tem
Michael Barnes, Charlotte's mayor pro tem, said yesterday in a press conference that the accusations left him "as stunned and shocked as everybody else."
Cannon, chief executive officer of a parking business, was elected mayor five months ago, besting Republican ex-City Councilman Ed Peacock 53 percent to 47 percent. He replaced Patsy Kinsey, who was appointed in July after Mayor Anthony Foxx was named U.S. transportation secretary by President Barack Obama
Cannon in 1993 became the youngest person ever elected to the City Council. He went on to win re-election three times for that seat and four as the at-large member and mayor pro tem, according to his campaign website.
North Carolina Governor Pat McCrory, a Republican and former mayor of Charlotte whose brother, Phil, mentored Cannon as a youth, said in a statement that he was "saddened and angered" by the charges and "heartbroken" for the city.
Cannon's father was shot and killed when he was 5 years old, and as a teenager he entered the Big Brothers Big Sisters program where he was paired with Phil McCrory.
Council Authority
State law would have allowed Cannon to stay in office unless he was convicted of a felony, and the City Council had no authority to remove him, Barnes said yesterday.
"We are cooperating fully with the investigation," the mayor pro tem said.
Under Charlotte's council-manager form of government, the mayor's role is to preside over council meetings and represent the city. He can't issue orders to city employees, according to City Manager Ron Carlee.
Cannon allegedly began asking for money in exchange for official help in 2012 when he was still on the council.
He requested the $12,500 payment in return for assistance on permitting, zoning and serving alcohol for a nightclub project pitched by an agent posing as a representative of a Chicago venture capital company, the government said.
FBI's Apartment
Cannon accepted the money at an apartment leased by the FBI in the SouthPark area of Charlotte that was outfitted with video and audio surveillance. After looking nervously at the window, prompting the agent to pull down the shade, Cannon "placed the money near his ear and fanned the bills," prosecutors wrote.
Rent-free use of the apartment later is among the items Cannon's accused of improperly accepting.
Cannon later sought to characterize his acceptance of the money as a business investment unrelated to his public office.
"I certainly cannot have my reputation, my values, my ethics put on the line to do something on the public side with a connection to something that, that I need help from you on, on the private sector side potentially," he told the undercover agent, according to the complaint.
"I'm not one of those Chicago or Detroit type, uh, folk," Cannon allegedly said, adding that he looked good "in an orange necktie, but not an orange suit."
Cannon didn't return the money and invited the undercover agent to the May 21, 2013, announcement of his run for mayor, according to the complaint.
Streetcar Line
The agent introduced Cannon to a second operative posing as a Las Vegas real estate developer interested in property along Charlotte's planned Gold and Blue streetcar lines.
In July 2013, Cannon accepted an all-expense trip to Las Vegas and $6,000 in cash to attend a meeting with undercover agents posing as foreign investors, according to the complaint.
In December, he told an agent that he would be meeting with Obama "and the president will be asking what my priorities are. I'm going to say the Gold LYNX Line's a priority and I want to see that through."
White House records confirm Cannon was among 16 newly elected mayors who attended a Dec. 13 meeting with Obama and Vice President Joe Biden to discuss job creation.
Last month, Cannon allegedly accepted $20,000 in a leather briefcase, handed over in the mayor's office as part of a negotiation in which investigators said he was angling for a 1 percent kickback on $125 million in investments linked to development deals in the city.
Before accepting the briefcase, Cannon fretted that city employees might notice that the agent was leaving without it, the government said.
"I just got to be conscious about that kind of stuff here, you know," he allegedly whispered to the agent.
The case is U.S. v. Cannon, 14-mj-00037, U.S. District Court, Western District of North Carolina (Charlotte).
Before it's here, it's on the Bloomberg Terminal.
LEARN MORE