Soccer Arena Remains Construction Site 78 Days Before Cup Opener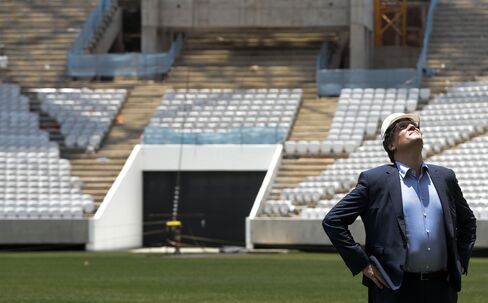 March 26 (Bloomberg) -- Giant yellow-colored steel girders prop up the roof, thousands of seats remain to be installed, the video screens have yet to be mounted and the dressing rooms lack any trace of furniture.
This is the condition of the Corinthians Arena in Sao Paulo, which will host the opening game of soccer's World Cup in 78 days. For world governing body FIFA, the state of the 820 million reais ($355 million) stadium is among the biggest concerns as General Secretary Jerome Valcke holds a week of talks with local organizers and government officials.
On an exclusive tour yesterday of the stadium, loose wires could be seen hanging in some areas and white seats were piled up at the stadium's entrance. Access was provided by Corinthians, the team that owns the stadium in Brazil's most populous city.
The stadium, known locally as the Itaquerao, has become one of the symbols of the country's troubled buildup to sport's most-watched single-sport event. The cost of the 12 stadiums being built or renovated for the World Cup has swelled more than 40 percent to at least 8 billion reais, and almost every one missed completion deadlines -- with three yet to be finished. Six workers have died in accidents, including two in Sao Paulo following a crane collapse in November.
"We are in the closing stages," Marco Antonio Antunes, a spokesman for Odebrecht, the company responsible for building the Corinthians Arena, said in an interview today as work continued around him.
Corporate Boxes
The corporate boxes have yet to be completed. Dressing rooms, referees' rooms and the drug-testing area have no fixtures or fittings.
The crane accident led to doubts the 65,807-seat stadium would be ready in time. A piece of metal weighing about 400 tons fell onto the roof, which is still supported by the steel girders. The process to remove them has started and will take about two more weeks to complete, Antunes said, adding that the crane accident delayed completion by more than 20 days. Odebrecht has promised to finish construction by April 15.
"By the 15th, everything you see here that's not finished will be finished," Antunes said. "Then it will be up to FIFA to complete its work."
While Odebrecht is responsible for the main construction, it's not working on the temporary structures FIFA requires for World Cup stadiums. Valcke has said FIFA typically needs 90 days to install those facilities, which include media seats, corporate hospitality marquees and giant screens. None of that work was visible yesterday at the stadium. Nearly a third of the stadium's seats will be temporary.
Nationwide Protests
Local organizers declined to comment, saying Valcke would provide an update in Rio de Janeiro tomorrow.
FIFA has struggled to get host cities to complete work on temporary installations, with some saying they won't pay for them even though they're contractually obligated. National and regional governments have been wary about spending on sports events since nationwide protests during a warmup event held for the World Cup last year. Brazil is spending about $11 billion on projects linked to the event.
"The biggest challenge is to make sure that all what we call these temporary facilities can be in place," Valcke said this month, citing ongoing problems in the southern city of Porto Alegre. "Outside of the stadium of Porto Alegre there is no pavement. I mean, we cannot put in place all the TV compound, all the hospitality compound, all these different zones without any pavement."
This week, a poll by Sao Paulo-based Datafolha revealed that more than half of the respondents in the soccer-mad country weren't positive about the tournament, with 24 percent saying it would be "bad" or "terrible."
Residents' Doubts
Outside the Corinthians Arena, the streets are caked in red dust as workers rush to complete an extensive road development project. Local residents say they're not confident the stadium and its surrounding area will be ready to host World Cup fans in less than three months. Brazil was awarded hosting rights seven years ago.
"Nothing will be 100 percent finished," said Sergio Rodrigues, a 43-year-old security guard who does not work at the stadium. "It's a real shame for Brazil. We have the resources to host the World Cup but, like everything else, nothing is planned properly. It's always the same."
To contact the reporter on this story: Tariq Panja in Rio de Janeiro at tpanja@bloomberg.net
To contact the editors responsible for this story: Christopher Elser at celser@bloomberg.net Rob Gloster, Dex McLuskey