S&P 500 Five-Timer Club at Risk as Colas Hears Banjo in Rotation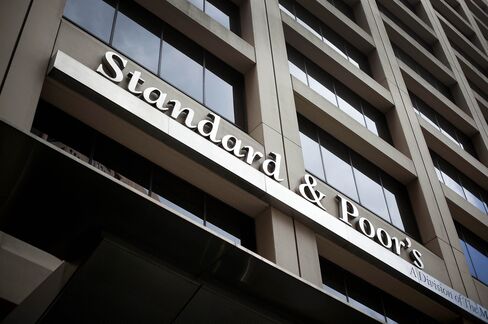 March 25 (Bloomberg) -- The Standard & Poor's 500 Index is clinging to a fifth straight quarterly advance, a feat it has only accomplished seven times since it was created in 1957.
With just five sessions left in the quarter, the benchmark for U.S. equities was up less than 0.5 percent since the end of December when markets opened today. The better-than-forecast consumer confidence data out today are providing more upside.
Yet already momentum stocks that fueled the rally have peaked, meaning the S&P 500 may need to find new leadership to keep the quarterly streak going.
Here are the shares with price-to-earnings ratios that signal investors aren't looking for bargains. Google Inc., with a P/E of 32 that's almost twice the S&P 500's, lost 5.1 percent since its record on Feb. 26 through yesterday. Amazon.com Inc. tumbled 14 percent since its Jan. 21 high, knocking its P/E down to 622. Tesla Motors Inc., the unprofitable electric-car maker, sank 14 percent from its peak three weeks ago.
Where can investors find value? The best-performing groups in the past month point to where attention has shifted. Phone companies, with the highest dividend yield among 10 industries in the S&P 500, are up 3.9 percent collectively and financial firms, the cheapest on a P/E basis, have climbed 3.6 percent.
'Falling Knives'
Buying value stocks "gives investors exposure to the upside of the market without having to catch falling knives as the momentum names retrace," Carl Giannone, a trading desk manager at T3 Trading Group in New York, said in an e-mail.
The rotation is no accident and investors should expect more of it through the end of the quarter, according to ConvergEx strategist Nicholas Colas. The Federal Reserve has braced investors to expect higher interest rates and stocks with elevated valuations are particularly vulnerable because of the competition from fixed-income, Colas said.
RBC Capital Markets analyst Robert Sluymer also points to the rise in short-term rates, writing in a note today that the rotation has tracked the "bear flattening" in Treasury yield curves. The gap in yields between five-year notes and 30-year bonds narrowed to the least since October 2009 yesterday, according to data compiled by Bloomberg.
Wildebeest
A pickup in volatility and caution before first-quarter earnings are other reasons, Colas wrote.
"The selloff in momentum names isn't the mindless change in direction of a herd of wildebeest," Colas said. "There are fundamentals at work."
While he expects the rotation to last "weeks rather than days," the drop in momentum stocks doesn't mean the overall market will fall as much as those shares, according to Colas.
Recommending investors move fast, he compared the rotation to the hillbillies who torment Ned Beatty and Jon Voight in the 1972 film "Deliverance" about a white-water rafting vacation that turns ugly.
"Paddle faster," Colas wrote. "I hear banjos."
To contact the reporter on this story: Michael P. Regan in New York at mregan12@bloomberg.net
To contact the editors responsible for this story: Lynn Thomasson at lthomasson@bloomberg.net Jeff Sutherland