Royal Mail Proposes 1,600 Job Cuts as Union Balks at Measures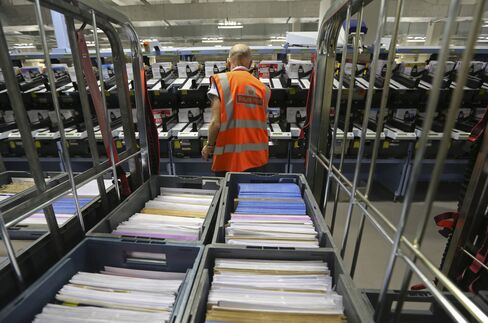 Royal Mail Group Plc, the U.K. postal service that sold shares in an initial public offering last year, said it plans to cut about 1,600 administrative jobs as the company seeks to streamline operations.
The cuts aim to deliver 50 million pounds ($82.5 million) in cost savings, including 25 million pounds in fiscal year 2015, the London-based company said in a statement today. Royal Mail said it wants to create about 300 new positions, resulting in a net reduction of 1,300 jobs.
The postal service, one of Britain's biggest employers with about 150,000 staff, has sought to adapt its letter-focused network to more lucrative package delivery in the face of competition from companies such as TNT Express NV. The company narrowly avoided strike action last year when members of the Communication Workers Union threatened to walk out. Unite, which represents 7,000 Royal Mail managers, said today it will consider a ballot for industrial action.
"Unite is demanding a commitment to no compulsory redundancies on fair terms and an effective method for redeployment within the restructured organization," Brian Scott, a Unite officer for Royal Mail, said in a statement.
A formal consultation with the CWU and Unite about the proposed job cuts will kick off today, Royal Mail said, adding that about 50,000 people have left the company since 2003. The efficiency program will incur a charge of about 100 million pounds, boosting total transformational costs for fiscal year 2014 to 230 million pounds.
Public Spat
"We are continuously improving our efficiency," Chief Executive Officer Moya Greene said in the statement. "We need to do so in order to effectively compete in the letters and parcels markets."
Royal Mail sold shares for 330 pence each in October, in the U.K.'s biggest state asset sale since British Rail was broken up in the 1990s. The IPO sparked a public spat, with the opposition Labour Party querying the management of the sale and many union members vocally opposing privatization of a profitable business.
The company will release results for the year ended March 30 on May 22. Trends for the full-year are "broadly in line with those seen in the first half," Royal Mail said today. Like-for-like sales gained 2 percent in the nine months through December boosted by parcel deliveries, Royal Mail said in January.
Before it's here, it's on the Bloomberg Terminal.
LEARN MORE