Republican Odds of Senate Takeover Rise as Obama Declines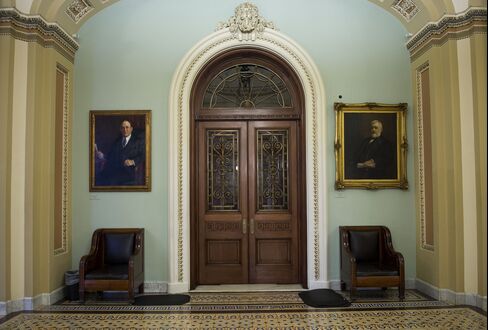 The election that will determine control of the U.S. Senate is more than seven months away, an eternity in American politics. Even so, independent analysts are increasingly bullish on Republican prospects of gaining the six seats the party needs to win control of the chamber.
Such an outcome would alter the legislative calculus in Washington, assuming the U.S. House remains in Republican hands, as most expect. Control of both chambers would allow the party to showcase policy proposals before the 2016 presidential race - - and try to undermine the opposition's ideas.
It would also dramatically change the final two years of Barack Obama's Democratic presidency, a turnabout that has plagued administrations throughout history. Six years into Woodrow Wilson's presidency, Republicans won control of Congress in 1918 and then rejected his proposal to join the League of Nations, which he had promoted as an international peace-keeping organization after World War I.
"The Republicans are at least even money -- and maybe a little better than that -- at taking over the Senate," said Stu Rothenberg, editor of the Washington-based nonpartisan Rothenberg Political Report.
Democratic efforts to maintain control are burdened by relatively low approval ratings for Obama and the Affordable Care Act, as well as demographics favoring Republicans because midterm electorates tend to be older and whiter than in presidential years. Democrats are also defending more seats than Republicans.
The president's party is also fighting history. The White House's partisan allies have lost ground in the Senate in 12 of 17 midterm elections since the end of World War II.
Certain Losses
"It's too early to make a precise prediction, except to say that Democrats are nearly certain to lose Senate seats," Sam Wang, who since 2004 has used mathematical formulas and polling data to predict elections for the Princeton Election Consortium, said in an e-mail.
Wang, a neuroscientist at Princeton University, said major factors that will go into his calculations include Obama's approval ratings and whether Republicans can field candidates that will appeal to a broader electorate.
In recent elections, Republicans have nominated Senate candidates who "appealed to primary voters, but who alienated voters in the general election," Wang said.
Among the examples he cited was when then-U.S. Representative Mike Castle of Delaware was upset in a 2010 Republican Senate primary by Christine O'Donnell, a favorite of the limited-government Tea Party movement who during the general election campaign was forced to deny she was a witch and went on to lose to a Democrat.
Risks Remain
"In other words, Republicans run the risk of underperforming expectations," Wang said. "Basically, the odds are 50-50, and anyone who makes a more precise prediction is out on a limb."
Jennifer Duffy, who studies Senate races as a senior editor for the nonpartisan Cook Political Report in Washington, agreed with that analysis.
"I think we stand at a jump ball," she said. "We need some primaries to get out of the way, from Georgia to North Carolina, before we'll know more."
Obama would have a weaker negotiating position if Republicans held both the House and Senate, and it would also likely make it harder for him to get his judicial and other appointees confirmed. He would also likely spend some of the last two years in office vetoing anti-Obamacare legislation.
"It would cripple the presidency," Rothenberg said.
Repeating History
Obama wouldn't be the first second-term president to find himself in such a situation.
In 2006, six years into George W. Bush's presidency, Democrats won control of the House and Senate after the public soured on his administration's prosecution of the war in Iraq. Bush and Democrats clashed over executive nominations, while the start of the worst recession since the Great Depression at the end of his presidency led to bipartisan support of the Troubled Asset Relief Program to stabilize financial markets.
At the midpoint of Bill Clinton's second term in 1998, Republicans held their majorities in the House and Senate amid an economic boom. The House voted in December 1998 to impeach Clinton, though a Senate trial ended in his acquittal. Clinton and Republicans grappled over how to allocate federal budget surpluses.
Democrats won control of the Senate in 1986, at the midpoint of Ronald Reagan's second term. The following year, the Senate rejected Reagan nominee Robert Bork for the U.S. Supreme Court.
Health-Care Impact
As recently as October, Democrats held a six percentage point advantage in which party voters prefer to control Congress, according to an aggregate of polls by the Real Clear Politics website. After the glitch-plagued rollout of the Affordable Care Act late last year, the two parties are now roughly even on that question.
The most recent three-day average for the president in Gallup's tracking poll shows him with 51 percent of Americans disapproving of the job he's doing and 44 percent approving.
A bigger threat to Democratic chances than the president's poll ratings is the playing field. The party has greater exposure to potential losses because they're defending 21 Senate seats, compared to 15 for Republicans.
"You could almost predict the day after the 2008 elections that the Democrats would be likely to lose some seats in the Senate six years later, just like the Republicans can be expected to lose some seats in 2016 because they won so many seats in 2010," said Alan Abramowitz, a political scientist at Emory University in Atlanta. "That exposure factor is big for the Democrats this year."
Romney States
The states Democrats are trying to keep include seven that Obama lost to Republican nominee Mitt Romney in the 2012 election, including six where he was defeated by at least 13 percentage points.
Regardless of which party wins control in November, the chamber's majority next year probably will have fewer than the 55 seats Democrats now control. With the two parties more ideologically distinct than ever, the Senate will probably be even more polarized.
"The Democrats who are retiring, plus the ones who are likely to lose, they tend to be more moderate Democrats," Abramowitz said, adding that the Republicans who will replace them "are going to be very conservative."
Average Loses
At the moment, Democrats are expected to lose five or six seats on average, according to the statistical model Abramowitz maintains. His variables include control of the White House, the difference between the number of Democratic-held seats and Republican-held seats at stake in the election, and how the two national parties perform on a generic congressional ballot test shortly before the election.
"It will change depending on what happens to that generic ballot question," he said. "That's the only predictor that's really not fixed at this point."
Some of the Democratic Senate incumbents rated as most vulnerable include John Walsh in Montana, Mark Pryor in Arkansas, Mark Begich in Alaska, Mary Landrieu in Louisiana and Kay Hagan in North Carolina.
The only opportunities for Democratic pickups are in Kentucky, where Minority Leader Mitch McConnell has a primary challenger and a potentially strong Democratic opponent, and in Georgia, where Democrats are banking on a fractious Republican primary that includes three House members.
Democrats would have a chance at competing in Republican-leaning Mississippi only if six-term Senator Thad Cochran loses the Republican primary to state Senator Chris McDaniel, who's aligned with the Tea Party movement.