Occidental's $8 Billion Deal Stalled by Brotherhood Row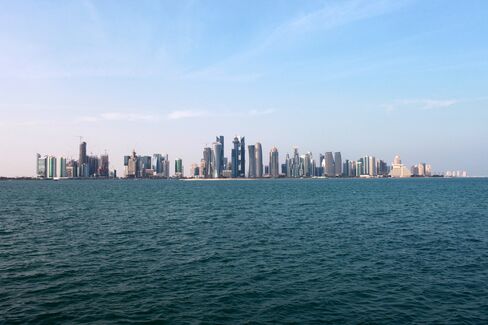 Occidental Petroleum Corp., seeking to raise as much as $8 billion by selling a stake in its Middle East business, said a political dispute in the region is complicating plans to sell to a single investor group.
The oil and gas producer may need to break up the assets and sell them to individual countries because political tensions have made it too complicated to win agreement for a single sale to a group made up of Oman, the United Arab Emirates and Qatar, Chief Executive Officer Steve Chazen told investors at the Howard Weil Energy Conference in New Orleans yesterday.
"The notion that they were going to somehow cooperate with each other in an oil investment is difficult at best right now," Chazen said. "At their suggestions, we'll probably make separate deals with the three countries with somewhat different assets in each one. In some ways, that's a lot simpler."
The failure of the deal as it was originally envisioned is the first major sign of how a political rift between Qatar and other Gulf nations over Qatar's support for the Muslim Brotherhood is hurting business decisions in the oil-rich region. Qatar has drawn criticism from its neighbors that have cracked down on the Islamist organization after it gained power in Egypt with the 2012 election of President Mohamed Mursi.
Occidental fell 1.2 percent to $93.54 at the close in New York. Melissa Schoeb, an Occidental spokeswoman, didn't respond to a phone message and e-mail requesting further comment.
Collaboration
Abu Dhabi's Mubadala Development Co., Qatar Petroleum and Oman Oil formed the group late last year to buy as much as a 40 percent stake in Occidental's Middle East operations. The purchase would have marked a rare three-way collaboration between state-owned Gulf energy firms in a region where investment decisions are often based on political aspirations.
"This reflects the reality of the differences between the countries as well as the inherent differences in the assets," Pavel Molchanov, an analyst with Raymond James & Associates Inc. in Houston, said yesterday in a telephone interview.
A spokesman for Mubadala declined to comment. Qatar Petroleum and Oman Oil weren't immediately available to comment.
Chazen referred to the difficulties negotiating the deal as a "diplomatic issue" that's "related to support of the Muslim Brotherhood and some other ancillary issues."
Envoys Recalled
Saudi Arabia, the U.A.E. and Bahrain recalled their envoys from Qatar March 5, accusing the state of undermining regional security in a dispute that threatens efforts to integrate Gulf economies, where six countries hold a third of the world's oil reserves. Economic integration of the Gulf Cooperation Council, created in 1981, has already been slow as plans for a common currency were delayed and feuding broke out over regional politics.
Qatar backed the Brotherhood with $8 billion in aid after the Egypt election.
Saudi Arabia and the U.A.E. welcomed Mursi's overthrow last year and, along with Kuwait, they have pledged about $15 billion to support the military-backed government.
Under pressure from shareholders over lackluster returns, large oil companies like Occidental, Hess Corp. and Apache Corp. are pursuing breakup plans and asset sales.
Occidental is seeking to sell assets in the Middle East as part of a breakup plan begun last year after shares in the Los Angeles-based company fell for two consecutive years in 2011 and 2012, the worst performance in more than two decades. In the Middle East, the company has assets in the U.A.E, Qatar, Oman, Bahrain, Iraq, Yemen and Libya.
California Business
Occidental is also planning a spinoff of its California business and will use proceeds from the transactions to buy back shares.
Chazen hosted a lunch March 20 with more than a dozen analysts who cover the company and suggested then that political challenges could delay the Middle East sale, Roger Read, an analyst with Wells Fargo & Co., said in a note to clients March 21.
Occidental may not close a transaction in the deal before the end of the year, Read said.
The plan to sell pieces of assets to individual countries should yield about the same proceeds as the stake sale, Chazen said. A sale of 40 percent of the assets would be valued at about $8 billion, based on a total $20 billion value Chazen placed on the business late last year, according to two people with knowledge of the matter.
Occidental may opt to keep some properties it otherwise would have included in the sale, such as the Dolphin Gas project in Qatar, the CEO said yesterday.
"I think we'll make reasonable progress over the next few months," Chazen said.