Draghi Policies Vindicated by European PMI Sending Signal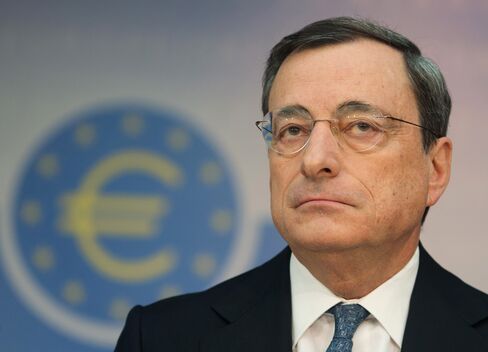 Mario Draghi's view that the euro area doesn't need more monetary easing for now is being vindicated.
Manufacturing and services activity in the region is near the strongest in almost three years, according to surveys of purchasing managers released yesterday. The data round off a quarter of growth even against a backdrop of geopolitical upheaval in Ukraine and an economic slowdown in China, suggesting the European Central Bank president's policies have put an end to the currency bloc's financial crisis in sight.
Draghi's interest-rate cuts, liquidity injections and a controversial pledge to buy the bonds of crisis-hit countries have boosted business confidence and prompted renewed fund flows into stressed economies. Even so, while he kept rates on hold this month, he warned that risks including subdued prices and a strengthening currency remain.
The economic data signal "improving confidence and add to the story that a modest recovery is on track in the euro area," said Fabio Fois, an economist at Barclays Plc in Milan. "Provided that inflation doesn't fall any further, from an ECB standpoint it shows it may not be the right time to ease."
A composite purchasing managers index of manufacturing and services activity in the euro area slipped to 53.2 in March, London-based Markit Economics Ltd. said in a statement. That's near the 53.3 reading in February that was the highest since June 2011.
Fund Flows
The indicator has been above 50, the dividing line between expansion and contraction, since July. The figures in the first three months of this year were the strongest since the second quarter of 2011, said Markit chief economist Chris Williamson. Manufacturing in France, the euro area's second-biggest economy, expanded for the first time since July 2011.
"The long, drawn-out field of euro-zone economic recoveries is becoming a much more compact peloton," said Christian Schulz, senior economist at Berenberg Bank in London. "Overall, the recovery remains on track and is broadening out, with France finally joining in."
International investors are returning, including to nations that received bailouts in the depths of the crisis. U.S. exchange-traded funds show net inflows of 524 million euros ($722 million) into Spain this year, marking an increase of 59 percent, according to data compiled by Bloomberg.
Low Rates
Neighboring Portugal attracted 14.7 million euros, a ninefold gain this year. Money has also flowed into Greece and Ireland, which saw investment increasing 75 percent and 25 percent, respectively.
The PMI reports bear out the confidence Draghi put in the fledgling recovery when policy makers decided against easing monetary policy this month. The ECB kept its benchmark rate at a record low of 0.25 percent for a fourth month, and Draghi said the economy was meeting the central bank's baseline scenario of a gradual recovery.
Economists surveyed by Bloomberg News predict ECB policy makers will keep rates unchanged through at least the third quarter of next year. Draghi committed to keep borrowing costs low until after the economy has shown signs of improvement.
At the same time, he highlighted risks to the outlook including unemployment near a record high and inflation at less than half the ECB's goal of just under 2 percent, in part because of a rising euro. The single currency has appreciated about 6 percent against the dollar in the past 12 months, curbing prices of imports and making euro-area exporters less competitive.
Currency Risk
Draghi also cited tensions with Russia over its annexation of Crimea from Ukraine, prompting sanctions that threaten trade, and a slowdown in emerging markets. Manufacturing in China weakened for a fifth straight month in March, another PMI showed yesterday. That deepened concern the nation will miss its 7.5 percent growth target this year.
"A sustainable recovery is not yet firmly established," said Martin van Vliet, senior euro-area economist at ING Groep NV in Amsterdam. "Indeed, the further weakening in the Chinese PMI and the relatively strong euro do not bode well for export growth momentum going forward."
Bond markets are signaling the worst is over. The premium that investors demand to hold Spanish 10-year bonds over German debt has fallen to 1.8 percentage points from a euro-era high of more than 6 percentage points in July 2012. The spread between Italian and German 10-year debt has dropped to about the same level from more than 5 percentage points over that period.
"In light of the rising Russian-Ukrainian tensions and the ongoing slowdown in Chinese factory activity, the March PMIs can actually be regarded as good news," said Marco Valli, chief euro-area economist at UniCredit Global Research in Milan. That "certifies the resilience and the increasingly broad-based nature of the euro-zone recovery at this stage of the business cycle."