Broeksmit Was 'Anxious' About Probes Before Suicide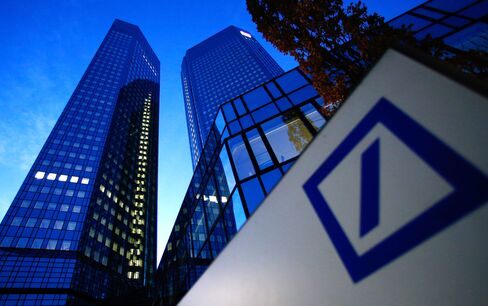 William Broeksmit, a retired Deutsche Bank AG risk executive who hanged himself at his London home in January, was "anxious" about probes at the lender, a doctor said in a report read at a coroner's inquest.
Broeksmit, 58, had seen a psychologist and was sleeping badly in the months before his death, Coroner Fiona Wilcox said at the inquest today, reading from a report from his general practitioner. Broeksmit left notes for friends and family that "show clear evidence of suicidal intent," Wilcox said.
Deutsche Bank, like many lenders, is being investigated for a range of scandals in the financial industry, including the rigging of benchmark rates. The Frankfurt-based lender was fined 725 million euros ($1 billion) by the European Union for rigging rates linked to the London interbank offered rate.
Broeksmit was "very anxious about authorities investigating areas of the bank at which he worked," his clinical psychologist, William Mitchell, said in a report on his mental health disclosed at the coroner's inquest.
Broeksmit had two stints at Deutsche Bank, Europe's biggest investment bank by revenue, first from 1996 to 2001, then from 2008 until his retirement in February 2013. He worked as an independent consultant in the interim. When he rejoined the bank in 2008 it was in a newly created position, head of portfolio risk optimization.
"Bill was not under suspicion of wrongdoing in any matter," Kathryn Hanes, a spokeswoman for Deutsche Bank, said in an e-mailed statement after the inquest.
'Catastrophizing' Work
Broeksmit was "catastrophizing" scenarios from work, the doctor said in the report, leading him to a "lot of anxiety and sleeplessness." Mitchell saw Broeksmit once in July and prescribed Xanax, a drug used to treat depression.
He told Mitchell that three family members, his mother, brother and sister, had been diagnosed with bipolar disorders, Mitchell said.
Broeksmit showed signs of improvement later in the year, according to evidence submitted by Simon Moore, his general practitioner, who last saw him in December.
Broeksmit and his wife, Alla, had planned to meet in a restaurant on the day of his death. She found his body when she returned to their home after he failed to arrive. He was pronounced dead at the scene at 1 p.m. on Jan. 26, the coroner said, despite attempts from paramedics to revive him.
Loving Husband
"Bill was a loving husband and devoted father," Broeksmit's widow said in an e-mailed statement. "The children and I are heartbroken by our loss. We ask that the press please respect our family's privacy at this difficult time."
Broeksmit "was considered by many of his peers to be among the finest minds in the fields of risk and capital management," Deutsche Bank's co-CEOs Anshu Jain and Juergen Fitschen wrote in a January memo. They said Broeksmit was "instrumental as a founder of our investment bank."
In 2012, as they prepared to take over as CEOs, Jain and Fitschen advanced Broeksmit's name to become the new chief risk officer. The bank retreated on his nomination after German financial regulator BaFin raised concerns that Broeksmit lacked experience managing a large number of employees.
Before it's here, it's on the Bloomberg Terminal.
LEARN MORE