Venezuela Lets Bolivar Depreciate 88% on New Sicad II Market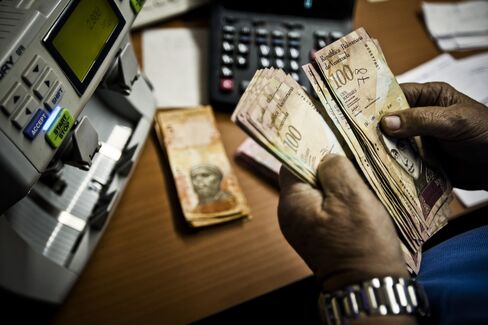 Venezuela allowed the bolivar to weaken 88 percent on a new currency market after loosening controls, a move to increase dollar supplies needed to alleviate a record shortage of imports including medicine, food and toilet paper.
The bolivar was sold for an average 51.86 bolivars per dollar yesterday on the new system, the central bank said on its website. The government's official exchange rate used to import medicine and food is 6.3 bolivars per dollar and a secondary dollar auction system last sold greenbacks at 10.8 bolivars.
"This is a devaluation any way you look at this," Tamara Herrera, chief economist at financial research firm Sintesis Financiera, said by phone. "The government is trying to bring down the black market rate with this new market, with the consensus that the dollar should be trading for about 50 bolivars."
The bolivar was sold for 55 bolivars per dollar in the first transaction on the new trading platform, according to Paul Leiva from Banctrust & Co. in Caracas. On the black market, the bolivar has strengthened in the past weeks to 58.6 to the dollar from as high as 85, according to dolartoday.com, which tracks the exchange rate along the Colombian border.
The central bank did not immediately say how much was sold yesterday.
Dollar Scarcity
Eleven years of currency controls have made dollars increasingly scarce, causing shortages of imported products ranging from diabetes drugs to laundry detergent. More than one in four basic goods was out of stock in Latin America's fourth-largest economy in January, according to the central bank, which stopped publishing up-to-date scarcity data this month.
The shortages are fueling the world's fastest inflation and have triggered more than a month of protests, with opposition parties and students staging daily marches. At least 31 people have died in the unrest.
Companies and individuals yesterday were allowed to buy and sell dollars in cash and bonds for the first time in four years. The exchange rate in this market, which is regulated by the central bank, will be determined by supply and demand, Economy Vice President Rafael Ramirez said when the system was announced last month.
'First Time'
Still, the central bank will intervene in trading to prevent "erratic" fluctuations in the exchange rate, according to market rules published in the Official Gazette March 11.
"This is the first time in more than a decade that Venezuelan authorities have tried to fix a problem by reducing instead of increasing regulation," Francisco Rodriguez, senior Andes economist at Bank of America Corp., said by telephone from New York on March 12.
In this new market, known as Sicad II, participants can bid for dollar-denominated securities through banks and brokerages until 11:30 a.m. of every working day. Financial intermediaries forward bids to the central bank, which matches buyers with sellers and approves transactions.
Sicad II will cover 7 percent to 8 percent of Venezuela's foreign currency needs, President Nicolas Maduro said in a televised national address March 21. More than 80 percent of the dollars will continue to be provided at the official exchange rate of 6.3 bolivars per greenback.
Market Price
The government also said that all incoming tourists can exchange their currency at the Sicad II rate. Tourists were previously meant to use the Sicad 1 rate, which last traded at 10.8 bolivars.
Allowing the dollar to trade freely will accelerate inflation, said Joe Kogan, chief emerging market strategist at Bank of Nova Scotia in New York. "If you want businesses to import at a 55 bolivar exchange rate, then you have to let them adjust the prices on consumer goods correspondingly," he said by telephone yesterday. "I have a hard time seeing the government allowing that."
The government is likely to strengthen the Sicad II rate in coming weeks to lower the inflationary impact, according to Jorge Piedrahita, chief executive officer of brokerage Torina Capital LLC.
The government has raised pressure on opposition politicians leading the protests as it liberalized the currency system.
National Assembly President Diosdado Cabello said yesterday opposition lawmaker Maria Corina Machado is no longer a member of Venezuela's legislature. Machado, who has led the protests over the past month, violated the constitution by joining the Panamanian delegation at the Organization of American States Mar. 20, Cabello said on state television.
Police arrested two opposition mayors last week for instigating protests in their municipalities.
Bonds
Venezuela's benchmark 9.25 percent dollar bond due 2027 rose 2.83 cents on the dollar to 76.49 cents yesterday in New York. The yield fell 57 basis points, or 0.57 percentage point, to 12.99 percent, the biggest decline since Feb. 7.
Former President Hugo Chavez in 2010 closed a currency swap system that permitted Venezuelans to obtain dollars legally, accusing traders of fanning consumer prices and causing the bolivar to lose value. Inflation accelerated to 57.3 percent last month from 27.2 percent at the end of 2010.
The ninefold difference between the official and the black-market rate has made obtaining dollars through government systems the most profitable activity in the country, causing diversion of hard currency from useful imports to speculation, Barclays Plc economist Alejandro Grisanti said in a phone interview last month.
One in three dollars in the country is misused or stolen, Ramirez said in February. Venezuela, which has the world's biggest oil reserves, earns about $120 billion from oil exports a year.
Before it's here, it's on the Bloomberg Terminal.
LEARN MORE