NCAA Tourney's Return to MSG After 53 Years Brings Record Prices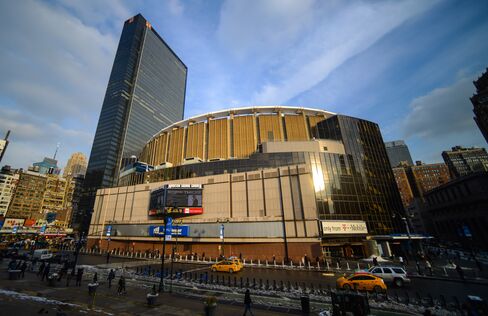 Madison Square Garden's 53-year wait to host another men's National Collegiate Athletic Association tournament game has helped regional-round tickets surge to record levels on the secondary market.
East Region No. 1 seed Virginia plays fourth-seeded Michigan State and third-seeded Iowa State takes on No. 7 Connecticut on March 28 in New York in the college basketball national tournament. The regional final is two days later.
The rarity of the offering and size of the teams' fan bases -- particularly UConn's -- have created the most expensive resale prices since ticket-market aggregators SeatGeek and TiqIQ began tracking data. The average sale price for a ticket to both regional semifinals and the March 30 final was $570, according to SeatGeek. The average list price at TiqIQ is $970.
"The novelty factor of games at MSG would have made it far and away the most expensive ticket of the regional round to begin with," Will Flaherty, a spokesman for New York-based SeatGeek, said in an e-mail. "The addition of UConn to the field certainly added fuel to the fire."
The games will be the first in the NCAA tournament in the current Madison Square Garden, which opened in 1968 and is owned by Madison Square Garden Co. A previous building with the same name, which opened in 1925, hosted 71 NCAA tournament matchups between 1943 and 1961. First-round games also were held on the St. John's University campus in Queens, New York, from 1970-74.
Interest Piqued
New York always commands top dollar for big sporting events and interest is higher because it's been so long since the tournament came to town, according to Chris Matcovich, vice president of data for New York-based TiqIQ.
"Couple that with four solid teams, one of which is local with a fairly large NYC fan base, it is nearly a perfect storm for ticket prices to be inflated," Matcovich said in an e-mail.
The previous highest average list price was $906 in 2011 at the Prudential Center in Newark, New Jersey, the last time the tournament came to the New York area.
Storrs, Connecticut-based UConn is 135 miles (217 kilometers) from Madison Square Garden. The University of Virginia is 343 miles away in Charlottesville, Virginia; Michigan State is 677 miles away in East Lansing, Michigan; and Iowa State is 1,132 miles away in Ames, Iowa.
There are 11,901 UConn alumni in New York City, Long Island and the Northern New Jersey area, according to the school's alumni association. The number rises to 63,000 when including Southern Connecticut. Iowa State, by comparison, has 2,276 alumni in New York, according to its alumni association.
UConn Boost
The average sale price for the March 28 East Region doubleheader was $322 three days ago, when UConn topped second-seeded Villanova 77-65, according to SeatGeek. Prices have climbed 53 percent since, to $468.
Tickets to the regionals were sold only in strips that included both the semifinals and finals, with face value ranging from $200 to $2,155, including fees, according to TiqIQ.
The average list price for a full strip of tickets to the Madison Square Garden games is more than six times the average price for the South Region contests in Memphis, Tennessee, which are listed on TiqIQ for $145. That region includes overall top seed Florida, the University of California-Los Angeles, Dayton and Stanford. The West Region is averaging $507 and the Midwest Region $295.
The least expensive tickets for the semifinal doubleheader at the Garden are $299, and $386 for both days' action, according to TiqIQ.