Fewer Than Half of Brazilians Positive on World Cup, Poll Shows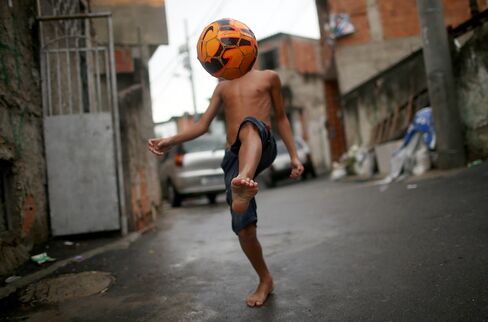 March 24 (Bloomberg) -- Eighty days before soccer's World Cup in Brazil, fewer than half of the host country's citizens are positive about the monthlong event, a survey found.
Twenty-four percent of people interviewed by Sao Paulo-based Datafolha said the tournament would be "bad" or "terrible." Thirty percent said it would be "OK," 33 percent "good" and 13 percent "great." The polling organization questioned 2,091 people on Feb. 18 and 19.
The survey highlights the difficulty organizers and the government are having to win the backing of the soccer-crazed country for the event. The build-up has been beset by problems including cost overruns, delays and the scrapping of several promised transport projects. Brazil plays the opening game against Croatia in Sao Paulo on June 12.
The nation is spending about $11 billion on the tournament, which will be played in 12 new or refurbished stadiums that cost at least 8 billion reais ($3.5 billion), about 40 percent more than originally estimated. The overspending led to a public backlash, most clearly seen during Brazil's biggest protests in a generation which coincided with last year's Confederations Cup, a World Cup warm-up event.
Datafolha also published a poll last month that said support for the World Cup had fallen to an all-time low. It said 52 percent of the country supported the tournament, down from a high of 79 percent in November 2008, a year after Brazil was chosen to host the 32-team competition.
Sports Minister Aldo Rebelo, the most senior government official responsible for the World Cup, on March 13 acknowledged Brazil could have done "everything" better.
Valcke Meetings
"What we did and are doing reflects the possibilities of hosting a Cup in a country with the conditions of Brazil," he told reporters in Brasilia. "These are the historic conditions of every country. We'll do it within our possibilities."
The survey news comes on the day Jerome Valcke, general secretary of soccer governing body FIFA, starts a week of meetings in Rio de Janeiro about preparations for the tournament.
Three stadiums have yet to be completed, six missed a December deadline, and there's a standoff over who'll pay for temporary installations such as VIP tents and media seating at several venues. Recife scrapped its FIFA Fan Fest, a public viewing area all host cities are contractually obliged to provide.
Even amid the setbacks, Brazilian President Dilma Rousseff promised the "Cup of Cups" in a country that's seeking a record-extending sixth World Cup.
To contact the reporter on this story: Tariq Panja in Rio de Janeiro at tpanja@bloomberg.net
To contact the editors responsible for this story: Christopher Elser at celser@bloomberg.net; Rob Gloster at rgloster@bloomberg.net Peter-Joseph Hegarty