Ukraine's Top Diplomat Says Risk of War With Russia Grows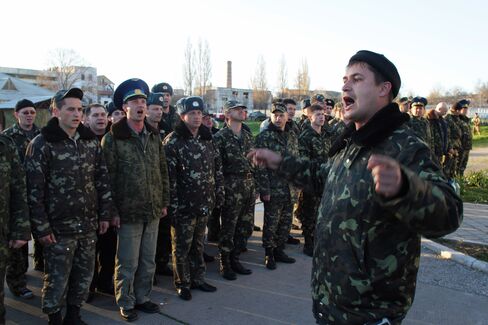 Ukraine's foreign minister said the risk of war with Russia was growing as President Barack Obama prepared to travel to Europe amid calls from U.S. lawmakers for more Western support for the Kiev government.
U.S. officials said Russian troops are massed along virtually the entire Ukrainian border and have about doubled in number from when Moscow's defense ministry first announced military exercises near Ukraine.
Ukrainians are prepared to "defend their homeland," Foreign Minister Andrii Deshchytsia said in an interview broadcast yesterday on ABC-TV's "This Week" program.
"This situation is becoming even more explosive than it used to be a week ago," Deshchytsia said.
Obama is to travel to the Netherlands today on the first leg of a six-day trip. While focusing on diplomatic and economic tools, he has joined European leaders in warning of further consequences if Russia continues its incursion.
In an interview on CNN's "State of the Union" program, U.S. Deputy National Security Adviser Tony Blinken said the troop movements are creating more instability in Ukraine.
"It's deeply concerning to see the Russian troop buildup along the border," Blinken said. "It's likely that what they're trying to do is intimidate the Ukrainians. It's possible that they're preparing to move in."
Western nations and Russia have exchanged economic sanctions since Russian President Vladimir Putin completed the annexation of Crimea, the Black Sea peninsula.
NATO Presence
Senator Kelly Ayotte, a New Hampshire Republican on the Armed Services Committee who was visiting Kiev yesterday, called for increasing sanctions on Russia and sending small arms and other military aid to Ukraine.
"What we can do is strengthen NATO's presence, particularly in the countries surrounding Ukraine, and also provide assistance to the Ukrainian military," Ayotte said in an interview with CBS's "Face the Nation" program.
While there's no need to consider American troops on the ground in Ukraine, Ayotte said, the U.S. should provide communications equipment, technical assistance and small arms.
Obama has imposed sanctions on 27 Russian officials and four Ukrainians. He has also authorized, though not implemented, potential future penalties on Russian industries, including financial services, energy, metals and mining, defense and engineering.
Aid Bill
"I think we need to do more with sanctions, including sanctioning the entire financial sector of the Russian economy, as well as looking at the energy sector," Ayotte said. At a later press conference in Kiev, joined by Democratic Senator Joe Donnelly of Indiana and Democratic Representative Stephen Lynch of Massachusetts, Ayotte also called for increasing NATO's presence in Poland, the Baltic states and other neighboring countries.
The Senate's No. 2 Democrat, Richard Durbin of Illinois, said the chamber will take up a Ukraine aid bill when it returns to Washington today from a week-long recess.
The bill, which includes about $1 billion in loan guarantees, has been held up over partisan fights on a proposed restructuring of the International Monetary Fund and new Internal Revenue Service rules governing political activity by some nonprofit groups.
"They do need everything from fuel to tires to sleeping bags to meals," Durbin said of Ukraine's military, in a CBS interview. "We've got to strengthen them and help them with advice and backing, and it may come to small arms. I'm not ruling that out, keep it on the table."
Russia's Calculus
Blinken said the administration is considering military aid, while suggesting it's doubtful such a move would have much impact.
"Even if assistance were to go to Ukraine, that is very unlikely to change Russia's calculus or prevent an invasion," he said.
Representative Mike Rogers, a Michigan Republican who heads the House intelligence committee, said the Obama administration must reassess its thinking about Putin and give up on a reset of U.S.-Russia relations.
Putin "goes to bed at night thinking of Peter the Great and he wakes up thinking of Stalin," Rogers said on NBC's "Meet the Press" program, in an interview from Tbilisi, Georgia.
"We need to be a little bit tougher with Putin, or he is going to continue to take territory to fulfill what he believes is rightfully Russia," Rogers said.
'Soviet Style'
Senator Robert Menendez of New Jersey, the Democratic chairman of the Foreign Relations Committee, called for an "urgent re-examination" of U.S. and European policies toward Russia in a March 22 speech at the Brussels Forum, an annual meeting of U.S. and European officials.
"In my view, Putin has miscalculated," Menendez said. "He has reignited a dangerous, pre-1991, Soviet-style game of Russian roulette with the international community, and we cannot blink."
Mitt Romney, the 2012 Republican presidential nominee who had called Russia the greatest geopolitical threat to the U.S., accused Obama of displaying "naivete with regards to Russia" and showing "faulty judgment" about its intentions.
"They thought resetting relations with Russia, handing out gifts to Russia, would somehow make Russia change its objectives," Romney said on CBS. "Well, that certainly wasn't the case."
Deshchytsia, Ukraine's foreign minister, said his country remains "very concerned" about Russian troops along its eastern border.
"We don't know what Putin has in his mind and what will be his decision," Deshchytsia said.
Before it's here, it's on the Bloomberg Terminal.
LEARN MORE