Obama Finds Cold War Echoes in Face-Off With Putin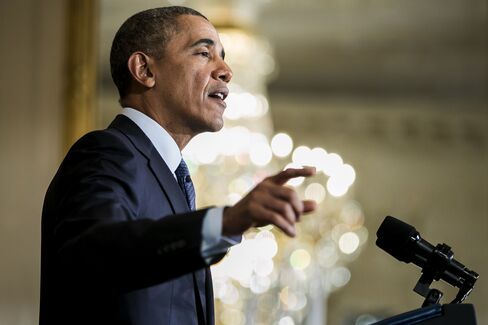 President Barack Obama came to office challenging U.S. strategic thinking as an outdated Cold War relic. Now he's in Europe on a mission reminiscent of those very times.
Obama arrived today in the Netherlands on the first leg of a six-day trip through Europe and Saudi Arabia as the Atlantic alliance tries to orchestrate a response to Russian President Vladimir Putin's annexation of Crimea and to deter Russia from further incursions in Ukraine or neighboring countries.
"Europe and America are united in our support of the Ukrainian government and the Ukrainian people," Obama said after meeting with Dutch Prime Minister Mark Rutte in Amsterdam. "We're united in imposing a cost on Russia for its actions so far."
Obama entered talks with the Europeans weighed down by perceptions he has been ineffective in international relations and that the U.S. is in retreat after two unpopular wars, budget constraints, congressional gridlock, a pullback from threatened air strikes in Syria and a highly publicized, yet unfulfilled, pivot toward Asia.
His task is to build unified resolve against an expansionist Russian leader, which may require commitments that place greater burdens on reluctant U.S. allies.
Russian Economy
Obama said he and Rutte spent a considerable amount of time discussing Ukraine and warned that sanctions would bring "significant consequences" to Russia's economy.
Investors have pulled out $5.5 billion from Russian equities and bonds this year through March 20, already approaching the outflow of $6.1 billion for the whole 2013, according to data compiled by EPFR Global, a Cambridge, Massachusetts-based firm tracking fund flows.
Russia's benchmark Micex Index has declined more than 13 percent this year and the ruble is down 8.9 percent, making it the second-worst performer against the dollar behind Argentina among 24 developing-market currencies tracked by Bloomberg. It rose 0.5 percent today.
"We're looking to send a message that we're not done with building out the types of sanctions that we would impose on Russia for its actions," Ben Rhodes, Obama's deputy national security adviser said at a briefing today in The Hague. "We would like to see a steady ratcheting up of that pressure."
G-7 Meeting
Obama also held one-on-one talks with Chinese President Xi Jinping at which Ukraine was among the topics. The U.S. president was meeting next with Group of Seven leaders, and Rhodes said suspending Russia's participation in the organization would be discussed.
European leaders, preoccupied by an economic crisis that has driven youth unemployment rates above 50 percent in some countries, are mindful of the potential economic risks of sanctions against Russia. The continent's national interests are splintered. Britain is wary of tougher sanctions that could damage London as a financial center for Russian money. France worries about consequences for arms sales. Germany is dependent on Russia for energy and has strong trade ties.
"It's a new ballgame," Strobe Talbott, a former deputy U.S. secretary of state said in an interview on Bloomberg Television's "Political Capital with Al Hunt."
"We now have overtly and pugnaciously a leader in the Kremlin who does not believe that the fundamentals of the U.S.- Russian relationship and the relationship between Russia and the West is one of partnership," Talbott said. "He sees it as adversarial and competitive."
Russian Loopholes
Obama's aloof persona and impatience with international summits has denied him the kind of rapport that predecessors such as Democrat Bill Clinton and Republican George H.W. Bush developed to ease talks with foreign leaders, according to analysts such as Tamara Wittes, who was deputy assistant secretary of State for Near Eastern Affairs in Obama's first term.
Edward Snowden's disclosure last year of National Security Agency spying on allied leaders has added friction to some of those relationships, particularly with German Chancellor Angela Merkel, leader of Europe's largest economy.
Wittes said the broad impression of Obama is that he's "reluctant about foreign affairs."
Not Clinton
"Part of that just comes from his personal style that he's cool, he kind of holds people at a distance, he's not like Bill Clinton on the phone all the time with these guys, with world leaders," she said.
Few analysts expect Russia to retreat from its annexation of Crimea. "That's a done deal," said Eugene Rumer, director of the Russia and Eurasia Program at the Carnegie Endowment for International Peace in Washington.
The meetings in Europe, which will occur on the sidelines of a Nuclear Security Summit at the Hague today and tomorrow, will seek to reassure NATO allies on the periphery of Russia such as Poland and the Baltic states of defense commitments and send Putin a clear warning against more land grabs, said Jeremy Shapiro, a former member of the Obama State Department policy planning staff.
"No one should ever question the commitment of the United States to the security of Europe," Obama said in an interview published today in the Dutch newspaper de Volkskrant, according to an English transcript distributed by the White House.
Visa Bans
European Union governments have sanctioned individual Russian and Ukrainian politicians and military commanders with asset freezes and visa bans, while moving more slowly than the U.S. in imposing broader economic penalties.
Obama has placed sanctions on Russian officials and business allies of Putin as well as a Russian bank. He also signed an executive order authorizing potential future penalties on Russian industries including financial services, energy, metals and mining, defense and engineering.
Heading into midterm congressional elections this fall, Obama's handling of the crisis also has domestic political implications, even as Americans are wary of foreign adventures.
Fifty-one percent of Americans say Obama isn't "tough enough" when it comes to national security, up from 41 percent who thought so in 2012, according to a Pew Research Center poll taken Oct. 30-Nov. 6. The same poll found for the first time since 1964 more than half of Americans -- 52 percent -- said the nation should "mind its own business internationally" and focus on home.
Putin's Leverage
Though European nations are more vulnerable to the economic consequences of sanctions, Putin also has leverage over key Obama international priorities, including negotiations with Iran to curtail its nuclear program.
Russia's delegate to the Iran nuclear talks, Sergei Ryabkov, the deputy foreign minister, said in comments reported by the Interfax news agency last week that Russia is prepared to use the negotiations as part of "retaliatory measures" against the U.S. and Europe.
The U.S. also relies on Russia for some overland routes important for the withdrawal of U.S. military equipment from Afghanistan. Syria's President Bashar al-Assad already has shown signs of being emboldened since the crisis in Crimea.
Obama also needs Putin's cooperation for initiatives he has championed since he was a U.S. senator to reduce nuclear stockpiles. The official purpose of the Hague visit is to attend the Nuclear Security Summit, a gathering that Obama originated in 2010 in Washington.
The escalating conflict with Russia puts the post-Cold War nuclear framework in "some jeopardy," said Strobe Talbott, now president of the Brookings Institution. "I think arms control is in for a rough patch."
Before it's here, it's on the Bloomberg Terminal.
LEARN MORE