HSBC Says Central Bank May Impose Shekel Floor: Israel Markets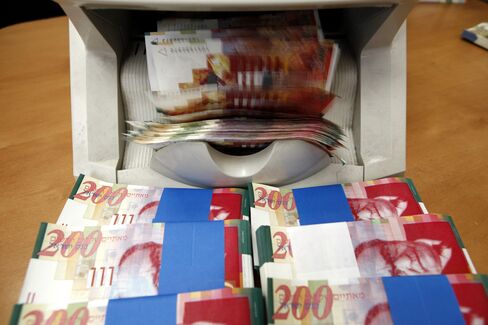 The Bank of Israel may emulate Switzerland and the Czech Republic in setting a floor for the shekel, as the currency trades near its strongest in 31 months, according to HSBC Holdings Plc.
"We can't rule out a change in the foreign currency regime, where the Bank of Israel adopts a Czech or Swiss regime," Jonathan Katz, a Jerusalem-based economist at HSBC, said by phone. "There they said publicly: 'We are drawing a line in the sand, this is the bottom end of the currency and we will buy all quantity necessary to support it there.'"
Last month's rate cut, which brought the benchmark rate to 0.75 percent, failed to halt the shekel's appreciation. Fueled by new gas production, the currency has gained more than 7 percent against the dollar since the beginning of last year, even as the Bank of Israel cut interest rates and purchased at least $7.35 billion in an effort to contain it.
The strengthening currency is undermining the competitiveness of exports, which make up about a third of Israel's $273 billion economy. Exports rose by 0.7 percent last year, leaving economic growth at 3.3 percent, the lowest since 2009. The shekel strengthened 0.1 percent to 3.4795 a dollar by 12:36 p.m. in New York.
The Manufacturers Association of Israel, whose members account for more than 95 percent of industrial production, wants the central bank, led by Governor Karnit Flug, to set a minimum exchange rate of 3.8 shekels to the dollar and defend it. The organization is also pressing the bank to make further rate cuts. The bank left the rate unchanged today as predicted by all 24 economists surveyed by Bloomberg.
Little Latitude
Last month's rate cut didn't stop the shekel appreciation because it wasn't accompanied by foreign currency purchases, said Daphna Aviram, director of economic research at the Manufacturers Association. With interest rates below 1 percent, there isn't much room to cut more, she said.
"We all understand that the interest rate weapon is close to being used up," Aviram said. "It can't be the solution. The bank has to set a minimum exchange rate. That means buying more foreign currency."
The Bank of Israel said in October that it would buy $3.5 billion this year to offset the effect of gas production on the balance of payments and would also continue to make purchases in reaction to fluctuations "not in line with fundamental economic conditions or when the foreign exchange market is disorderly." While the bank bought $1.7 billion in January, reversing the shekel trend, purchases in February dropped to $350 million, and the shekel gained 0.8 percent that month.
Band Floor
In the meantime, annual inflation slowed to 1.2 percent in February, approaching the lower limit of the government's 1 percent to 3 percent target band.
The inflation slowdown brings the Israeli economy closer to circumstances the Czech Republic faced in 2013, when it opted for a currency floor, HSBC's Katz said. And while Israel is in a better economic position than the Czech Republic was at the time, Switzerland adopted the policy when it was in "pretty good shape," he said.
"It is something we have to keep an eye out for," said Katz. "I think it is preferable policy relative to things like more capital controls -- taxation and regulation and things of that sort."
Worth Considering
In December, Bank of Israel monetary policy committee member Alex Cukierman said setting a minimum exchange may be worth considering "under extreme circumstances." He said he was giving his personal opinion, and not necessarily that of other policy makers.
The weakening of inflationary pressures, together with further appreciation of the shekel, may lead to an additional rate cut two or three months down the line, Citigroup Inc. strategists Luis Costa and Ishitaa Sharma said in a March 13 report.
Since options on the rate side are "pretty limited," the bank could become "a lot more aggressive" in its foreign currency intervention, the London-based Sharma said by phone. While the Bank of Israel probably wouldn't immediately adopt a Czech-style policy, it might do so later if the shekel continues to appreciate, she said.
"Once they have exhausted ad hoc interventions, then yes, we do think it would be one of the last measures they would use," Sharma said.