Dubai Stocks Extend Gains for Seventh Day on Debt Deal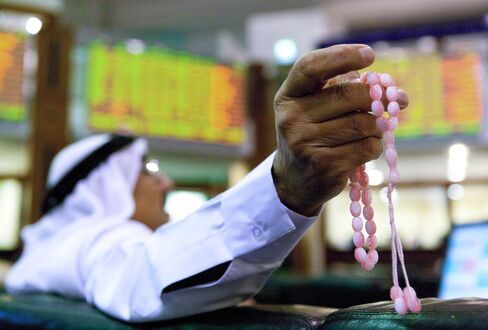 Dubai's stock index advanced for a seventh day after U.S. economic data spurred global equities and built on momentum from the emirate's $20 billion debt deal. Egypt's measure dropped.
The DFM General Index rose 1 percent to 4,346.93 at the close, extending the seven-day advance to more than 10 percent. Drake & Scull International advanced 4.2 percent. Emaar Properties PJSC, which last week said it will list its retail unit, jumped as much as 1.7 percent. Abu Dhabi's gauge increased 0.2 percent.
U.S. stocks ended the week with benchmark indexes posting their biggest gains in a month, as data from jobless claims to manufacturing showed the economy is strengthening. Dubai refinanced $20 billion in debt last week at a quarter of the original cost, freeing cash to service liabilities and fund expansion plans.
"Investor confidence in the United Arab Emirates has been on the rise lately," Nayal Khan, head of institutional sales and trading at Naeem Holding in Dubai, said in e-mailed comments. Dubai's debt deal, the news on Emaar's retail unit listing and gains in the U.S. "underscore current positive momentum in the U.A.E.," he said.
The DFM Index has more than doubled in the last 12 months. The gauge has had three winning streaks of seven days or more this year as it gained almost 29 percent, making it the top performer among more than 90 indexes tracked by Bloomberg.
Emaar shares rose 1.6 percent, the most since March 18, to 9.83 dirhams. The developer of the world's tallest tower last week said it planned to list its retail and shopping malls unit in Dubai and London and has hired Morgan Stanley as an adviser.
Election Update
Egypt's benchmark EGX 30 Index snapped a four-day winning streak with a 0.1 percent decline to 8,450.99 at the close. More than 1 billion pounds ($144 million) of shares traded, double the market's one-year daily average. A date for the country's presidential election will be announced on March 30, state-run Ahram Gate news website reported yesterday.
"The market is very retail driven, with many investors acting on technical thresholds rather than fundamentals," Ashraf Akhnoukh, Cairo-based manager for Middle East and North Africa at Commercial International Brokerage Co., said by phone.
Medinet Nasr Housing surged 5.7 percent to 30.11 Egyptian pounds, highest close since June 2009. Telecom Egypt rose as much as 5.9 percent. The government gave its initial approval on March 20 for a license to allow the monopoly fixed-line phone company to offer mobile services.
Kuwait's index slipped 0.2 percent and Bahrain's gained 0.8 percent. Oman's lost 0.2 percent and Qatar's measure fell 0.2 percent. Saudi Arabia's Tadawul All Share Index advanced 1.3 percent. Israel's TA-25 Index rose 0.4 percent at 3:28 p.m. in Tel Aviv.