Most U.S. Stocks Drop on Economy, Ukraine; Gold Slides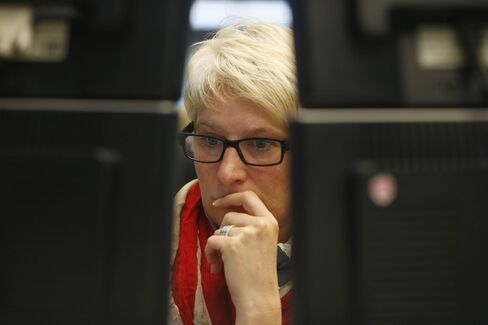 U.S. stocks fell for a second day as a report showed slowing growth in manufacturing while European shares slid amid concern the Ukraine crisis may escalate. Gold had its biggest drop of the year.
The Standard & Poor's 500 Index slipped 0.5 percent to 1,857.44 at 4 p.m. in New York, paring a drop of as much as 0.9 percent. The Nasdaq Composite Index slid 1.2 percent as biotechnology and Internet stocks led losses. The Stoxx Europe 600 Index lost 1.1 percent as world leaders gathered in The Hague. The euro advanced against the dollar and Russia's ruble strengthened for a second day against the U.S. currency. Yields on 10-year Treasury notes dropped, erasing earlier gains. Gold futures slipped almost 2 percent.
U.S. President Barack Obama arrived in Europe for talks as Russia, which completed its annexation of Crimea last week, masses soldiers on the border with Ukraine. Data today showed the pace of U.S. manufacturing activity slowed this month, while other reports indicated China's manufacturing industry weakened in March and growth at euro-area factories and service providers held close to the fastest since 2011. China's leaders have pledged to accelerate policies to support the economy.
"What really spooked people was the U.S. PMI," Chris Bouffard, chief investment officer with The Mutual Fund Store in Overland Park, Kansas, said in a phone interview. His firm oversees $9 billion. "It's more of the mixed data and the slower-than-desired economic recovery that just persist. Every time we get a little of momentum, we take a couple steps back with one of the economic readings coming in below expectations."
Economic Reports
Almost three stocks retreated in the U.S. for each that climbed today. The S&P 500 rose 1.4 percent last week as data from jobless claims to manufacturing showed the economy is strengthening after unusually harsh winter weather. The benchmark index reached an intraday record on March 21, touching 1,883.97 before retreating. Reports on housing, gross domestic product and durable goods are among the economic data due this week.
"The market has been running into resistance at 1,880," Bruce Bittles, chief investment strategist at RW Baird & Co., said by telephone from Sarasota, Florida. His firm oversees $110 billion. "Today it's a question of what catalyst can come in and generate extra volume."
The Markit Economics preliminary index of U.S. manufacturing decreased to 55.5 in March from 57.1 a month earlier, the London-based group said today. A reading above 50 indicates expansion. This month's reading was the second-highest since January 2013. The median forecast in a Bloomberg survey of 19 economists was 56.5.
The Chicago Fed's national index rose to 0.14 in February versus a forecast of 0.08 in a Bloomberg survey. It was revised to minus 0.45 in January from minus 0.39.
Fed Stimulus
The bull market in U.S. equities this month entered its sixth year, with the S&P 500 surging as much as 178 percent from its 2009 low, as three rounds of bond purchases from the Federal Reserve helped fuel economic growth in the past 11 quarters.
Fed Chair Janet Yellen said on March 19 that the central bank's stimulus program could end this fall and benchmark interest rates may rise about six months later. The Fed had previously said it would not raise rates for a considerable period, without specifying a time frame.
Health-care stocks led declines in the S&P 500 today, slipping 1.4 percent as a group.
Biotech Slump
The Nasdaq Biotechnology Index entered a correction, or a drop of 10 percent from its record in February. The gauge of 121 drugmakers has lost 12 percent from its Feb. 25 record after rallying 369 percent from a six-year low in March 2009.
The index sank 3 percent today after losing 4.4 percent on March 21 when Gilead Sciences Inc. was asked by Democrats in the U.S. House of Representatives to explain how the company set an $84,000 price for its Sovaldi drug, a hepatitis C treatment.
The Chicago Board Options Exchange Volatility Index, a gauge for U.S. stock volatility, added 0.6 percent to 15.09 today. The index, also known as the VIX, last week fell the most since February, sinking 16 percent.
Yields on Treasury 10-year notes fell 1.5 basis points to 2.73 percent. The U.S. will sell $109 billion in fixed- and floating-rate debt this week, including $32 billion of two-year notes tomorrow.
European Stocks
The Stoxx 600 dropped after it jumped 1.8 percent last week. The number of shares changing hands in Stoxx 600-listed companies was 11 percent lower than the 30-day average for the time of day, according to data compiled by Bloomberg.
Royal KPN NV lost 4.2 percent after Citigroup Inc. downgraded the Dutch telecommunications operator. Deutsche Post AG rose 1.7 percent after a Welt am Sonntag report said Europe's largest postal service will increase its mail profit target by 60 percent.
Growth in euro-area manufacturing and services stayed close to the fastest since 2011 in March as France strengthened, providing further evidence the region's recovery is on track. Indexes for manufacturing and services based on surveys of purchasing managers were little changed from February, London-based Markit Economics Ltd. said in a statement.
Ukraine Crisis
Ukraine's foreign minister said the risk of war was growing amid calls from U.S. lawmakers for more Western support for the Kiev government. U.S. officials said Russian troops are massed along virtually the entire Ukrainian border and have about doubled in number from when Moscow's defense ministry first announced military exercises.
Russia's Micex Index fell 0.7 percent, reversing an earlier gain. The ruble advanced 0.4 percent against the dollar.
The euro jumped 0.3 percent to $1.3840. The yen rose 0.1 percent against the dollar, reversing a decline of as much as 0.4 percent.
China's manufacturing industry weakened for a fifth straight month, according to a preliminary measure for March released today, deepening concern the nation will miss its 7.5 percent growth target this year. The preliminary purchasing managers' index from HSBC Holdings Plc and Markit Economics was at 48.1, below the 48.7 median estimate of 22 economists surveyed by Bloomberg.
China, Gold
Chinese stocks rebounded from initial losses on speculation that weakening growth will prompt policy makers to reconsider their aversion to broad stimulus measures. "We expect Beijing to launch a series of policy measures to stabilize growth," Qu Hongbin, Hong Kong-based chief China economist at HSBC, said in a statement.
The MSCI Emerging Markets Index rose for a second day, climbing 1 percent.
Gold for June delivery fell 1.9 percent to $1,311.10 an ounce, the biggest drop since Dec. 19, as the outlook for higher U.S. interest rates damped demand for the precious metal as a store of value.
Silver futures lost 1.2 percent. Palladium climbed to a 31-month high on supply concerns.
Coffee, wheat, corn and soybeans rose at least 1 percent to lead gains in 10 of 24 commodities in the S&P GSCI Index, overshadowing the slump in precious metals to lead the gauge higher.
Wheat futures advanced for the first time in three sessions, rallying 3.1 percent, as dry weather from the U.S. to Europe added to supply concerns amid the threat of trade disruptions with Russia and Ukraine.
U.K. natural gas, the European Union's benchmark contract, dropped for a sixth day, declining as much as 1.9 percent to 54.50 pence a therm on forecasts for warmer-than-normal weather. Europe gets about a third of its natural gas from Russia, half of it through Ukraine.
Before it's here, it's on the Bloomberg Terminal.
LEARN MORE