SAC's Plotkin Said to Start Fund With Cohen's Backing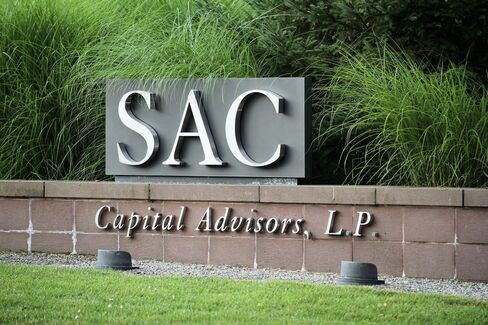 Gabriel Plotkin, one of SAC Capital Advisors LP's top money managers, plans to leave by the end of the year to start his own hedge-fund firm with the backing of his boss, billionaire Steven A. Cohen.
Plotkin, 35, who oversaw more than $1 billion including leverage at the Stamford, Connecticut-based firm, may get more than $200 million from Cohen, according to a person with knowledge of the plans, who asked not to be identified because the information is private.
Plotkin is the latest SAC money manager to pursue his own venture after the company agreed in November to plead guilty to securities fraud and become a firm managing only Cohen's personal wealth. SAC, which is changing its name to Point72 Asset Management, said in February it shrunk its headcount to 850 people from 1,000.
SAC's Vishal Ghiya resigned from his role in January, telling management he plans to start his own hedge-fund firm, a person with knowledge of the matter said at the time. Nick Tiller, who traded more than $1 billion in energy stocks, retired last year to focus on a charity he founded.
Plotkin didn't respond to e-mails and telephone messages yesterday seeking comment on his plans, which were first reported by the Wall Street Journal.
U.S. Settlement
The money manager was a recipient of an e-mail from convicted former SAC analyst Jon Horvath that contained non-public information on technology stocks, including Dell Inc., according to court testimony. Plotkin hasn't been accused of any wrongdoing.
SAC agreed to close to outside clients and pay $1.8 billion to settle U.S. charges of insider trading. Eight former employees have pleaded guilty or been convicted of using confidential and material information to profit, while two have settled with federal regulators without admitting or denying wrongdoing.
Plotkin's career didn't take off until he joined SAC. His first job out of Northwestern University, at billionaire Ken Griffin's Citadel LLC, was to evaluate new business for the hedge fund, rather than an investment position. After a year, he jumped to North Sound Capital LLC in Connecticut, where he served as an analyst with limited trading authority.
Cohen Favorite
In 2006, he landed a job at SAC. Within five years he was managing more than $1 billion in consumer-related stocks, one of only a handful of managers at the firm with such a large portfolio.
Cohen often copied Plotkin's trades in his own fund, people familiar with the firm said. He was one of the highest-paid professionals at the firm and joined Cohen on client visits to demonstrate SAC's deep bench of talent, the people said.
Plotkin was a favorite of Cohen's, said former colleagues, who asked not to be identified because the firm is private. He was paid handsomely, keeping 30 percent of his profits, while most of his colleagues earned between 15 percent and 25 percent, they said.
Within SAC, Plotkin was known for rigorous research on companies he invested in, using detailed models to analyze data from cash flow to product demand, rather than relying on brokers for market information, the former colleagues said.
In 2011, he made more than $150 million for the firm trading consumer and retail stocks.
Steinberg Conviction
He was allowed to continue working even after he was linked to the Dell trade that led to the arrest last March of Michael Steinberg, another former SAC portfolio manager. Steinberg was convicted of conspiracy and securities fraud by a Manhattan federal jury in December.
At the time of Steinberg's arrest, Jonathan Gasthalter, a spokesman for SAC at Sard Verbinnen & Co., said that Plotkin did "nothing wrong" and "has built a successful career on a commitment to sound fundamental research." He added that Plotkin lost over $6 million that day because he owned 1.8 million Dell shares and 3,000 of Oct. 24 call options.
Plotkin grew up in Portland, Maine, with his mother and father, a real estate consultant, a twin sister and older sister. He graduated from Deering High School, where he played basketball and baseball and was a member of the National Honor Society. He then headed to Northwestern University in Evanston, Illinois, where he earned an economics degree in 2001 and was elected to Phi Beta Kappa.
Family Man
The same year that Plotkin joined SAC, he married Yaara Bank-Plotkin, a Queens native with a journalism degree from New York University. The couple has a young son, and former colleagues describe Plotkin as more inclined to go home to his family after work than to go out partying. He and his wife are heavily involved in Israel-related causes.
"Gabe and Yaara share a passion for the land of Israel," and spend time with their son playing sports and visiting petting zoos, the Chabad Israel Center said in a write-up about the couple when they were honored at a gala dinner in December.
The Plotkins are also supporters of Belev Echad, a charity that helps wounded Israeli soldiers and terror victims, the brief bio said. Rabbi Uriel Vigler, who runs the Chabad center, did not return a call seeking a comment.
The couple owns two apartments in a building on the Upper East Side of Manhattan that they bought for a total of $4.48 million. Their splashiest purchase is a seven-bedroom, 7,834-square-foot house on Long Island that they bought in 2011 for $8 million, according to property records.