Oil-Tanker Glut Deja Vu Souring Ross, Ardmore Investments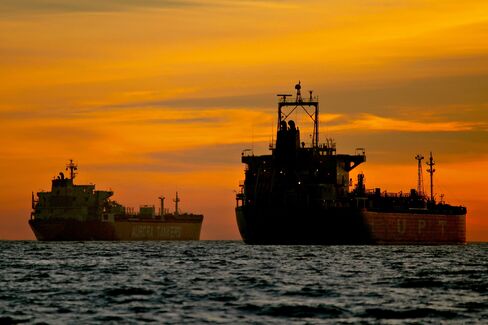 Here we go again.
Six years after shipowners ordered too many vessels before the global recession, driving down rates and leaving new ships anchored for lack of cargoes, investors are souring again on oil-product tankers in the face of a new glut.
This time around, some of the optimism was fueled by private-equity firms including WL Ross & Co. and Blackstone Group LP lured by bets on rising demand because of growing U.S. and Middle East exports of oil products. Instead, chartering rates fell by a third as orders for new ships more than doubled. Wilbur Ross, the billionaire known for turning around struggling industries from steel to textiles, pulled an initial public offering last week because he said the price was too low.
Ardmore Shipping Corp., another owner of product tankers, sold shares earlier this month for less than the value of its fleet, according to Global Hunter Securities LLC. Shares of Scorpio Tankers Inc., the largest owner of the vessels, dropped 13 percent this year, compared with a 1.5 percent gain in the Standard & Poor's 500 Index of U.S. equities.
"People are beginning to realize there's just too many product tankers," said Jeff McGee, the founder of Makai Marine Advisors LLC in Dallas. "Find a good sector with promising demand prospects and over-order. Nobody learned their lesson."
More Ordering
Investors expected product tankers to benefit from rising U.S. and Middle East exports, said McGee, who used to lead tanker research at Poten & Partners Inc., a shipbroker. The U.S. is shipping a record 3.7 million barrels a day of refined fuels, 16 percent more than a year ago, the Energy Department says. Middle East refinery output will reach 8.7 million barrels a day by 2016, up from 7.8 million last year, Morgan Stanley says.
Prospects for rising demand spurred more ordering. Shipyards in 2013 were booked to build 217 product tankers smaller than 60,000 deadweight tons, the size range of Ross's and Ardmore's fleets, according to data from Clarkson Plc, the largest shipbroker. That's more than double the previous year and the most since 2006. Outstanding orders are equal to 20 percent of the existing fleet, up from 16 percent a year ago, the data show.
'Optimistic Expectations'
Rate gains haven't materialized, while the backlog of new vessels could create a glut. Rates for Medium-Range product tankers fell 32 percent in the past year to $10,732 a day, Clarkson data show. Last year's average of $13,226 was the highest since 2008.
Spot rates for the vessels fell this year as the coldest winter in the U.S. since 1982 increased domestic fuel demand and the profit from shipping European gasoline to the U.S. diminished, said Fotis Giannakoulis, a New York-based analyst at Morgan Stanley. The fleet will expand by 5.1 percent next year, the most since 2010, the bank estimates.
"Investors' expectations were significantly higher than reality, and a lot of the stocks were trading with overly optimistic expectations," Giannakoulis said. As fleet growth accelerates, "it's going to be very hard to see meaningful rate increases," he said.
Scorpio will benefit if investors' disappointment deters further ordering, said Robert Bugbee, the Monaco-based company's president. Scorpio's current fleet comprises 51 ships, with another 57 under construction, according to its website.
Fundamentals 'Intact'
"That means less capital is available to the market for our competitors to overbuild," Bugbee said. "The long-term fundamentals remain intact on the product-tanker story."
Private-equity firms contributed to the rush to buy product tankers as they invested the most since at least 2008 in shipping, according to Marine Money, an industry newsletter. Blackstone, the world's largest manager of alternative assets, invested more than $100 million in ships in the past two years, New York-based Principal Jasvinder Khaira said last fall, including stakes in nine product tankers.
Ross and his co-investors spent about $900 million on 30 product tankers in 2011, he said in August of that year. It was the 76-year-old billionaire's first venture into shipping.
Since then, the price of a five-year-old MR tanker, the type owned by Ross's Diamond S Shipping Group Inc., rose 0.4 percent to $28.9 million, according to the Baltic Exchange in London.
Stocks 'Volatile'
"I don't think he will come remotely close to what he was expecting to make on this trade," said Basil Karatzas, a shipbroker and adviser in New York. "His timing was premature, and too many people played the same card."
Ross said he's happy with the investment because the tankers had long-term charters while competitors lost money amid low rates.
"When we originally embarked on the process, there was more market optimism," Ross wrote in an e-mail. "Shipping stocks are very volatile, and we have the staying power to wait until an upturn in charter rates becomes more clear."
Diamond S, which owns 33 tankers for carrying refined fuels, had filed to sell 14 million shares in a range of $14 to $16 each, according to its prospectus. The company, which intended to use the proceeds to buy 10 ships, planned to price the shares March 11. Ross pulled the offering that day. Other shareholders include First Reserve Corp. and a unit of Cargill Inc., the commodities trader, its website shows.
Propane, Butane
Craig Stevenson, chief executive officer of Diamond S in Greenwich, Connecticut, declined to comment.
Ross's investment in ships hauling liquefied petroleum gases such as propane and butane has fared better. Ross's firm has a 42 percent stake in Navigator Holdings Ltd., which controls the world's largest fleet of small LPG carriers. Shares rose about 40 percent to $26.50 since the company's IPO in November.
Ross and partners also ventured into dry-bulk commodities shipping, raising $100 million to buy as many as eight ships hauling coal, iron ore and grains through a company called Nautical Bulk Holdings Ltd., he said in November.
The week before the Diamond S IPO was scheduled to price, Ardmore issued 7 million shares at $13.50 each. That's 4.9 percent less than the value of its assets, according to Omar Nokta, an analyst at GHS in New York.
Previous Orders
Anthony Gurnee, Ardmore's CEO in Cork, Ireland, was not available to comment, said Simon Phillips, an external spokesman at Blue Communications in Oxford, England.
Owners across the industry ordered the most ships ever before the global recession in 2008, leading to the biggest glut since the early 1980s, according to Clarkson. The ClarkSea Index, a measure of industrywide earnings, averaged the lowest in 2012 since at least 1990. Rates for the largest tankers and bulkers fell to less than the vessels' operating expenses.
Some tanker companies including Overseas Shipholding Group Inc. and General Maritime Corp. filed for bankruptcy protection, while Torm A/S restructured its debt. Frontline Ltd., the tanker operator led by billionaire John Fredriksen, split into two companies in December 2011 to avoid running out of cash.
Product tankers emerged from the slump as one of the first ship types attracting interest from investors. As early as June, shipbrokers began saying that the increase in orders could spoil the recovery before it arrived.
Order Rush
"When a real recovery has not yet materialized, it is clearly unhelpful that owners are now truly rushing to place new building orders," Banchero Costa & Co., a Genoa, Italy-based shipbroker, said in a June report. "More restraint would be advisable, so not to kill the recovery even before it comes."
In the seven months that followed June, 122 more product tankers under 60,000 deadweight tons were ordered, Clarkson data show. Last month, the number fell to zero.
"The shipping industry is its own worst enemy," Jim Furnivall, managing partner at Alterna Capital Partners LLC, said March 20 at a Capital Link Inc. conference in New York. "Every one of us ordering too many ships and paying too much for ships and maybe financing them the wrong way, it will develop into a problem for the industry in the future."
Before it's here, it's on the Bloomberg Terminal.
LEARN MORE