Ackman's Pershing Near Break Even on Losing Herbalife Bet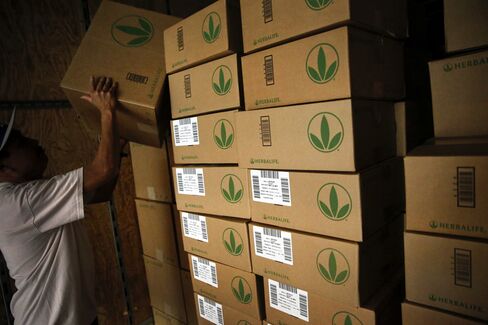 Bill Ackman is close to breaking even on his wager against Herbalife Ltd., a trade by his Pershing Square Capital Management LP that he last month called its biggest loser, after the stock plunged following disclosure of a U.S. Federal Trade Commission investigation.
Herbalife fell to a eight-month low of $49.54 on March 21, approaching the level when Ackman first put on his trade. The hedge-fund manager started what would become a $1 billion bet against the stock in May 2012, he has said, before disclosing it on Dec. 19 of that year. During that period the stock was trading at an average price of $48.58. Ackman has since restructured his Herbalife wager using long-term put options, making an exact determination of his break-even point difficult.
Herbalife plunged 15 percent since March 14, its biggest weekly decline in more than a year. Investors have fled Herbalife since the company disclosed on March 12 that the FTC had started a civil probe into its practices, which the agency then confirmed. Ackman has pressed federal regulators to shut down the maker of weight loss shakes and skin creams, saying it misleads distributors, misrepresents sales figures and sells a commodity product at inflated prices.
Herbalife has repeatedly denied Ackman's allegations while winning over allies including billionaire Carl Icahn and Post Holdings Inc. Chairman William Stiritz.
The FTC's civil investigative demand disclosed last week isn't an indication of wrongdoing and is essentially a subpoena requesting information, Michael Swartz, an analyst at SunTrust Banks Inc. in Atlanta, said in a note on March 12.
Pershing Square had said its Herbalife short sale was the biggest losing bet for the activist investment firm since its inception in 2004 with a loss of 49 percent, according to a Feb. 13 presentation obtained by Bloomberg News. Ackman, 47, said in a November interview on Bloomberg Television that he "will take this to the end of the earth."
Before it's here, it's on the Bloomberg Terminal.
LEARN MORE