Strauss-Kahn Plans to Raise $2 Billion for Hedge Fund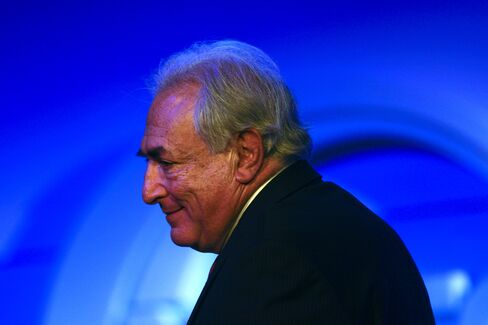 Dominique Strauss-Kahn, the former head of the International Monetary Fund who last year became chairman of a Paris-traded bank, is planning to raise $2 billion for a hedge fund he's setting up.
"It's a very ambitious target," said Michele Gesualdi, who invests client money in hedge funds for Kairos Partners in London. "You might achieve that result if you go to sovereign wealth funds and those types of investors. He probably has those connections."
The move is part of efforts Strauss-Kahn, or DSK as he's known in France, has been making to rebuild his post-IMF life after he was charged in 2011 with criminal sex, attempted rape, sexual abuse, unlawful imprisonment and forcible touching of a chambermaid at the Sofitel hotel in Manhattan. Strauss-Kahn, 64, denied the charges, which were later dropped, and he settled the maid's lawsuit in 2012.
Strauss-Kahn joined LSK & Partners last year as chairman to help develop the Luxembourg-based company's franchises. The hedge fund he's setting up, called DSK Global Investment, will benefit from "academic research and practical knowledge, both stemming from Dominique Strauss-Kahn's experience as a public figure," Mohamad Zeidan, LSK & Partners' chief operating officer, said in a phone interview from Shanghai.
Strauss-Kahn, who has never managed money for investors, will be running the fund, with his daughter, Vanessa Strauss-Kahn, a Paris-based professor of economics at ESCP Europe, overseeing the firm's research. Institutional investors, such as public pension plans, often require a three-year track record before committing large amounts of money to funds.
Global Funds
LSK & Partners aims to raise funds "on a global level" for the new fund and a trip is planned to the Gulf region in about a month, followed by a visit to Russia, Zeidan said. Strauss-Kahn's fund aims to attract about 20 institutional and private investors including "anything from family offices to high-net worth individuals," he said.
Nick Evans, the editor of industry trade publication EuroHedge, said he's not aware of a European hedge fund that has started trading with $2 billion since before the 2008 financial crisis.
Edoma Partners LLP began trading in November 2010 with more than $1 billion and eventually raised about $2 billion from investors. Edoma was founded by Pierre-Henri Flamand, the former head of Goldman Sachs Group Inc.'s biggest proprietary-trading unit. Flamand decided to shut the firm in November 2012 after it failed to make money and clients pulled their investments.
Consulting Roles
During his IMF tenure, Strauss-Kahn managed to restore the Washington-based institution's clout, bolstering emergency lending during the global financial crisis.
Before the New York Sofitel affair, French opinion polls had Strauss-Kahn, a former French finance minister, as the leading contender for the Socialist Party's candidacy in the 2012 French elections and showed that he would have easily beaten then President Nicolas Sarkozy.
A graduate from HEC business school, he also holds a law degree and a doctorate in economics from the University of Paris.
Since his exit from the IMF, Strauss-Kahn, has been taking on consultant roles. In July, he was appointed to the supervisory board of the Russia Regional Development Bank, owned by oil producer OAO Rosneft. He is also advising the Serbian and South Sudan governments.
Track Record
"If someone is highly experienced and connected in the world of academia and finance, that's all well and good but without money-management experience, it is hard as a fiduciary to entrust our funds with them," said Michael Rosen, chief investment officer of Angeles Investment Advisors LLC, a Santa Monica, California-based firm that advises clients on hedge fund investments. "Maybe he will surround himself with a great team of portfolio managers and analysts but realistically I wouldn't invest in someone with no track record."
LSK & Partners -- renamed last year using Strauss-Kahn's and Chief Executive Officer Thierry Leyne's initials -- has a staff of about 100 people and three trading platforms in Luxembourg, Monaco and Tel Aviv, Zeidan said. It has asset-management, corporate finance, insurance and capital-management units.
LSK & Partners has submitted a registration application for the DSK Global Investment fund with the Luxembourg regulator CSSF, he said.